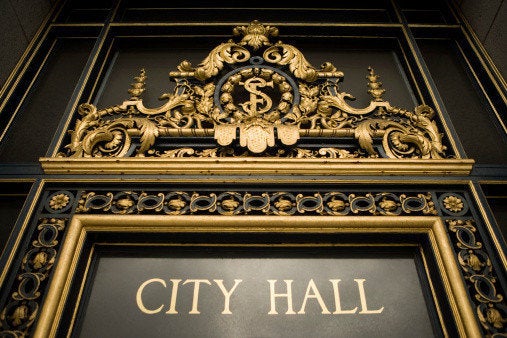 Sometimes following San Francisco politics is a lot like watching a game of musical chairs.
In just the past year, the Mayor has become Lieutenant Governor, the District Attorney has become Attorney General, the Police Chief has become District Attorney, the City Administrator (who was formerly Department of Public Works chief) became Mayor and the Department of Public Works chief as become SFMTA Director.
With the same cadre of people bouncing around between the top posts of so many city agencies, it might have seemed like a welcome change that the new DPW head was promoted from the inside the department rather than being poached from the peak of another city agency; however, Mayor Ed Lee's selection of Mohammed Nuru to replace the departing Ed Reiskin at DPW has some politicos seeing red.
In a Monday morning press release by the Dennis Herrera for Mayor Campaign, the City Attorney blasted Lee for his appointment of Nuru, calling it "cronyism" and "poor judgment":
Nuru's 11-year career at DPW—where he was first hired under then DPW Chief Ed Lee during Mayor Willie Brown's Administration—has managed to survive a series of ethical scandals that include repeated instances of misappropriating public funds for personal uses; retaliatory threats against whistleblowers; and directing city contractors to engage in illegal political activities while they were being paid with public funds.
A landscape architect by training, Nuru was born in England but was raised on his father's farm in West Africa. After graduating from Kansas State University in 1987, he worked on construction projects in the United States and Saudi Arabia.
In the early 1990s, Nuru moved to San Francisco and took at job at the small non-profit San Francisco League of Urban Gardeners (SLUG). Quickly rising to the top of the organization, Nuru turned the group, which taught gardening skills to at-risk youth in the Bayview-Hunters Point neighborhood, into a well-oiled, 30-employee organization that served as a model for other such groups across the country.
Nuru's work at SLUG drew notice of then-Mayor Willie Brown, who took Nuru (who had already volunteered on two of Brown's electroal campaigns) under his wing in 2000 and hired him as DPW's second-in-command, making him the city's point man on graffiti cleanup. Nuru's program, Operation Scrub Down, which involved spraying down city streets with a high-pressure hose and confiscating shopping carts filled with the belongings of homeless people, earned Nuru the nickname "Mr. Clean."
The project proved controversial when homeless advocates complained that it violated the civil rights of the people whose belongings were confiscated.
In the years since Nuru departed SLUG, the group has since shut down operations.
During his tenure at DPW, a series of allegations of ethical improprieties began to swirl around Nuru. It was claimed that he broke city rules by replacing city employees with SLUG trainees, pushed pork-loaded street cleaning contracts to his former organization and charged the city over $100,000 to clean up vacant lots near his home in the Bayview.
Citing his work as City Attorney investigating Nuru, Herrera charged that, "for ten years, Nuru's questionable ethics and repeated misappropriation of taxpayer dollars didn't seem to merit a slap on the wrist from Ed Lee. Now, as Mayor, Ed Lee thinks it merits a promotion."
"Mohammed has been a champion as far as getting what we need, month in and month out," said Dawn Trennert of the Middle Polk Neighborhood Association, which conducts monthly neighborhood cleanups, among other events. "I call this a great day for the neighborhood."

Marc Christensen, president of the Merced Extension Triangle Neighborhood Association, said that in Nuru's early days with the department, he and former department director Ed Lee came out for neighborhood cleanup days and donned work gloves alongside residents. Christensen said he was pleased by the appointment.
Interestingly, this marks the second of Lee's high profile appointments that comes from one of his former subordinates at DPW. The first was SFMTA chief Ed Reiskin.
Officials from Lee's office did not immediately respond to requests for comment.
While the official decision was made City Administrator Amy Brown, Lee had significant input into the decision. In July, the Chronicle reported that Nuru was considered to be the front-runner for the position.
Calling all HuffPost superfans!
Sign up for membership to become a founding member and help shape HuffPost's next chapter