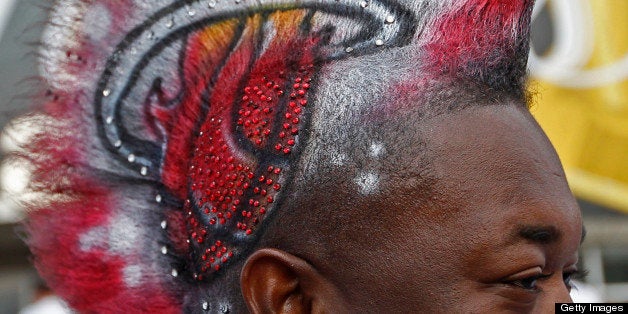 DeliverLean, Taxes Your Way, Co. and Chinaman Media Network are some of the businesses that have been on Gasmy Joseph's head lately. On his mohawk, to be exact.
For a year now, Joseph -- better known as Mohawk Gaz -- has been a human billboard spray painting his 10-inch high hairdo for South Florida businesses exploring new and adventurous ways to reach customers. He charges from $500 to $2,000 to paint logos or business names on his attention-grabbing mohawk.
"We use him all the time. I think it's very effective, cool, fun and edgy," said Scott Harris, owner of DeliverLean, a Boca Raton-based gourmet food caterer. "He walks around, hands out flyers, engages people in conversation. He's a mobile billboard that helps sell your product."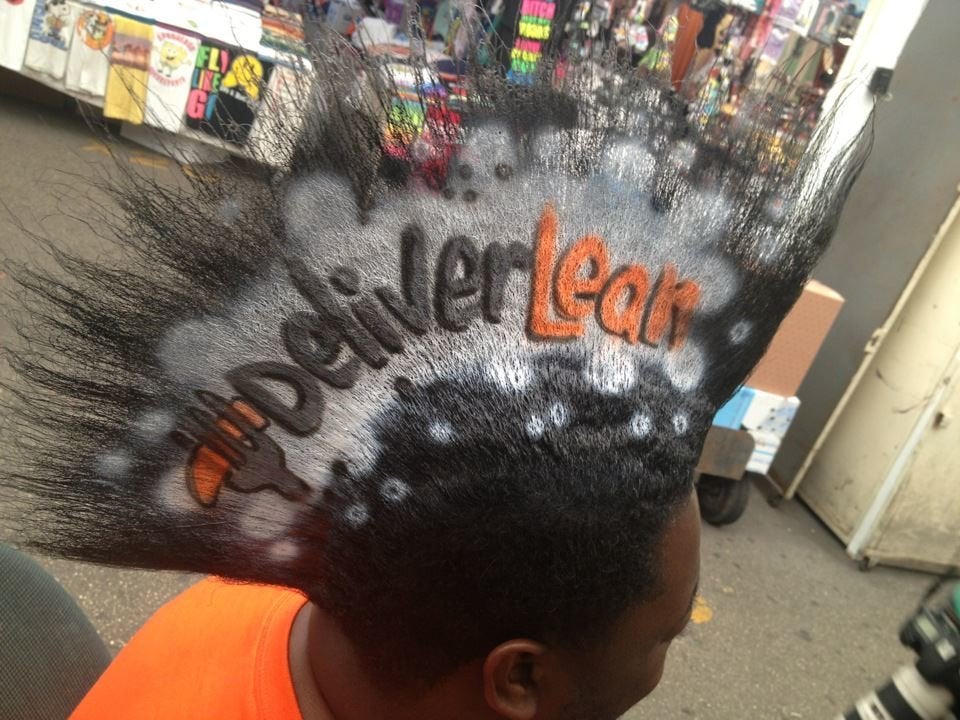 Mohawk Gaz
Leaders of the local chambers of commerce say they definitely haven't seen a mohawk ad business represented at their meetings lately. But they marveled at Joseph's entrepreneurial spirit, one marked by taking chances, having a vision that is out of the ordinary and enjoying what he's doing.
"To say the least, I cannot say that I have ever seen anything quite like this," said Laurel Baker, executive director of the Palm Beach Chamber of Commerce.
Carolyn Michaels, the executive vice president of the Greater Fort Lauderdale Chamber of Commerce, agreed. "It certainly is creative and will make people look twice," she said.
On Wednesday, Joseph sat outside his friend's spray painting store at the Swap Shop in Fort Lauderdale as the spray paint artist Avi Ram wrote DeliverLean in orange and black. People walking by widened their eyes, tapped their friends and pointed, chuckled shaking their heads, and even stopped to snap pictures and shoot videos.
"That's different, unique," said Tre Williams, 26, gazing at the mohawk.
The first time Joseph painted his hair was just for fun, he said, it was the time and address of his friend's birthday party. It was a hit.
"They were like 'Oh my God, that's crazy, that's the best idea ever'," the 34-year-old Pompano Beach resident said.
So he decided to keep doing it and charging people for being their walking advertisement. Joseph said prices vary depending on how long the customer wants the logo on his head, if it'll be one side or both sides of the mohawk.
Jim Gilbert, president of the Florida Direct Marketing Association, said Joseph's idea was cool, "very untraditional, very out-of-the-box."
"But I find it questionable whether he's going to actually make any sort of lasting, credible impact for most companies that he would be advertising for," he said. "Does that brand recognition turn into clients and customers? I don't know."
Harris said his healthy food delivery business was booming, though he couldn't say if it was a direct reflection the mohawk advertisement. But he didn't discount it either.
"Everything helps," he said.
Now that people are paying attention, Joseph needs to create a business plan to make the most out of his mohawk, said Jeff Mustard, who leads an advertising agency in Delray Beach.
"It's a nifty idea but he needs to develop this into a business that makes sense. That means getting accounts and having more media assets, he needs more legs walking with mohawks attached," said Mustard, president of The Bamboo Agency.
"His moment is right now."
mvalverde@tribune.com, 954-356-4526, Twitter @MiriamValverde ___
(c)2013 the Sun Sentinel (Fort Lauderdale, Fla.)
Distributed by MCT Information Services
Popular in the Community