Moira Smith was one of the thousands of women who came to Washington last week to lobby Congress to oppose Brett Kavanaugh's nomination to the Supreme Court.
But Smith had a more direct connection than most to the fight, and that drove her desire to try to keep a man accused of sexual misconduct off the court.
In 2016, she went public with allegations that Justice Clarence Thomas groped her at a 1999  dinner party in Northern Virginia. Thomas, of course, made it onto the Supreme Court in 1991 even though Anita Hill testified that he had sexually harassed her.
Smith had decided to speak up after the lewd comments by then-presidential candidate Donald Trump about assaulting women surfaced on a 2005 "Access Hollywood" tape. "It felt like we were continuing this sort of 'wink wink, nod nod' agreement that you just put up with stuff like that when you're in certain social circles," she said. "I just wasn't willing to continue to do that." 
Smith's shocking allegations, which Thomas denied, didn't make much of a wave at the time. They came during the final heated days of the 2016 presidential campaign and before the Me Too movement coalesced amid a barrage of sexual misconduct accusations against powerful men.
Smith, an attorney, now lives in Alaska. And as sexual assault allegations swirled around Kavanaugh, she felt compelled to add her voice to those opposing his ascension to the high court. With her daughter and other women from the state, she traveled to the nation's capital to make that case to Sen. Lisa Murkowski of Alaska, one of the few Republicans who was wavering on Kavanaugh's nomination.
She and 17 other women met with Murkowski for an hour Thursday, and Smith told her about what happened with Thomas. 
"There was one person [in the group] who started crying" as other stories were related to Murkowski, Smith recalled. "She said she was motivated to come because her 11-year-old daughter asked her why women weren't believed as much as men."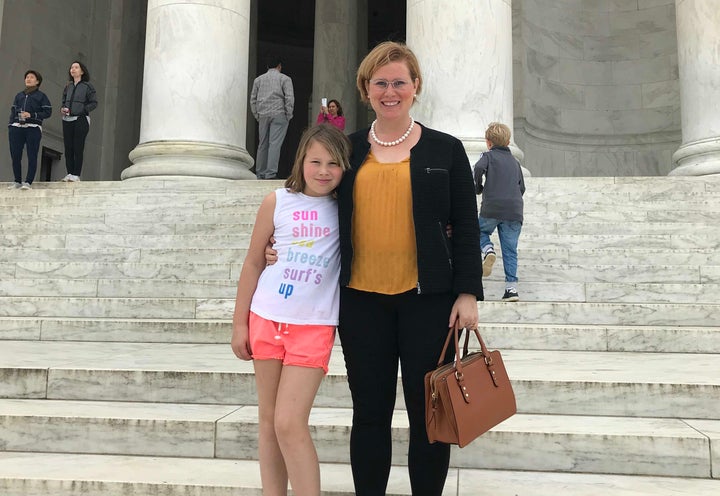 Smith had watched Christine Blasey Ford's Sept. 27 testimony to the Senate Judiciary Committee, in which the California women detailed her allegations that Kavanaugh had sexually assaulted her when they were teenagers growing up in the Washington area. 
"I felt for her," Smith said. "You could tell that she wasn't somebody who was used to being in the national spotlight. ... I know from my own experience that there really is no glory in doing this."
The personal toll for Smith has been hard. She recently wrote a piece in The Anchorage Daily News, saying she still isn't sure whether it was worth it to come forward about Thomas. But she said she's been blown away by some of the reactions to her story, which has been gratifying.
"There were three different kinds of reactions," she said. One was Thomas' defenders and trolls, who thought she was a Democratic hack or looking for fame.
The second group was people in her life who thanked her for speaking up. 
"But the third reaction was the most important to me, and that was that scores of women who are friends, acquaintances, people I barely know, have come to me with their own stories. In many cases, I'm the only person they've ever told," she said. "In some cases, I've been able to put them in touch with resources so they can press charges against their assailants. And that to me makes it worth it."
The Senate confirmed Kavanaugh on Saturday ― but without Murkowski's vote. Smith said she hopes that her story, and the stories of the other women from Alaska, had an effect on the senator. And even though Kavanaugh will now be on the court ― meaning that sexual misconduct allegations have been lodged against one-third of the six men on it ― she is hopeful.
"We're not there yet. We are far from it," she said. "There's just a lot more work to do. But I have to think that these moments, these national debates that we're having now, are moving that in the right direction. Even in the face of the confirmation of Judge Kavanaugh."
REAL LIFE. REAL NEWS. REAL VOICES.
Help us tell more of the stories that matter from voices that too often remain unheard.