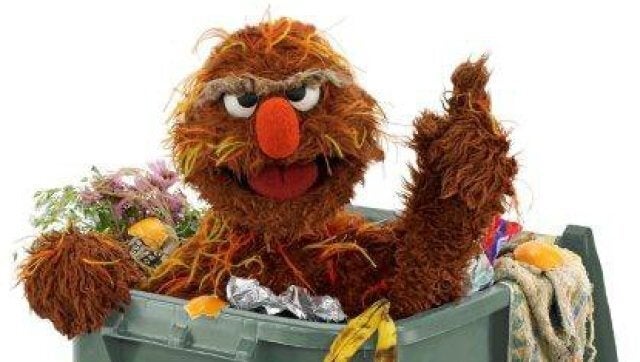 Moishe Oofnik, Israel's equivalent to Oscar the Grouch from "Sesame Street," is the somewhat unlikely star of a new Israeli public awareness campaign.
The loveably grouchy muppet smiles out from the cover of the latest Israeli military-produced emergency pamphlet meant to prepare citizens in the event of war with Iran, Reuters reports.
The 15-page booklet began arriving in mailboxes this week, Reuters adds, and comes on the heels of strong rhetoric by Israeli officials in relation to Iran.
In February, after bombs targeted Israeli diplomats in India and Georgia, popular Israeli newspaper Yediot Aharonot reported that Israeli Prime Minister Benjamin Netanyahu had approved updated talking points addressing the possibility of an Iran-Israel conflict, according to Salon.
The memo read in part: "Iran and Hizbollah are behind these terror attempts. If this is what Iran is doing now, imagine what it will do if its nuclear arms project reaches the goal."
Then on Aug. 15, Matan Vilnai, who, until recently, was Israel's home front defense minister, said the Jewish nation was "ready as never before" to go to war, if such action was deemed necessary, the Telegraph adds.
Iranian officials have not dialed down their own rhetoric. In comments made to Tehran war veterans in August, Iranian Supreme leader Ali Khamenei warned that Israel would disappear from "the scene of geography."
While Iran continues to deny that its nuclear program will be used to develop atomic weaponry, Israel stepped up the distribution of gas masks and other protective gear to the public some weeks ago, according to Reuters.
The military pamphlet is part of the PSA campaign, offering among other things instructions on how to find emergency shelter, the news service explains.
Due to Iran's close proximity, if missiles are imminent, there will be little room for error, the pamphlet warns. After the first air raid sirens sound, citizens will have between 30 seconds and three minutes to make it to safe areas before the first rockets make impact.
In happier times, the garbage-can dwelling Moishe Oofnik cavorted with his muppet pals on "Rechov Sumsum," a locally-produced cousin of America's beloved "Sesame Street." In one 2010 YouTube clip, he hangs out with his "older" American cousin Oscar.
According to the "Sesame Street" workshop website, the Israeli program targets both Hebrew and Arabic-language youngsters.
Related
Popular in the Community