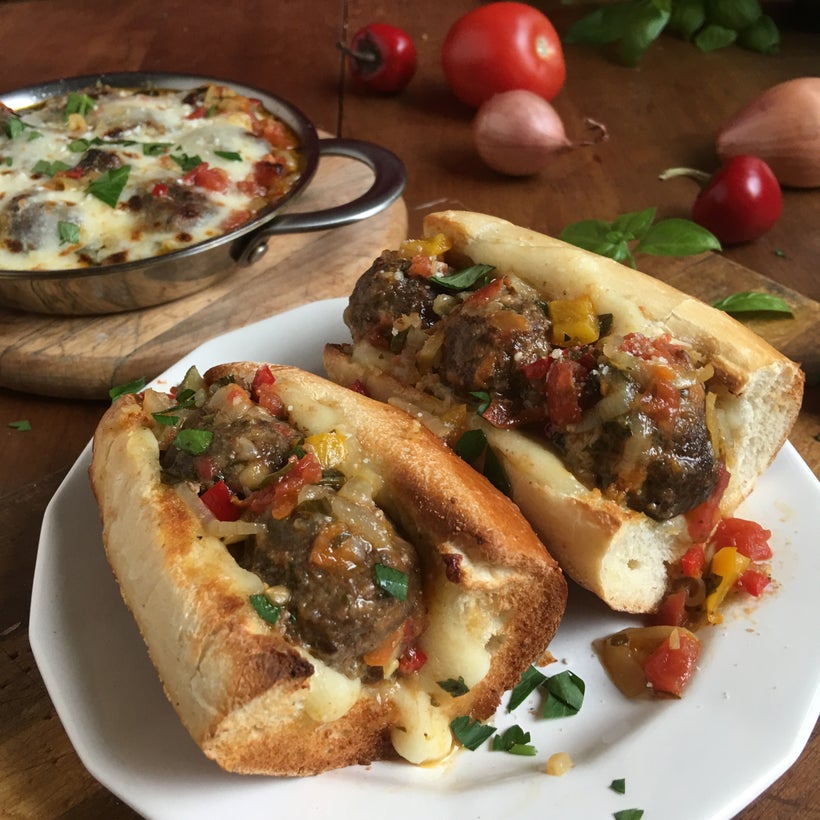 Having grown up in an Italian household and neighborhood in Ocean City New Jersey, I have delicious memories of mouth-watering meatballs and marinara. In our house everything was homemade from scratch. My maternal grandfather organically grew our vegetables and many fruits in the side yard. The back yard hosted the goats and chickens, which provided us with their fresh eggs, meat and the milk for our hand made cheeses. My grandmother's raviolis were epic. She rolled them out every Sunday on the linoleum kitchen table. Many of her sauced dishes were made with whole cuts of braised meats. Her daily weekday chicken soup never ceased to draw her adult children back home for lunch.
My grandmother's attention to impeccable quality combined with her loving care made an indelible mark on my outlook in life. Watching her daily artistry is what inspired me to be my best in culinary creativity and practice. Making moist, light flavorful meatballs is an art I learned from her. The right grind of high quality meat with the perfect proportion of lean to fat is a must. Combining that with the mélange of egg, cream and crumbs delivers the desired density. Seasoning, spice, herbs and aromatics heighten flavor and texture. There is great pleasure and adventure in exploring new ideas for old favorites. Here is one of my latest twists on my nonna's meatballs with sauce.
Pesto Meatball Ingredients
1 Lb. grass fed, 80% lean ground lamb or beef
1 slice of hearty whole grain country bread, toasted and crumbed
¼ cup Pecorino Romano cheese, grated
¼ cup toasted pine nuts
3 tablespoons fresh basil, finely chopped
3 tablespoons fresh Italian parsley, finely chopped
1 egg, well beaten
1 tablespoon of heavy or light cream
½ teaspoon of freshly ground white pepper
Dash of sea salt (the cheese is salty and the meatballs will absorb the sauce flavors)
¼ - ½ cup Canola or Olive Oil for frying the meatballs
Pesto Meatball Directions
In a large bowl, thoroughly mix together the meatball ingredients with your hands.
Line a baking sheet pan with parchment paper.
Using a 1½ inch diameter ice cream scoop (#40), divide the meat mix into 20 balls, placing them on the parchment lined sheet pan as you go.
In a large deep frying pan, cover the bottom with about ¼ inch of oil.
Set the frying pan on medium low heat, until the oil sizzles a drop of water with vigor, without spitting.
Brown the meatballs all over in small batches, adding more oil as necessary, then transferring them to a paper towel lined pan or plate to drain.
Let them rest until you are ready to finish cooking them in the Giardiniera Sauce.
Tip#1: Whenever frying over an open flame, be sure you have a lid on hand that firmly fits the pan, just in case the oil catches fire. This will quickly extinguish the flame and save the food. Never panic or throw water onto burning oil!
Tip#2: Dip the ice cream scoop in oil before and in between scooping meatballs.
Giardiniera Sauce Ingredients
1 medium Vidalia onion, medium dice
1 medium carrot, medium dice
1 medium parsnip, medium dice
½ cup fennel bulb, medium dice
½ cup yellow bell pepper, medium dice
½ cup zucchini squash, medium dice
¼ cup shallot, thinly sliced
¼ cup Italian hot cherry peppers, seeded, small dice
1 can of whole peeled San Marzano plum tomatoes in juice, seeded, large chop
1 cup of chicken stock
½ cup dry white wine
¼ cup fresh parsley, coarse chop
¼ cup fresh basil, coarse chop
½ teaspoon ground white pepper
¼ teaspoon sea salt
¼ cup Extra Virgin Olive Oil for sautéing vegetables
Giardiniera Sauce Directions
In a large deep ovenproof, lidded pan, heat ¼ " of oil on medium low until shimmering.
Cook all of the vegetables except the zucchini and tomatoes until lightly golden, stirring occasionally. Season in between steps carefully.
Stir in the zucchini and cook the mix for another 3 minutes.
Add in the wine and bring the pan to a boil until the liquid has reduced by half.
Stir in the tomatoes with their juices and the stock. Bring the pan to a simmer.
Nestle the meatballs into the simmering sauce and cook covered for about 10 minutes, turning the meatballs occasionally, until the liquid is thickened.
Adjust the seasoning to taste, keeping in mind the salt content of any added cheese.
Spoon into individual bowls and sprinkle with grated Pecorino Romano cheese. Serve immediately.
In either the large cooking pan or individual chafing dishes, top the meatballs and sauce with sliced fresh unsalted mozzarella and grated Pecorino Romano cheese. Place under a broiler or in a very hot oven until the cheeses are melted. Serve hot while gooey.
Split sub rolls length-wise and top both sides with sliced fresh unsalted mozzarella and grated Pecorino Romano cheese. Place under a broiler, in a very hot oven or toaster oven to toast the bread and melt the cheeses. Top with meatballs and sauce. Serve hot while still crunchy and gooey.
Tip: Use additional chopped parsley and basil for garnishing finished dishes and subs.
REAL LIFE. REAL NEWS. REAL VOICES.
Help us tell more of the stories that matter from voices that too often remain unheard.
This post was published on the now-closed HuffPost Contributor platform. Contributors control their own work and posted freely to our site. If you need to flag this entry as abusive,
send us an email
.