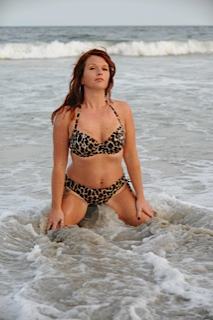 I haven't felt unsexy in four years at least. Not even when I was pregnant this time or after. My mojo is not conditional with my body.
You see for over 20 years, my worth felt wrapped up and intertwined with the size of me. No matter the number on the scale, I played small to keep myself safe from judgement. When I lost weight in my late 20s and in my early 30s, I had my sexy feeling moments, but they were by my needing to be better than another woman and/or comparing myself to society's template. I say bullshit. My husband was attracted to me no matter what size I was. Mojo, or sensual nature, is not an age or size. If it is for you, that's just a belief. I will be sexy until I'm a golden oldie, because it is embodying my Goddess nature.
I unleashed that fierce truth teller inside of me and let my passion fuel it. My sexuality scared me at times, like what if I let the wild, dangerous, free siren out? She should know moms can't be sexy and good girls don't have desires... So I suppressed it at times with a happy face and playing a role. Oh, the old stories I trashed as I let go of the "good girl/mom" role and decided to be the best me, desire and all. Take me or leave me, I'm bold. Why is desire our very nature, yearning for more is the nature of being human? We create beings through the desire for more. In the mind, you couldn't cease to stop wanting. You are present in the now and then you expand, looking for more... experiences and epic moments.
Feeling alive makes me feel sexy, and it's nothing tangible or physical but an energy. Music takes me there easily as we feel timeless and carefree as we are in our youth. But don't hold onto trying to be young. We have gained wisdom that is so worth the ticket price of our age. I will not be defined by if my breasts face skywards, if my stomach is a certain flatness, or my derrière looks round enough. Goddess me knows it's only my business how sexy I am.
Where I fall on someone else's sexiness meter is none of my business either. I love writing sex scenes. I have a naughty sense of humor. I love dressing sexy. I have four tattoos. At almost 38, I may be racy and over-the-top to some at times. I'm also deeply committed to my husband. I have five kids. I don't like porn. I think sex is sacred. My spirituality is the most important thing to me. Lust and luscious is one's personal choice.
What made me the sexiest thing ever when I chose forever sexy, four+ years ago, is my kind heart and being unapologetically loving to myself and being true to me. That's my sexy. I own it. It's a choice. You can too. Just decide it. I think there is nothing sexier than a woman who stands in her own truth and doesn't let the world tell her what to think or how to be caged. She roams alone even in a crowd by her inner compass. She doesn't play by the rules. She is authentic and genuine, regardless of popular opinion. This Goddess nature is who we truly are ladies when we tap into our own mojo. You're free.
Smooches to all of my sister goddesses of the world.
Calling all HuffPost superfans!
Sign up for membership to become a founding member and help shape HuffPost's next chapter