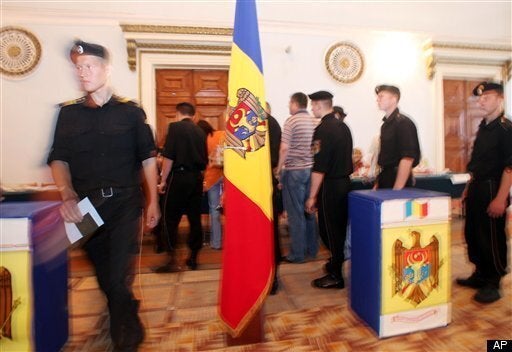 Moldova's pro-Western opposition parties have defeated the Communist Party in repeat parliamentary elections.
With most of the votes tabulated, the Communist Party has lost the majority it held for eight years in parliament, winning about 45 percent of the vote.
The Liberal Democrat Party followed the Communists with 16.39 percent of the vote, and the Democratic Party had 12.61 percent and Our Moldova Alliance 7.37 percent, the CEC reported.
The elections have become representative of whether Moldovo aligns with the European Union or Moscow.
The opposition parties have planned to form a coalition government which will give them 53 seats of the 101 seats in parliament. That, however, won't be enough to choose a president. The Communists, with 48 seats in the legislature, can block the pro-Western forces from making that decision. Fears have risen that this will take the country into a prolonged political crisis.
As per the constitution, parliament was dissolved and new elections were set last month by outgoing President Vladimir Voronin after the Communists failed to elect a successor to Voronin, the leader of the Communists who had served the maximum two years in office.
According to the NY Times most of Moldova's young, desperate for change, voted against the Communists. While they found their support amongst older and more rural population of the country that aligns with Russia.
In his eight years in power Mr. Voronin has been buoyed by an older generation nostalgic for the stability of Moldova's Soviet past. In those years he has hewed closest to Russia, which maintains a contingent of troops in Moldova's breakaway Transdniester region and supplies the majority of Moldova's energy. Moscow also recently promised Moldova a $500 million loan.
Like Iran, thousands of tech-savvy youth used Twitter to express their dissatisfaction with the situation in Europe's poorest and most unstable country, that was once a part of Romania, according to the Christian Science Monitor.
The Twitter Revolution made the difference," says Sam Greene, deputy director of the Moscow Carnegie Center. "One of the key lessons here is that in this modern information world, it's very difficult to rig an election. Even in Europe's poorest country people have access to all sorts of unofficial sources of news and information.
However, Greene told the Monitor that he thinks a solution will be found:
"Moldova is one of the more competitive political environments in the former Soviet Union, it's got a basically democratic system, and I wouldn't underestimate the potential for pragmatism."
REAL LIFE. REAL NEWS. REAL VOICES.
Help us tell more of the stories that matter from voices that too often remain unheard.