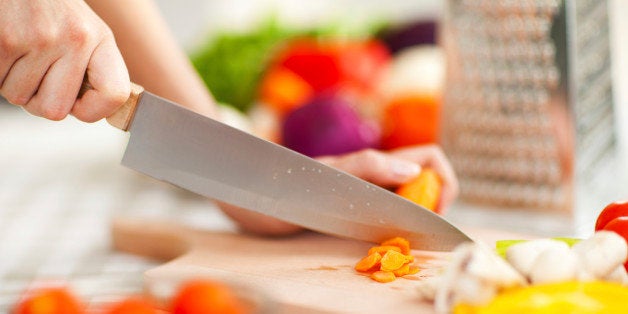 Cooking classes are a great way to hone your skills, learn new recipes, and meet like-minded friends. Spending time in the kitchen with people who love to cook as much as you do is fun and educational.
Lots of the cooking classes open to non-professionals are too low level for experienced foodies, or don't offer enough hands-on training.
If you want something more unique and creative, consider moto's cooking classes. Our dishes are known for their creative genius, and as chef, I invent each dish with the mind of a classically trained chef, a scientist, and a bit of joker. You'll learn classic techniques, plus get to use some high-tech lab-like gear such as a centrifuge, a hand-held ion particle gun, and a class IV laser.
Forget knife skills and beef bourguignon! At MOTO's cooking classes, you're going to shatter everything you think you know about food and fine dining.
Your day begins with a behind-the-scenes tour of MOTO's kitchen and laboratory (you might even get a chance to learn some of our best-kept secrets!) Then, we'll check out our indoor farm, where we have taken the art of urban farming to the next level. You will learn how to start your own indoor farms. Trust me, a compost heap isn't the only option for city-dwellers who want to enjoy homegrown fare. Farming is not only sustainable, affordable, and great for Mother Earth, it just tastes better!
Next up, you'll learn how to prepare some of our unique "Willy Wonka-style" dishes. It's okay if you are new to the kitchen and your culinary skills are limited to boiling pasta. Each student can take things at his or her own pace, and the atmosphere is as humorous and welcoming as MOTO itself.
My favorite part--eating of course! We'll all enjoy what we create together. Sitting down and sharing a meal together combines two of my favorite loves: eating great food and talking about great food. It gives my guests to chance to learn more about molecular gastronomy and the culinary business, and it gives me a chance to find out what inspires and excites you as diners. You'll also take home a lab care package that will give you some of the tools you need to get started making your own dishes at home.
Classes are held on select Sundays from 2 p.m. to 5 p.m. in the MOTO Lab (945 W. Fulton Market, Chicago, IL 60607). For details and class availability, please call us at 312-491-0058.