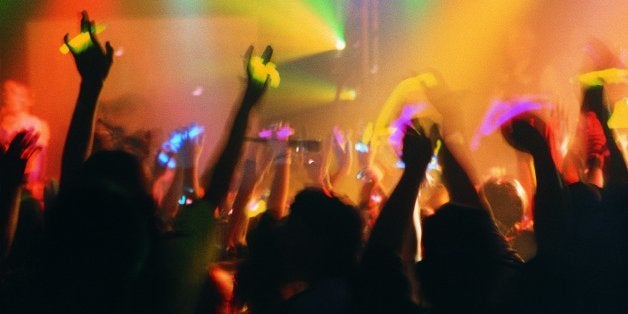 This article was written by teen reporters from The Mash, a weekly publication distributed to Chicagoland high schools.
By Gabby Abesamis, Niles West High School
After a jam-packed summer of music festivals and parties, Molly has been busy. She made her rounds at Lollapalooza and Spring Awakening. She even made headlines at Electric Zoo, a Labor Day weekend music festival in New York.
The accusation? She caused the deaths of two young festivalgoers. But Molly is still out there.
According to the Drug Policy Alliance, "molly" and "ecstasy" are common slang names for MDMA, an illegal drug that's "sold either as a pressed pill taken orally, or as a powder that's snorted or swallowed. MDMA's effects resemble those of both stimulants and psychedelics."
The drug can cause users to feel "open, accepting, unafraid and connected to the people around them."
Dr. Jake Colton, a psychotherapist and substance abuse counselor at Open Avenue in Chicago, said molly attracts teens because its effects can cause social and happy behavior.
"They feel good on the drug," Colton explained. "It naturally makes people want to connect to others when they're on the drug, and in general just creates a sense of openness. So I think it's a relatively attractive drug to teens for that reason."
In an interview with The Mash, one Lyons Township graduate, who requested anonymity, said he believes the drug definitely has a social side effect.
"Conversation flows without a hitch," he said about his experience with molly. "I can go up to complete strangers and spark up a good conversation and make friends so easily."
And those aren't the only qualities this teen associated with the drug. He described the "rolling" experience—a term used to describe the high a user feels from doing ecstasy or molly.
"Rolling is literally one of the greatest feelings one can feel," he said. "The first time I felt (it), it was like a huge wave of warmth and pleasure hit my body."
But along with those seemingly good feelings come a slew of not-so-good feelings: confusion, anxiety, nausea, depression, paranoia and dehydration.
The effects—positive and negative—are stimulated by sound, sight and touch, according to the DPA, which may explain why molly has found a home at electronic dance music (EDM) concerts.
Niles West senior Demetra Adrahtas, who has attended Lollapalooza, Spring Awakening and North Coast, said she's noticed the presence of molly at all of the concerts she's been to recently.
"Now that EDM has become more popular, I think (molly) has also, because people become subjected to the lifestyle through these concerts," Adrahtas said. "I'd say more than 50 percent of the people (there) do, or at least do some type of acid or ecstasy."
Staley Sharples, a writer for EDM Chicago, said she's concerned about the close ties between molly and the EDM scene. While attending Spring Awakening, Sharples said she was offered molly at least eight times.
"It's so upsetting to see people rolling so hard that they're barely functional, and then see them get ditched by their friends when they're in trouble," she said. "Plus, now that EDM is more of a mainstream genre, it's reached younger age groups, which means that the drugs are also reaching those groups."
One of the major concerns surrounding the drug is that there's no telling what's in it—unless you have a testing kit. For some, false advertising could lead to bigger problems.
"The No. 1 danger would be that you're not actually getting molly, you are getting something else or molly cut with other substances," Colton said. "Oftentimes people mix speed with hallucinogenic drugs to try to stimulate the properties of molly and ecstasy."
Combining molly with a hectic concert or festival atmosphere could cause another set of problems for its users. According to the DPA, hyperthermia—when one's body temperature increases to a dangerous level—is one of the most commonly reported problems.
"Often it is associated with the dance community where people would dance for hours and hours and they'll be having such a good time and feeling good that they won't check in with their body enough and won't notice how dehydrated they are … and they can die from dehydration," Colton said.
EDM fans aren't the only ones who are hearing about molly. The drug has found its way into the rap and hip-hop scene too. Trinidad James, Jay Z, Lil Wayne, Rick Ross and 2 Chainz have all spit lyrics about the infamous pill.
"Popped a molly, I'm sweatin', woo!" Trinidad James raps in his popular single "All Gold Everything."
Miley Cyrus has even been linked to the drug after controversy surfaced over her "We Can't Stop" lyrics: "We like to party / Dancing with molly / Doing whatever we want."
Cyrus told Rolling Stone in June that she was singing "dancing with Miley," which people misinterpeted because of her country accent. But last month she told the same magazine, "Hollywood is a (cocaine) town, but weed is so much better. And molly too. Those are happy drugs—social drugs. They make you want to be with friends."
Although the DPA reports that overdoses are rare, deaths have been connected to the drug in recent months.
At the end of the summer, officials pulled the plug on the third day of New York's Electric Zoo after two festivalgoers died from MDMA overdoses, the city's medical examiner confirmed.
Breaking molly's ties to the music industry might be tough, but Sharples said she has hope.
"Unfortunately, the correlation between drugs and dance music is as old as the genre itself, but now that the genre has more of a widespread interest across the world, the drug scene that lurks behind it is getting a lot more attention and more (business)," she said.
"It doesn't have to be that way though," she continued. "But it's going to take a lot of people to change that within the community, including festival organizers and performers."
—Rand Jassar of Niles West, Kathryn Cua of Hinsdale Central and Perry Spring, a 2013 graduate of St. Ignatius, contributed to this article.
What's Molly?Molly and ecstasy are common names for MDMA, which is sold either as a pressed pill taken orally, or as a powder that is snorted or swallowed.
What does it feel like?People say they experience heightened sensations and describe themselves as feeling open, accepting, unafraid and connected to other people.
What are the risks?Hyperthermia is one of the most commonly reported problems. Often users can become extremely dehydrated, which could be deadly.
Any other effects?Some people report feeling depressed for up to 48 hours after using.
Source: Drug Policy Alliance
Related
Popular in the Community