This was originally posted on StyleLikeU.com Scroll down for photos and video*
Molly says that as a photographer she never walked around looking for something to photograph. "To be a true artist you need to be making it... it needs to come from inside your head." (Take a look at her haunting self-portraits in this post). It is this drive for authenticity that defines Molly and has earned her the stripes of art director at a relatively young age. Her convictions to become herself were there from an early age. As a toddler, Molly would not go to bed unless she was in heels and would kick and scream until her mother gave up and let her sleep in them. Being true to yourself requires self awareness and a willingness to grow and to hear your teachers.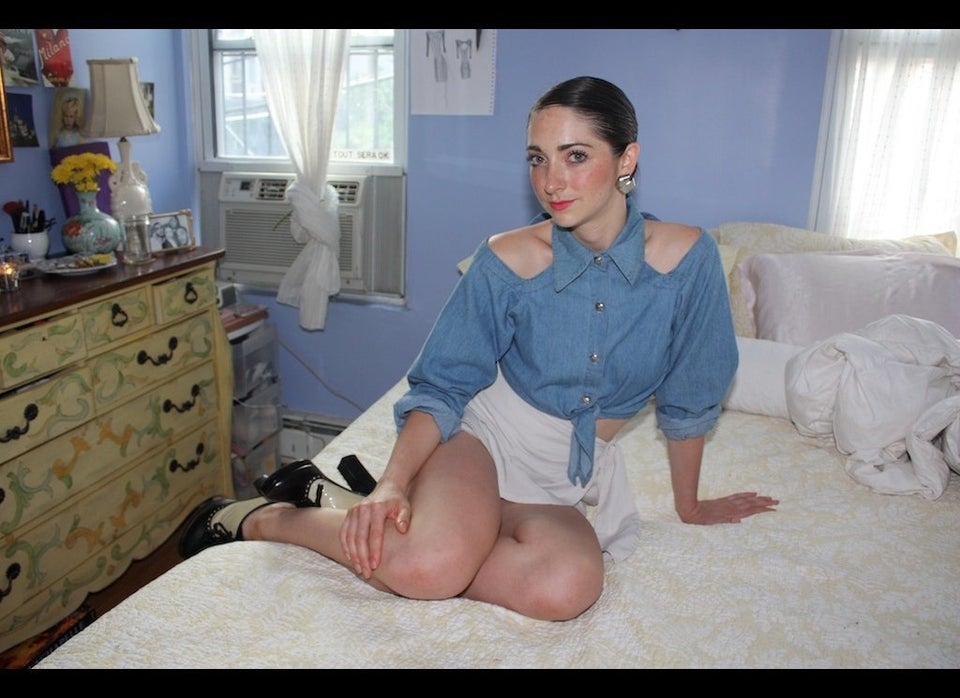 Molly Gottschalk from StyleLikeU.com
Molly has had many influencers, including her mother and grandmother, who were the epitome of elegance in dressing. In fact, Molly's babysitters would wait to catch a glimpse of their head to toe polished outfits, some of which Molly still wears today. Similarly, Molly's all about feeling pulled together, but in a modern, "mismatched... middle school girl in little skirts," kind of way. Much of her look is achieved with long-coveted family heirlooms - a chiffon scarf from her grandmother, a bustier from her mother, and two hundred pounds of Chanel suits and a straw boater, among other treasures, from her cousin.
Molly says that she loves to look like Jackie O and she is always in heels, including the perfect Marc Jacobs spectators that she managed to get back from her sister after giving them away. For me, this shoe exemplifies Molly herself: "poised, elegant, sexy, and feminine," the characteristics usually described to "women of another era," as she says. What has probably impacted Molly's career path the most is an internship with legendary photographer David LaChapelle, which turned into a two-year gig. It was during this experience that she tossed off photography and found not only her director's voice, but became David's muse. Molly says of her mentor, "He knows exactly what he wants, he doesn't rely on other people to present ideas to him. He's very driven." It takes one to know one, as the saying goes.
"David LaChapelle would always say, 'When you want to create something, think of a blank space, a blank room, and think about what you want to see, what you want to put in it.' What is great about his work is that he creates a whole world. It is all made up; it all comes from his imagination, and that's what I like to do." Molly Gottschalk