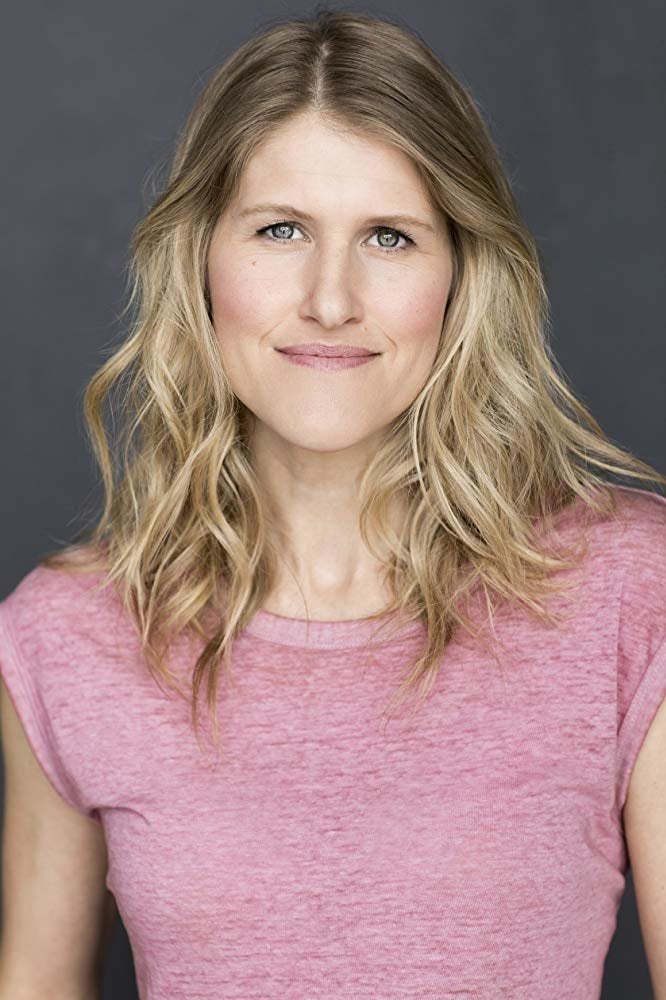 Three minutes into the first episode of her debut podcast "Spermcast," Molly Hawkey begins to cry.
"Let me assure you, this is not a trick," she says through tears. "This is something that I have always wanted, and I'm scared that I may never have."
Hawkey is referring to having children. She froze her eggs a few years ago fearing "no foreseeable path to motherhood" as she approached 40 and ended a relationship with a divorced dad who didn't want more children. Now 39, the actor, writer and comedian started "Spermcast" earlier this year with the idea to interview potential sperm donors ― some male friends and acquaintances and some strangers ― and ultimately, document her insemination and pregnancy.
"Almost everything I've done until now has been a hoax," she told HuffPost. "Spermcast" is anything but, which is why Hawkey resisted editing out the show's tearful moments.
"Sometimes people will message me and ask, 'Is this real?'" she said. "I didn't want there to be any confusion that this is absolutely what I was doing and that it was completely sincere."
With "Spermcast," Hawkey explores how the pressure to procreate has governed so many decisions in her life ― steering her away from certain personal or creative pursuits while failing to guide her towards a traditional path to motherhood.
"I didn't want there to be any confusion that this is absolutely what I was doing and that it was completely sincere."
The comedian, who grew up with four siblings, has wanted children as long as she can remember. She is forthright and thoughtful in her preferences for a sperm donor: She values emotional intelligence over general intellect and needs a donor with a glowing family mental health record (she herself has a history of panic disorder, and alcoholism runs in her family). She wouldn't mind having a decent looking baby.
Listening to Hawkey interview men about their histories and abilities is amusing. But "Spermcast" centers unequivocally around women, and how the tick of the biological clock can reverberate through every aspect of our lives. It's a "tiny little fear that the window may close on us someday, that's always sneaking around, lurking in the back of our minds, coloring our decisions, our careers, and fucking up our relationships," Hawkey said.
The podcast includes interviews on a range of topics related to motherhood and pregnancy. Hawkey speaks to a "single mother single mother by choice," a surrogate, and explores whether men have a biological clock too.
"My manifesto was to interview a new sperm donor in each episode," Hawkey said. "But there's so much I want to learn and so many people I want to talk to."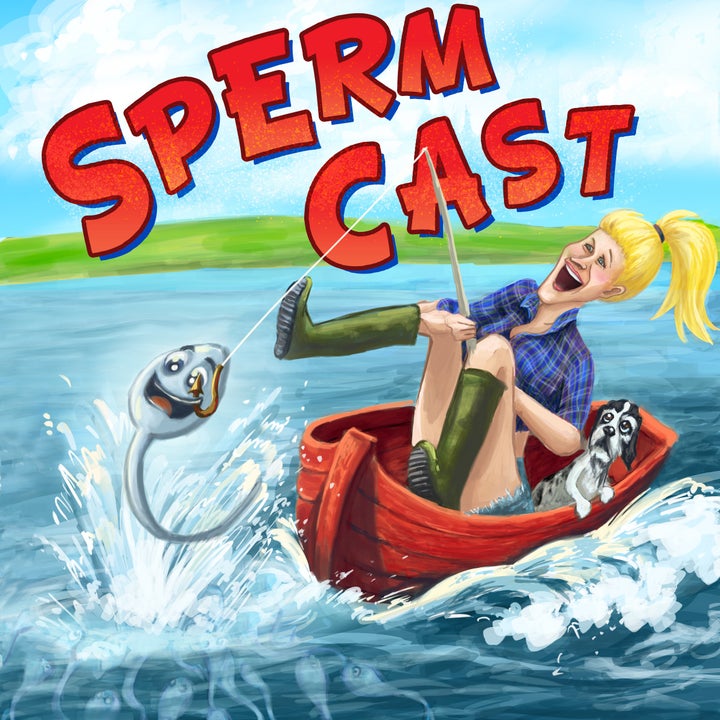 Hawkey froze her eggs when "nothing was falling into the place they way I imagined it would," she said.
"I never expected I would get to that point in my life at almost 40. I just thought, I better do it as an insurance policy in case I ever got to this point."
With 16 eggs on ice, she'd released a pressure valve. Suddenly, she could access more creative and emotional energy than ever before.
"I was finally myself for the first time in my life," she said. "I could date without wondering if a guy I was dating was going to be my baby-daddy. I could have fun. I'm an actor and I make videos, so I really started not caring whether I looked like an asshole or if I looked ugly."
Her "Bachelor" parody took off around the same time, and Hawkey said she had "no idea" how much the pressure to find a suitable partner with whom to get pregnant had weighed her down.
"It was a big shocker. I also didn't even try to date for a whole year after that," she said. "I just didn't care. Nothing male-related affected me at all. I feel magnetic with guys right now, and I'd never felt that way before."
Releasing a podcast in which she reveals her urgency to become a mother and commits to doing so alone has been even more liberating for her as far as dating is concerned
"I'm no longer trying to find Mr. Right. Having the baby will remove that big question mark that I see over a man's head when I meet him that asks, 'Will you be the father of my children?'" she said. "I'll be able to see that person for who they really are, and enjoy them for whatever we have in that moment."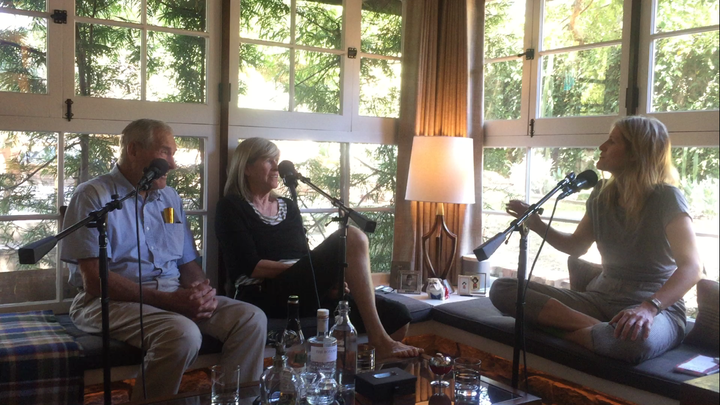 In that sense, Hawkey said "Spermcast" "wasn't just about looking for a sperm donor, but for some personal growth." But about midway through taping the season, Hawkey got more personal growth than she'd expected to. In May, her dog Benny passed away.
She began having panic attacks for the first time in 15 years. She believes they were triggered by both her dog's death and the "emotional upheaval" of exploring a range of existential issues on the podcast. But after that, Hawkey began to question her choices and motivations, especially with regard to motherhood.
"That kind of put a different filter on the podcast moving forward," she said. "When I first got into it, I saw the world through rose-colored glasses. After my dog passed away, I really started doubting all of it. I'd had a dependent for 15 years and then I had nothing and then I had to focus on just myself for the first time and realized, what am I doing with my life?"
"I never expected I would get to that point in my life at almost 40."
These questions have given the podcast a different tenor, which Hawkey embraces. Through interviews with friends, family and experts, she explores if she's really yearning for motherhood, or searching for something else. She talks openly about seeking mental health treatment, and how unexpected but common challenges could influence her path toward motherhood.
"I'm definitely afraid that people are going to think that I'm an unfit mother. But I'm doing this process and I feel like I owe it to my listeners to be honest with them," she said. "I didn't expect any of this, but this is the reality of what's going on in my life."
Often, Hawkey uncovers her evolving perspectives towards motherhood in episodes about more ancillary topics, such as financial stability. In a taped conversation with her parents, Hawkey has the epiphany that financial concerns might be the only thing keeping her from trying to get pregnant right away.
"That had never occurred to me, and that's when I realized that this podcast is basically about me getting to a place where I can financially and personally have a baby," she said.
Hawkey said she doesn't "really care about anybody knowing that I struggle with money," acknowledging that it's a common plight for many in the creative industries who chose to follow a dream rather than have a steady job.
"I sometimes wonder if I would make the same choice 20 years ago," she said.
Asked whether she thinks she'd reconsider that path if she had the partner and family she'd expected by now, Hawkey responded: "No. I'd be totally chill."
Popular in the Community