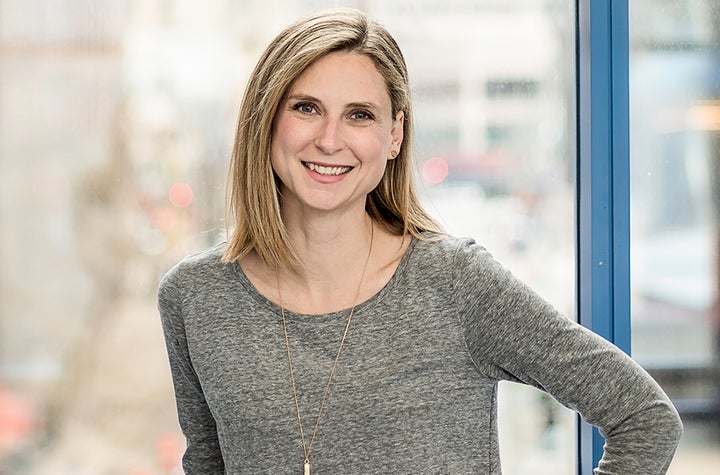 I spoke to Molly Moseley, a founding member of LinkUp Job Search Engine and one of LinkedIn's Top Voices of 2017, about how the recruiting landscape has changed, the skills that are most in-demand, how to be a successful job seeker, how she's built her LinkedIn following and her best career advice.
As the SVP of Marketing and Agency Relations at LinkUp, Molly leads all Marketing efforts for the company and continues to help build the best job site on the web today. She works closely with key members of enthusiast, consumer and business media, vendors, agencies, and direct clients on a daily basis.
Dan Schawbel: How has the recruiting landscape changed over the past decade and what does the future look like (especially with artificial intelligence)?
Molly Moseley: Over the past 20 years or so, technology has completely revolutionized the recruiting and HR industry. To date myself, I looked at help-wanted jobs ads in the newspapers and physically mailed in my resume to companies to apply for positions after I graduated college! Technology has streamlined the job search and application process, and facilitated recruiting, hiring, and on-boarding. The introduction of AI in the recruiting space will continue this trend, facilitate the selection and assessment of candidates, and be the conduit by which candidates move through the process.
On the flip side, there will always be a place for the role of networking and personal interaction. Computers can help identify candidates, but they can't provide a personal anecdote of a time a candidate demonstrated resilience in the face of challenge. Assessment software can determine if a candidate is skilled in computer coding, but not necessarily how good they are at working with a team. The future of recruiting is figuring out how to leverage both in the most advantageous way, and getting the two to work together.
Schawbel: Based on your experience, and research, what skills are the most in-demand today and what sources should job seekers turn to to develop those skills?
Moseley: At a macro-level we're seeing a lot of language in job listings regarding Emotional Intelligence or (EQ). Employers can teach employees many of the skills they need to succeed in their work, but there is no denying some skills are harder to teach than others, thus they are more in demand. Soft skills like EQ are far more difficult to gain, but that doesn't mean it's impossible. The biggest thing you can do to hone your EQ is pay attention… to those around you, to yourself, to what's being said, and maybe more importantly, what's not being said. Once you become good at observing yourself and others, you can take the next step of making meaning out of those observations, and then taking action.
Of course tech skills are always in demand, but at a more micro-level, we're starting to see lots of reference to experience in, and skills related to cryptocurrencies. It's arguably a pretty niche area, but the rate at which these references are increasing is pretty impressive. We are seeing job titles with the term cryptocurrency in them, such as Senior Investment Strategist (CryptoCurrency), as well as references throughout job descriptions.
Schawbel: If you were a job seeker today, how would you go about your search and what would you avoid?
Moseley: I would of course tell everyone to go to LinkUp.com to find the most up-to-date, relevant jobs. Obviously I'm biased, but we hands down have the best job search engine out there. No scams, duplicate, or junk. Just jobs directly from company websites. We also developed a job search methodology called the 5-step job search. Some of the technology in the industry has progressed, but much of this methodology still serves job seekers well today.
Essentially, I'd start with some reflection, what type of job am I looking for and what type of company. What are my non-negotiables in terms of salary, commute, and culture. I'd update my resume to reflect this, and then start searching, leveraging tools like job alerts to automate my search as much as possible. Then it's all about your network. As you're applying for jobs, reach out to folks who can help get your resume to the top of the pile. As interviews begin, prepare yourself to use remote interviewing technology. Lastly, only apply for jobs directly on the company's website. Avoid job sites that require registration.
Schawbel: You've build a considerable audience using LinkedIn as a platform. Why do you think the site is valuable, what impact has it had on your career and what do you think makes for an engaging post?
Moseley: LinkedIn is an extremely valuable platform due to its focus and dedication on the workplace and careers. It allows users to explore the topics that are relevant to them and build a massive professional network. LinkedIn has allowed me to have a voice and I have found out that people actually want to hear it too! I am able to express my outlook and views on topics that I'm passionate about. I personally have found that the posts that receive the most engagement have strong, relevant, and concise titles. If you can't get a reader's attention, they will never make it to the first sentence of your article. A few of my most popular articles are F*&k meetings, Leader or Bossy, and Fireball Fridays. All three attracted folks of different viewpoints, were slightly controversial, and resulted in a lot of great engagement. I only write about topics in which I have interest, or better yet, passion around.
Schawbel: What are your top three pieces of career advice?
Moseley: 1. Be open minded. In order to truly grow and challenge yourself, you must listen to other people's perspectives and be extremely open to feedback.
2. Fuel your passions. You'll be more successful (personally and professionally) if you're working on something for which you have passion. Be reflective on what drives you, and what doesn't. Always strive to ensure you are feeding that passion and adjusting your career course as that passion evolves.
3. Be your own advocate. Be bold in sharing your ideas, and advocate for yourself and your abilities. You can't wait for someone else to do it for you.