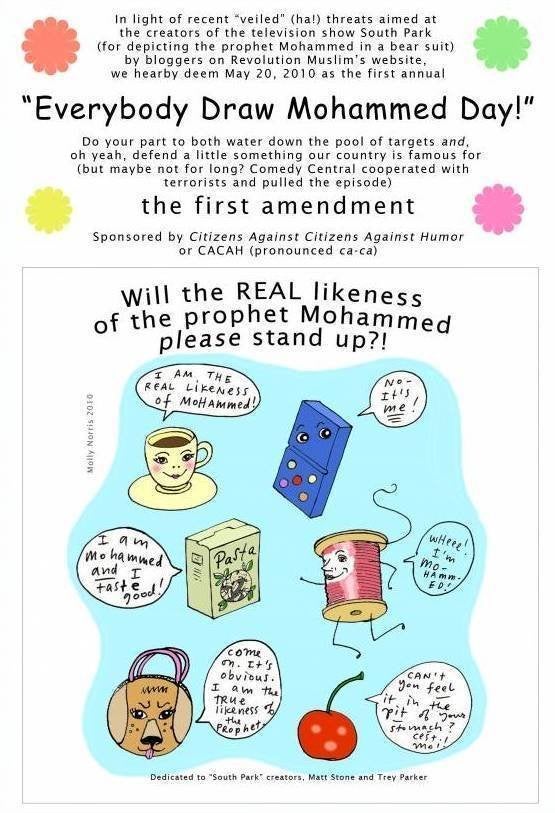 The recent threats were issued in Inspire magazine, an English-language al-Queda publication aimed at Muslim youth. The author of the article containing the threats is Anwar al-Awlaki, who is wanted in Yemen for his alleged role as a planner of the botched Christmas Day bombing of a Detroit-bound passenger plane last year.
"[Norris] should be taken as a prime target of assassination...This campaign is not a practice of freedom of speech, but is a nationwide mass movement of Americans...[who are] going out of their way to offend Muslims worldwide."
"The Yemeni-American cleric Anwar al-Awlaki - the radical who's also been cited as inspiring the Fort Hood, Tex., massacre and the plot by two New Jersey men to kill U.S. soldiers - singled out artist Molly Norris as a 'prime target,' saying her 'proper abode is Hellfire.'"
In light of the threats, CNN.com reports that FBI officials like Special Agent Marty Prewett have advised Norris to "take precautions to ensure her safety."
"'The FBI is always reviewing and assessing information it receives,' Prewett said. 'Whenever the FBI comes into possession of information of a threatening nature to an individual, we let that person know so they can take appropriate security measures. That is the case here.'

Prewitt declined to comment on where Norris is and whether she is receiving protection from law enforcement. Al-Awlaki also threatened eight other cartoonists, journalists and writers from Britain, Sweden and Holland."
In April, Norris drew a controversial cartoon in which she satirically represented Prophet Mohammed as various everyday objects, including a teacup, domino, and spool of thread. The cartoon urged the public to participate in a fictional "Everybody Draw Mohammed Day" on May 20. Norris created a fictional group, Citizens Against Citizens Against Humor, to "sponsor" the supposed event.
Norris says she was reacting in part to Comedy Central's decision to censor an episode of "South Park" that depicted Mohammed wearing a bear suit. Norris dedicated her cartoon to "South Park" creators Matt Stone and Trey Parker.
Facebook groups — both for and against "Draw Mohammed Day" — sprung up, and Norris' attempt at satire seemed to be spiraling out of control.
"Everybody Draw Mohammed Day" took off within days of Norris' April post and a subsequent appearance on 'The Dave Ross Show' she says she also regrets. Thousands of images have already appeared on at least two related Facebook pages she did not create that boasted upwards of 71,000 members Thursday afternoon and features not discussion or debate but streams of verbal and visual vitriol."
Norris, who says she has lost 7 pounds from stress since she published the cartoon, has since removed the cartoon from her website and replaced it with an illustration featuring her feelings about the incident. (Norris' website is currently under construction.)
In May, the Facebook campaigns leading up to May 20 prompted a Pakistani court to issue a ruling blocking access to the Facebook site.
"It's been horrible," Norris told Guzman. "I'm just trying to breathe and get through it."
Full cartoon below: