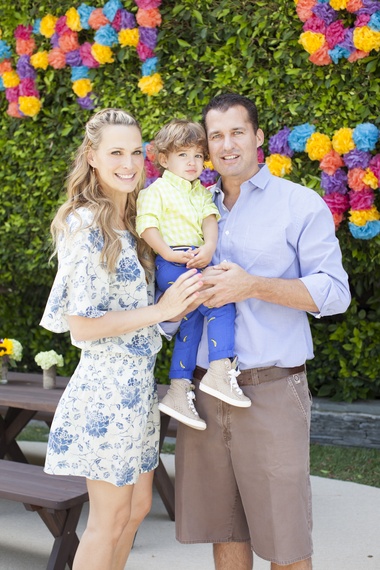 When it comes to parenting, supermodel and actress Molly Sims can be playful, but also knows how to lay down the law Southern style.
You can still be friends with your kid and love your kid more than life itself, but be a parent! I'm a really fun parent, but I'm a fun parent with structure -- you still have to sit your tushy down; when we eat, we have to sit at a table; we have to say, 'yes ma'am' and 'thank you.' Maybe it's being Southern -- I can be tough, but I'm fun.
Sims and Scott Stuber, her film producer husband of almost three years, are on the same page in terms of parenting style, perhaps because he grew up with a Southern mother. He always has Sim's back in disciplinary matters.
The couple has 2-year-old Brooks, a honeymoon baby, and are in the process of trying for another. Sims grew up in Murray, Kentucky and credits her parents with giving her a foundation that has led to personal and professional success in her life.
Well known for her role in NBC's Las Vegas and appearing in Sports Illustrated Swimsuit issues (remember the $30 million diamond bikini?), Sims is now interested in taking the things that have worked for her in her life and helping women to apply these strategies.
Sims is achieving this through her website Mollysims.com, which includes tips on fashion, beauty, wellness and décor among other things. In January, her new book The Everyday Supermodel (Harper Collins) will be released. It's a book inspired by her website about "fitness, health and beauty, and how to be the best 'you,' you can be," says Sims.
Recently, I had a candid conversation with Sims about having a baby later in life, parenting and what she wants most for Brooks.
Self-Confident and Clique-Free
In September of 1994 when Sims was at Vanderbilt University, she recalls sending a postcard to her parents, telling them she wanted to make a go of modeling in Europe. She attributes this bold move and the necessary self-confidence to her upbringing. "We didn't have a pot to pee in when we were growing up, but my parents had a way of making me believe I could do anything," she says.
Her mom in particular encouraged her to be herself and not follow the crowd, which are values she wants to pass on to Brooks.
My mom was always like, 'dare to be different -- if everyone's wearing their hair curly, you wear it straight... and don't be cliquey. You'll be surprised who you'll like in band class, with the gothic kids, or the nerds, or the smart people.' I was never clique! Ever!
As bulling is on so many parents' minds today, I asked Sims about it and even at two years old, Brooks has experienced some bulling.
He's already hanging out with older boys. He's two, and they're five and he wants to be them. I heard a couple of the boys say, 'copy cat,' and it kind of hurt me, but I didn't say anything to him. When we got by ourselves I said, 'You did so well keeping up with the big boys.'
Sims is adamant that bullying shouldn't be kept in the dark.
I think a lot of kids want to say something, they just don't know how. The best thing you can get your kid to do is talk. Talk. Talk. Talk. Talk. Talk... I've done therapy through the years and I know the more that I talk, somehow the more I feel better.
When Sims had her baby she was 39 years old. "I never wanted kids younger. I wanted to be more settled. I didn't want to ever feel that I had missed out," she says.
Sims had no problems getting pregnant, but had a complicated pregnancy in which she lost Brooks' twin: "It was definitely stressful. I'm not going to lie."
Is she a better parent than she would have been at say, 25? "I'm more tired -- listen, I think there is a reason why people have kids in their 20s. It's a lot easier physically, but I take care of myself, and I try to eat right. I don't think I'm a better parent than I would have been at 25, because I would have tried my best at any age, I just think I'm more knowledgeable and settled," she explains.
Trying for a baby now, good nutrition and healthy habits are essential for her. "When you're trying for a baby, I don't think you can diet. That's probably the worst thing you can do. The best thing you can do is to be balanced," she says.
For Sims, balanced means eating three meals a day and two snacks. A typical menu for her is a breakfast of wheat or gluten-free toast together with a poached egg and avocado. Lunch often consists of chicken or shrimp salad and dinner may include turkey meatballs with tomato sauce with a veggie like spinach.
I asked Sims what worries keep her up at night about Brooks. She echoed the sentiment of many parents: "I worry that something is going to happen to him. I think, 'Oh God, don't have let our luck run out.'" When this happens she catches herself and talks to someone like her husband. "You have to keep your head from spinning because it's all for naught... I pray a lot."
Even though some of Sims core values are rooted in her Southern upbringing, she also has a very modern sensibility about the world today, which is mirrored in one of her biggest concerns for Brooks.
I want him to have a diverse upbringing... I grew so much in traveling and living in Europe for 6 years when I was a young girl. Those things made me think broader -- think more openly. For Brooks, I want his eyes to be opened to the world. That's my biggest worry.
REAL LIFE. REAL NEWS. REAL VOICES.
Help us tell more of the stories that matter from voices that too often remain unheard.