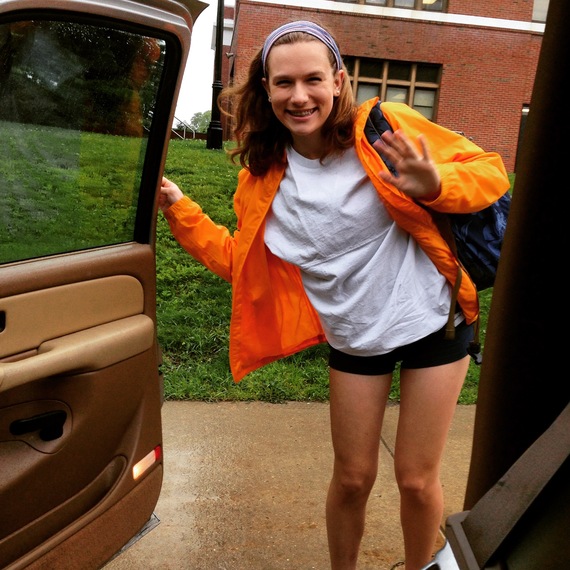 I pulled into the Pierson High School drop-off area, waited for favorite daughter, Molly, to grab her heavy blue knapsack and get out of the truck. She smiled, said, "I love you, Daddy," blew me a kiss, closed the door, and headed for her last day of classes. Pulling away, it hit me that for ever and always, this was the last time I would drop my daughter off at high school, and I began to sob.
Now, with favorite son, Connor, just graduating from UMass Amherst, and Molly graduating high school with honors and headed off to Gettysburg College, I've been crying a lot lately. Yet in truth, my crying is mostly from an overwhelming sense of joy, gratitude, wonder and awe. How did I become the luckiest man on the planet?
It's no secret I came from a broken home, became both a drug addict and homeless at 17, and never got the opportunity to graduate high school with my class. I never went to college, and after a failed marriage at 20, I swore I would never get married again or have children. Until I met Candace 12 years later. Because of my past, I was terrified at the thought of having kids, although it soon wouldn't matter, as a couple of years into our marriage, we were informed we would never have children. Candace was devastated, I was relieved. And then, almost five years into our marriage, Candace astonishingly got pregnant with Connor, and then again two years later with Molly. Now it was my turn to feel devastated and Candace was relieved.
Intimidated and scared with the prospect of having children, I hadn't a clue about parenting, and found myself detached and singularly focused on my work. Connor was born and then Molly, and over time, with Candace's compassionate patience, guidance, and Irish Catholic humor, I soon began falling in love with our children, as they were falling deeply in love with me.
Once our children started pre-school, I insisted that if in town and not traveling, I would take them to school. We lived first in New York City, and I would walk the kids to school, hand-in-hand, never quite finishing our conversations before arriving just before the first bell. We hugged, kissed, performed secret hand slaps and rituals, reminding each other of our love. We moved to Sag Harbor, New York, and the tradition of taking our children to school never ended, from elementary, and then middle and high school. Every day, Candace and I would get up before our children, make them breakfast, help them get ready for their day, and take them to school. And this morning, nothing changed. I was up early, said my prayers and meditation, woke Molly, fed the dog, prepared French toast, as Candace made sure Molly had everything she needed for her last day. Today, everything seemed normal, at least as it's been over the last 17 years of raising our children. Tomorrow, however, as it finally seeped into my consciousness, will be new and different.
In August, when Molly starts college, we will have one last drop-off. If anything, like Connor's first day of university, it will be fast, mostly drama free, and in less time than I would like, Molly will disappear with her new friends and classmates to start her next adventure. It's all part of the process of raising children and letting them go. Life's eternal breath: in and out.
Life is to be experienced and expressed, a journey of exploration and storytelling. For me, although I had a rough start, I am blessed beyond reason. A fairy tale marriage of 26 years, two children who honor us every day, and a God so magnificent, that He saved a wretch like me. Today's last school drop-off is another reminder that our lives are moments, one after the next, yet still a culmination of experiences that require our daily presence, both in quality and quantity. And the beauty of our lives is that we can start now, in this moment, and build from here.
Today is the last day for the rest of my life I will drop one of my children off at high school. And tomorrow, I, like my entire family, will begin a new day believing we were born to follow our hearts and be happy. We will choose less of what isn't working, and courageously and enthusiastically choose more of those things that move us in the direction of our dreams and desires. That is the elegant math of One Less. One More. Yes, today is the end of a chapter. And tomorrow, the beginning of something new. And I am very excited.
Related
Popular in the Community