Stephanie Amber Tillman described her profession on Facebook as "being a great mother," but on Christmas Eve, cops say her 6-month-old son died naked on a living room sofa surrounded by garbage and animal feces while she was getting high.
The investigation into the case was launched Thursday, after Jerry Allen of North Carolina returned home from work to discover his infant son sprawled out naked and unresponsive.
"That night when I walked in, I was blown away because I've never seen anybody live the way that house was that night," Allen told Charlotte's WSOC-TV.
According to authorities, Tillman, 30, was high on prescription pills and passed out in a nearby bedroom with the couple's two other children, ages 3 and 4. Authorities said the children were awake and naked.
Paramedics determined the infant boy was dead and notified the medical examiner's office. Tillman, according to a press release from the Lincoln County Sheriff's Office, was treated for "what appeared to be extreme intoxication from prescribed medication."
A preliminary autopsy of the child did not indicate a cause of death. Additional testing is required, which authorities said could take several weeks to complete.
"In these situations, we are at the mercy of the medical examiner," Lincoln County Sheriff's Office Cpt. Tim Johnson told Lincoln Times-News.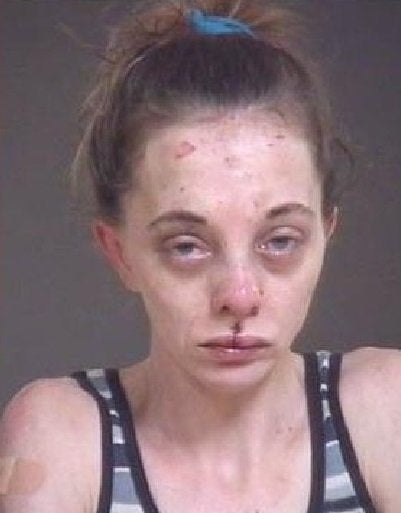 The sheriff's office charged Tillman with three misdemeanor counts of child abuse and contributing to the delinquency of a juvenile. Additional charges could be filed, pending the outcome of the medical examiner's report.
According to a Facebook profile attributed to Tillman, she attended North Gaston High School and Gaston College, both located in Dallas, North Carolina. 
Allen described his relationship with Tillman to WSOC-TV as "rocky," but said he did not think she would hurt their children.
"She had her moments when the kids would get on her nerves, but up until this incident, it was things we could work with," he said.
Allen, who indicated he has been in a six-year relationship with Tillman, said he won't be bailing her out of jail.
"I don't want to ever see her again, ever speak to her again," he told WSOC-TV.
Tillman is being held on a $10,000 security bond, pending her next court appearance, which is scheduled for Jan. 12. Her two surviving children have been placed with relatives.
PHOTO GALLERY
Questionable Parenting
Calling all HuffPost superfans!
Sign up for membership to become a founding member and help shape HuffPost's next chapter