Breastfeeding moms are expert multitaskers. So when one working mother needed to nurse her baby during a live TV appearance, she managed to pull it off with only the slightest hitch.
On Feb. 24, writer and entrepreneur Rachel Sklar tweeted a gif from a CBC News broadcast in which she appeared as a guest commentator. "I went on TV while nursing and you couldn't tell (until the end)," she wrote, referencing the moment her baby's hand sneakily appeared in the frame.
Sklar has a 1-year-old daughter named Ruby. The clip she tweeted is from a January 2016 broadcast. "I have been providing occasional commentary for CBC News for almost a decade now," Sklar told The Huffington Post, adding that the network still calls her occasionally to comment on matters relating media, politics and gender.
"They had reached out to invite me to comment on the new diverse Barbies, and I let them know I was home with no childcare and might have to nurse her to keep her quiet if I couldn't get her to sleep ― which is what I did!" the mom explained. "I used my laptop camera and set it up so it cropped me just below the shoulders. It was about a five minute segment."
Sklar has experience subduing her baby girl while appearing on live television. During a CBC News segment about then-presidential candidate Donald Trump and "Saturday Night Live" in October, Sklar devised a system.
"I rocked Ruby in the bouncer with my foot while holding the iPad out and talking into it," she explained, adding, "That was not the best setup."
"She toddled out, so I scooped her up and breastfed her on air again. Her little arms came up this time too," Sklar recalled, adding that she'd warned CBC ahead of time this might happen.
"They were very quick with the chyrons and the B-roll," she said. "This one was a bit more of a juggle in trying to stay on topic while keeping her shushed, so I had to end it myself."
U.K. reality star Sam Faiers also made a splash for breastfeeding her 9-month-old son, Paul, during an appearance on ITV's "This Morning" in October. And back in March 2015, journalist Rebecca Traister went on MSNBC with her newborn daughter, Bella, though she did not nurse the baby.
Being able to nurse on the job is a privilege for Sklar.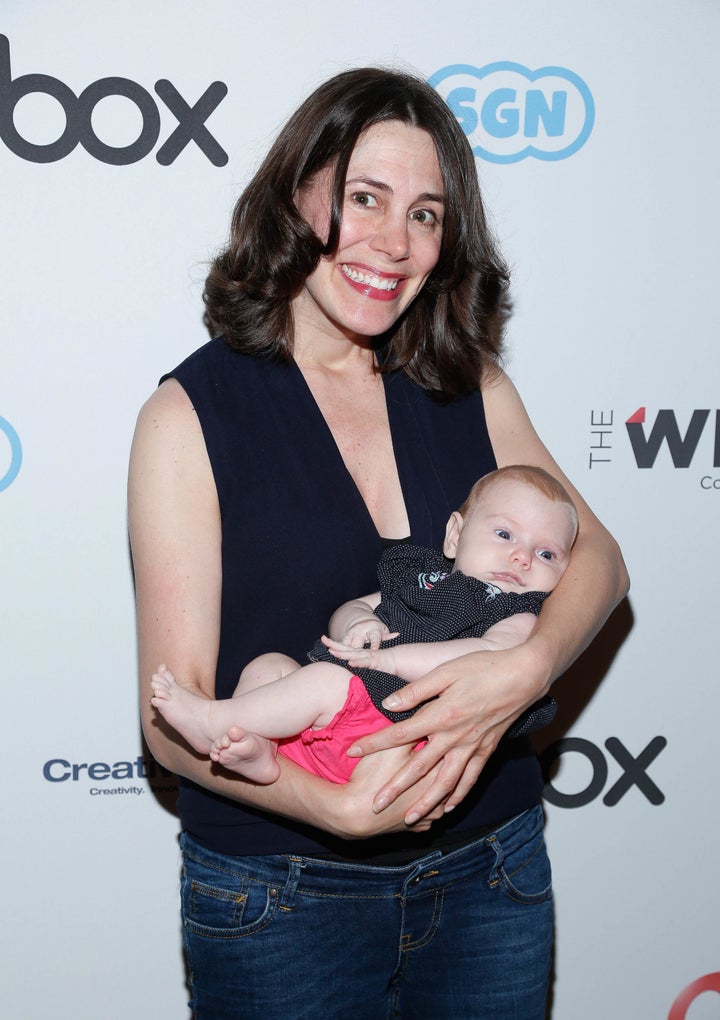 "I work for myself, so I have had a ton of flexibility around nursing," she told HuffPost. "That said, I have had a number of meetings or professional events that I bring her to ― SXSW, WHCD, DNC ― because otherwise I wouldn't be able to go (especially since she was a bad eater early on and wouldn't take a bottle ― the struggle was real), so I'd nurse where needed."
Sklar said she nursed Ruby during a panel at the BlogHer conference in 2015 and also "quietly in the background" of a professional dinner she attended.
"Next to sleeping, nursing is the most reliable way to keep a tot quiet," Sklar said. "Things are different now she's a toddler and is in daycare full-time but even so, it's a great tool to have in the arsenal."
Popular in the Community