A mother and son who happened to have the same first day of school celebrated in an adorable way.
Katie Tucker and her 4-year-old son, Edric Tucker, had their first day of school on August 14. Katie began dental school, while her son began his final year of Spanish language immersion preschool. To celebrate, the two took inspiration from a popular back-to-school trend and posed for a photo with a board that noted their respective first days back.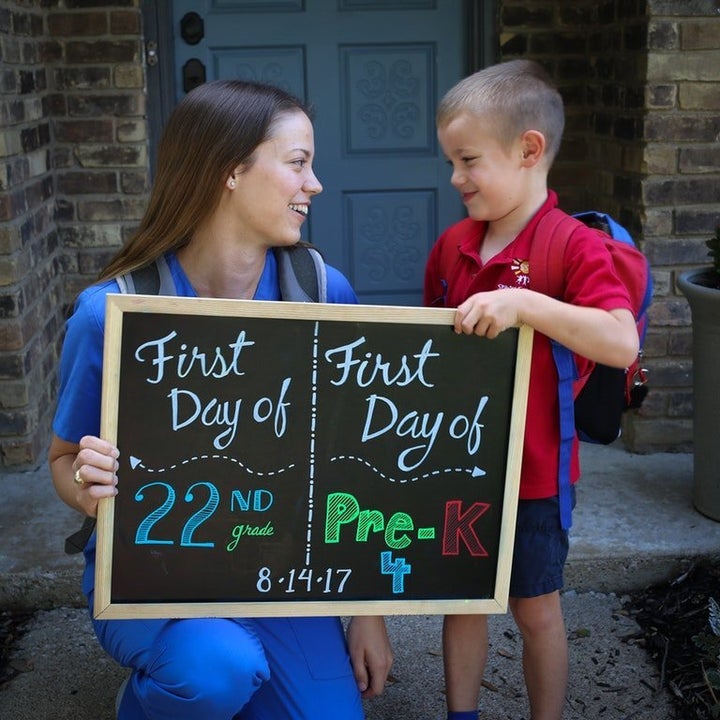 Katie and her husband, Scott Tucker, hoped the photo would encourage other parents who are in school or are thinking about returning to school. For "grades" 13 to 16, she earned her bachelor's degree in zoology, and then spent five years while working full time earning her master's degree in behavior analysis (about two years for courses and three for her thesis). She defended her thesis while 38 weeks pregnant with Edric.
Two years later, she decided to pursue dentistry, and after taking a few extra classes and a dental education admission test, she started her first day of dental school, or what she calls her 22nd year of school.
Katie and Edric took the photo the Sunday afternoon before the big day since she typically leaves the house during the week when Edric wakes up. She joked that their typical weekday morning does "not look that calm."
When asked how their first days of school went, Katie said she hit a few snags.
"Well, I popped out my crown while flossing, and then my coffee thermos leaked in my backpack on the way to the train, so all in all, pretty great!" she joked.
Scott told HuffPost that Edric was excited to see his friends after the summer break.
He and Katie took the photo so their son would have a sweet memory on which to look back in the future. Scott later shared it on Instagram as a note of appreciation to his wife.
"I initially shared the photo because I'm so proud of what Katie has decided to do," he told HuffPost. "And who doesn't want to share a cute photo of their wife and kid?"