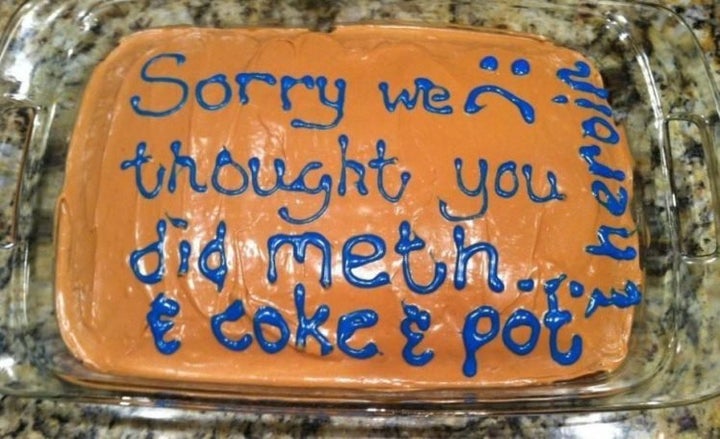 Well, that takes the cake.
And a cake is what it took for Rachel Gelmis to accept her mom's apology after she accused her daughter of taking drugs.
The cake was a nice big one with orange frosting and "'Sorry we thought you did meth… & coke & pot & heroine" (sic) written on top.
Gelmis' mom, Karen, made the cake and the apology back in 2012, but a photo of it recently went viral after the 20-year-old computer science student reposted it on Facebook and Twitter.
The reason for the cake came after Gelmis voluntarily took a drug test at the request of her parents, a service offered by her school at the time ― The Pinnacles Schools, a chain of private schools in Huntsville, Alabama.
"The school was private on one side and an alternative school on the other," Gelmis told The Huffington Post. "The students in the alternative school were given mandatory random drug tests, so the school administration was pretty experienced in reading these tests.
"I was one of the private school students, and our drug tests were optional," she added. "My mom asked them to drug test me because she thought I had been acting weird."
When the results came back, they showed that Rachel had tested positive for pot, cocaine, heroin, methamphetamine, benzodiazepine and barbiturates.
"I got called to the office and basically cornered by four members of the administration," she said. "I was completely terrified because I had no idea what was going on. They told [Mom] before I could talk to her. She was really freaked out, and she cried when she took me home."
Gelmis' mom and dad started looking up different rehab facilities before officials called and told her they screwed up: There were no traces of drugs in their daughter's system after all.
Gelmis said her mom was very sorry she had doubted her daughter, but her little girl had an idea about how she could make it up to her.
"I asked her to make the cake. She felt really bad about the whole thing, and I thought it would be something silly that would make us both feel better," Gelmis said. "I don't remember what flavor the cake was but I do remember the frosting was caramel apple."
Gelmis, who currently studies computer science at the University of Alabama Huntsville, said she and her mom still talk about the incident.
"[Mom] said: 'I didn't think you were on ALL of those drugs, but the test results were a shock. I just thought you were smoking pot or something'," Gelmis said, before adding, "She's always been a very understanding and patient mom. I love her to death and we still laugh about this story all the time."
Gelmis does see the serious side of the incident and hopes other parents will learn from her experience.
"Listen to your kid, try to be understanding, remember that mistakes happen!" she said.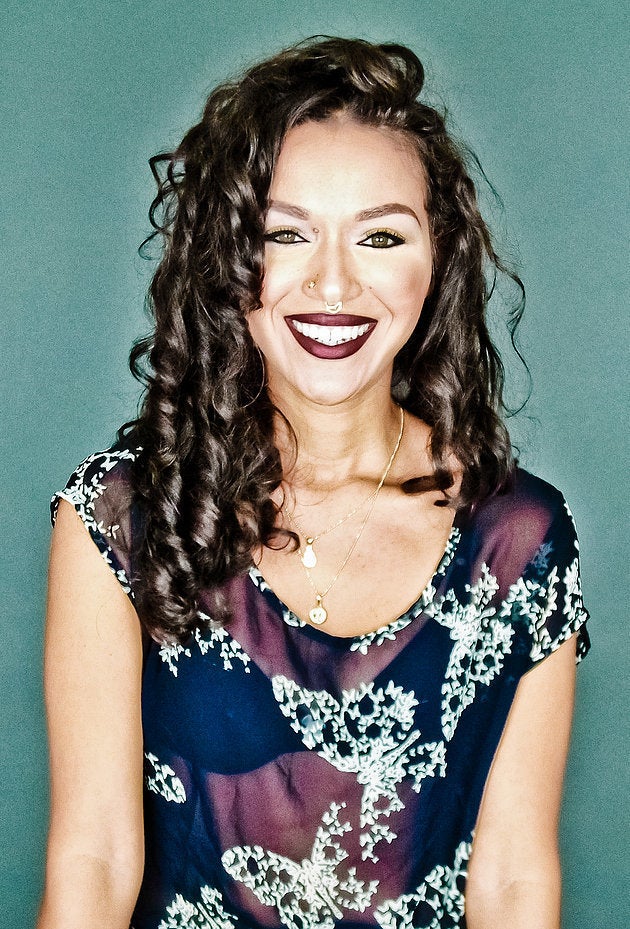 Unconventional Apology Photo Series