A Utah mother decided to use thrift store clothes to teach a lesson to her daughter, who had been relentlessly bullying another student because of how she dressed.
"If she chooses to be a bully after this, then at some point in her life, she's going to be on the other side and she'll know what it really feels like," Ally told KSTU, admitting it was hard to see her daughter face the brunt of ridicule. "And I think now that she knows what it feels like, and she doesn't want to be that person anymore because she knows how hurtful it is."
Other parents have turned to public punishment for children who bully or misbehave. In March, Jessica Rocha of Fort Morgan, Colo., made headlines when she forced her daughter to wear a T-shirt to school that said "Thief" after she got into a habit of stealing. At the time, Rocha was also planning to make her son wear a shirt that said "Bully."
Some psychologists, however, call into question public shaming as a form of punishment.
"Public shaming may be effective in teaching our children what specific behavior they should stay away from in the future to avoid future humiliation," Jennifer A. Leigh, Psy.D., told the She Knows Parenting blog. "However, shaming can damage the parent-child relationship. Children quickly learn they cannot trust their parents. Children need to feel safe and secure and to be able to trust their parents. Without such safety and trust, children's brains do not grow and organize optimally. That means children are at risk for thinking, acting and behaving in detrimental ways."
The National Association of School Psychologists says parents who discover their child has been bullying should take active steps to curb the behavior. NASP suggests explaining to the child why bullying is wrong, discussing alternatives to aggressive behavior by role playing, establishing rules regarding such behavior and reporting incidents to school officials.
Before You Go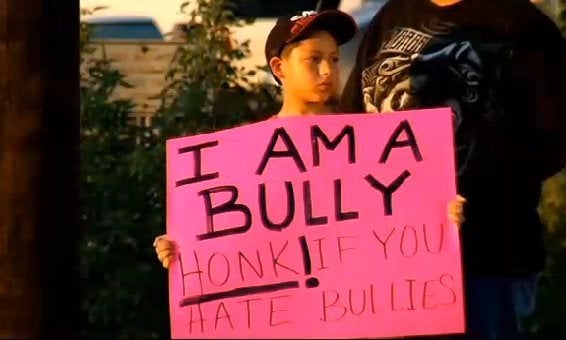 Kids Who Have Worn Signs As Punishment
Popular in the Community