To ease her son's worry about his first full day of school, a mom came up with the idea of a "hug button."
Louise Mallett, a mom of three in Ipswich in Suffolk, England, posted in a Facebook group for The Motherload about her 4-year-old son, Max, and his "first all dayer" at school. He had previously only been there for a few morning sessions, and Mallett could tell he was nervous. To ease his worry, she told him about a so-called button they could use to communicate during the day.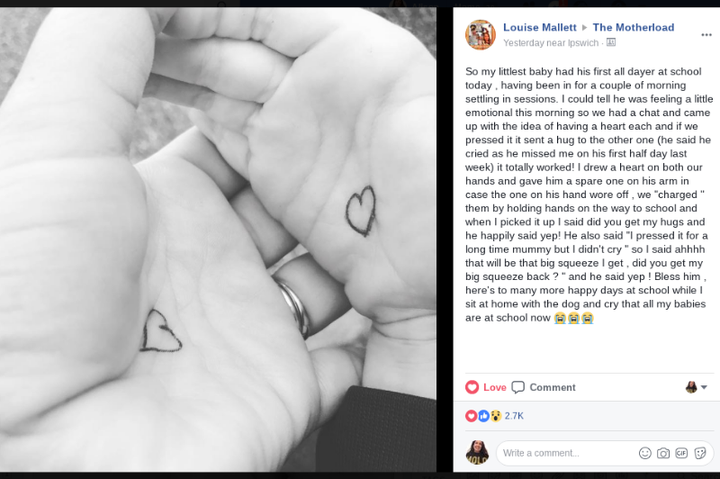 "He had told me on his first half session he cried because he missed me, so I told him I had a magical power as his mummy and I could share it with him," Mallett told HuffPost. "His little face was a picture of excitement and wonder as I explained to him that if I put a heart on his hand and mine, if he was feeling sad and needed a hug he could press it and I would feel it and press mine back and he'd get a big hug."
Mallett even drew an extra heart on Max's arm that day in case the other one rubbed off. The hug button, which is similar to the concept of the children's book The Kissing Hand by Audrey Penn, soon cured all of his sadness.
"At the end of the day I asked him if he got my hugs and he excitedly said, 'Yep! I pressed mine really hard but I didn't cry,'" Mallett told HuffPost. "And I told him how I had felt a really big squeeze and sent one straight back to him."
Alison McGarragh-Murphy, editor of The Motherload, told HuffPost that since Mallett shared her idea on the site's Facebook page, many other moms have written in to say they have tried out the creative idea with their children.
"Lots of mums in our lovely supportive community tried hug buttons, too, and found that they also helped their child cope better with going to school for the first time," she said. "It's such a sweet, simple way to help your child feel happier and more settled. All you need is a pen, two hands and a lot of love."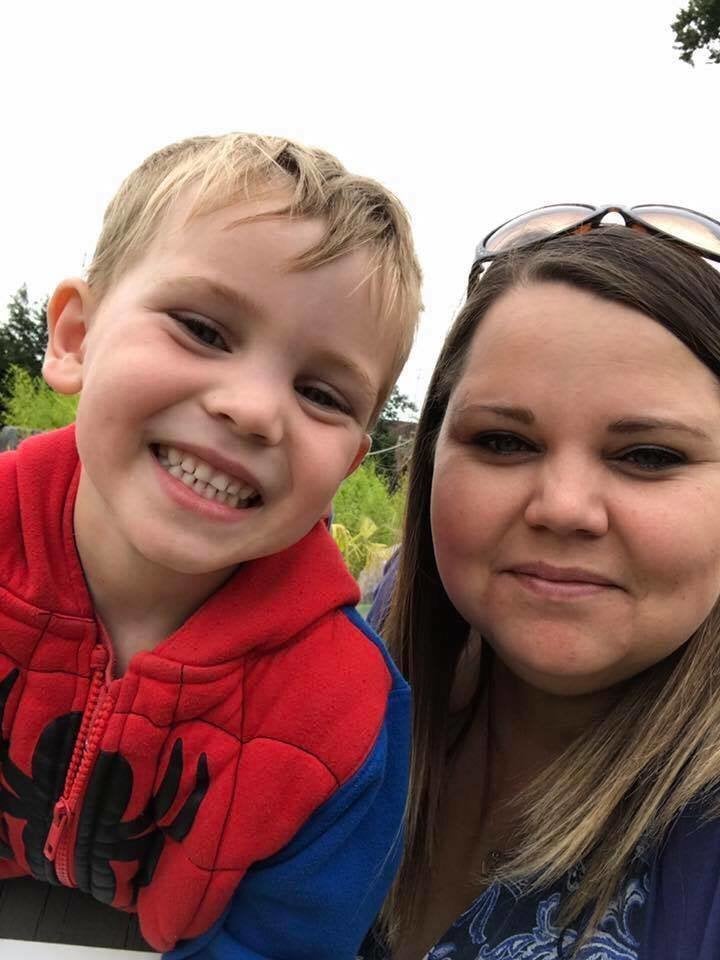 Mallett told HuffPost her other kids, who are older than Max, "politely declined" using the hug button, but Max continues to use it. One day, she gave him four buttons, just in case.
The mom of three said she was "absolutely in shock" to see her idea resonate with so many mothers.
"I simply wrote it as a 'look at the length us mums go to' post, and it just spiraled," she said. "Reading the comments left has been so emotional, hearing stories where my posting this has then helped another child and parent has been so humbling, and I've also had some lovely comments about the little things other mums have done to help their little ones."
She said she might write about the hug button in a children's book so more parents can help their kids handle the sometimes inevitable nerves that come with the beginning of school.
"It's lovely that by doing this it's brought so many mums together in a wave of emotion as the school year has started and hopefully has made the whole experience better," she said.
This story has been updated to acknowledge similarities between Mallett's idea and a children's book.
Popular in the Community