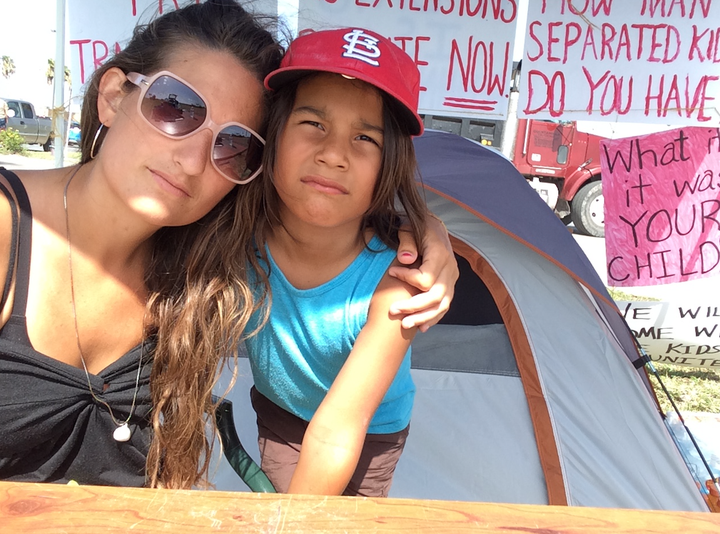 I told my son we were going, in person, to demand the reunion of children and parents. Gabe was up for the trip, no questions asked, as he always is when I tell him there is activism to be done. After two nights of sleeping in our car, three days of driving, and 1,764 inquiries of "are we there yet," we arrived in Texas.
None of these contacts promptly returned my calls. So we pitched a tent outside Casa El Presidente, the "tender age" shelter operated by Southwest Key Programs in Brownsville, where children from the ages of 0 to 12 are being held, and we hunkered down for the night. Two weeks later, we are still here.
Our message is this: Reunite these small children with their detained parents now.
Every morning between 9 and 9:45 we can hear the sounds of children playing not far from our encampment. To get close enough to the opaque playground fence outside the shelter, we have to trespass in front of an abandoned building on the adjacent lot. From there, we can see the shapes of children running around — their little feet under the fence, the balls they are playing with flying up in the air. But we must make our glimpses stealthy and quick: Within 15 minutes, without fail, a police car arrives and circles the abandoned lot. Someone inside Southwest Key Programs has called the authorities because we have come too close to seeing the detained children.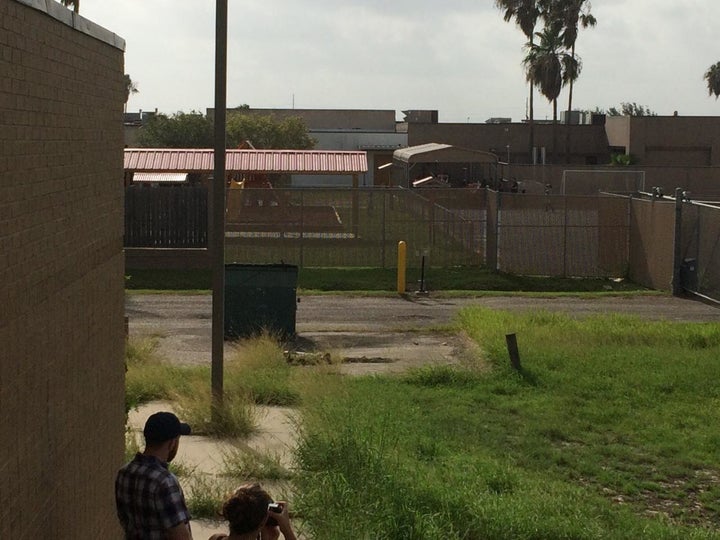 We have become buddies with news crews who are covering what is happening at Casa El Presidente, exchanging Gatorade and bags of ice and tidbits of news as they wait patiently, sometimes all day, for an official rumored to be visiting the shelter to finally appear. On the Thursday of our first week here, DHS Secretary Kirstjen Nielsen supposedly visited, but this was not confirmed until long after her convoy of vehicles left. The members of the media here know as little about what's going on as we do.
Last Saturday, we met a mother, Lesvia, who came to the U.S. from Guatemala with her son, Yudem, almost two months ago. She was taken into custody 56 days ago and finally released from the T. Don Hutto immigration detention center in Taylor, Texas, on Thursday. She was driven to Brownsville by representatives of the Austin-based organization Grassroots Leadership, who had advocated for her release, to have a one-hour visit with 10-year-old Yudem, who is being held at Casa El Presidente. She hadn't seen or spoken to him in over a month. She sobbed as she was led away from our tent while CNN's news cameras surrounded her.
She deserved to leave with him, but the Office of Refugee Resettlement under the Trump administration has created so much red tape for parents trying to get their children back that she left alone. Lesvia was told that although she showed documents proving her relationship to Yudem, she needed to be fingerprinted and submit to a background check, and may not see her son's release for another 20 days. I hugged her, kissed her forehead and told her "I'm so sorry" and "We love you." The Grassroots Leadership representatives translated my words, but they were just words. Her tears wouldn't stop. There is no comfort. There is no consolation.
I'm camping here because I'm a mom of a tender age child. If it were my child being held captive, it would not be OK, so as far as I am concerned, it is not OK for any other mother or any other child.
While the Trump administration is flagrantly ignoring court-imposed deadlines and heartlessly taking its time reuniting children with their parents, each day that passes is agonizing and traumatic for the tender age children at Casa El Presidente.
I'm camping here because I'm a mom of a tender age child. If it were my child being held captive, it would not be OK, so as far as I am concerned, it is not OK for any other mother or any other child.
Every morning, Gabe reminds me that it's time to walk a few yards over to the guards and ask for a tour. I get tired of hearing "No ma'am, we cannot let you inside" and "No ma'am, we cannot release that information" when I ask an employee about what is happening in the shelter.
But every day we still ask for a tour, and every day we call the PR spokesperson for Southwest Key Programs asking for answers.
And, without fail, each day we do not get a tour and we do not get any answers.
Beside our tent we paint signs that read "Complicit," "All we're asking for is a tour," "Try transparency," "We will go home when the children are reunited" and "How many separated kids do you have?" My son made a sign, not in the neatest handwriting, that simply says "Free The Kids."
Gabe doesn't understand why one sign says "Give Yudem to Lesvia." Don't we want all kids reunited? he asks. I explain that sometimes telling the story of just one family can be more powerful. I tell him it can humanize what is happening more than a sign that reads "Reunite Every Child" might. 
We spent the first few days here chasing after our signs, until we finally got smart about the Texas wind and bought some twining.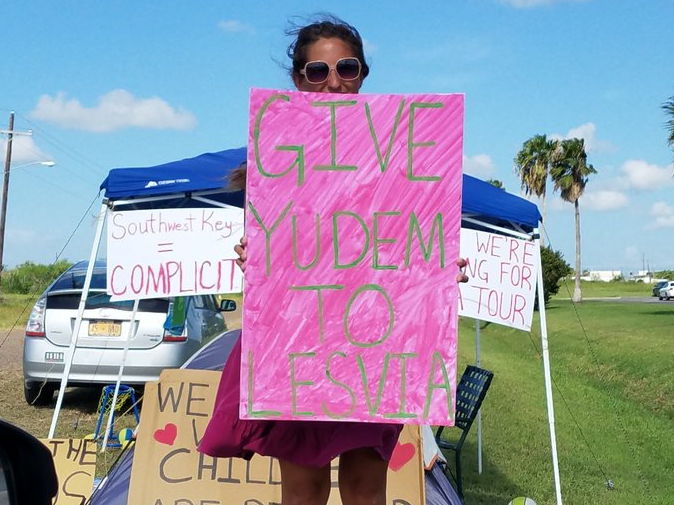 Southwest Key Programs, though nominally a nonprofit, is explicitly benefiting from the separation of children and parents through hundreds of millions of dollars in federal contracts. The employees, security guards and constables I have met in the last two weeks are not just "doing their job" ― they're complicit in a national atrocity.
But it's unclear to me if they know that. One security guard, referring to a sign we've made that originally read "14 days is running out" and now reads "14 days is up," asked me, "Ma'am, what does 14 days mean?"
How could he be standing out here for a 12-hour shift and not know about the now come-and-gone court-imposed deadline that required children ages 5 and under to be reunited with their parents within 14 days?
I want my son to see that when there is injustice and we aren't given answers, we can literally refuse to leave until we get them -- even if it means pitching a tent and preparing to stay as long as it takes.
The U.S. government has created a dehumanizing frenzy surrounding the notion of "illegal immigration," and convinced the president's supporters that we need more hostility, more arrests, more detention centers, more Border Patrol agents, more border wall. What we really need now is an army of moms and dads patrolling the border, demanding the reunion of these children with their parents.
Finding myself unexpectedly unemployed several months ago, I had the time, freedom and privilege to personally start this patrol. The idea of taking a 9-to-5 desk job and putting my son in day care all summer while children are in detention at the border and activists and lawyers are clamoring to get them released did not feel right, so I put my job search on hold. I needed to be on the ground, adding what I could to the work being done.
On the drive down, I briefed my son on what is happening at the border, and he talked about how he hoped to make friends with the kids in the shelters. We haven't been able to get anywhere close to that. But at the very least, I hope he's learning about the importance and power of direct action. This mother is fighting for other mothers. This mother is demanding answers. I want my son to see that when there is injustice and we aren't given answers, we can literally refuse to leave until we get them ― even if it means pitching a tent and preparing to stay as long as it takes. When our tent is removed (this happened last week, while it was unattended for an hour), we get a new tent, move it even closer to the entrance and make our signs even bolder. We have it all set up before sunrise.
I also want my son to see that direct action works. When Lesvia arrived for her next one-hour visit with her son this past Thursday, one thing had changed: She had brought a tent with her. She planned to camp out with me and Gabe until Yudem was released, and she made this clear to Southwest Key Programs. Her story had gained press attention, and there were members of the media waiting outside while she visited with her son. Yudem was released to her shortly after 5 p.m. on Thursday, and she never had to pitch her tent.
Seeing Yudem come out of Casa El Presidente and tearfully walk over to our tent as Grassroots Leadership members translated our signs for him was magical. Seeing his face when he saw his name on a sign, as he realized complete strangers had been advocating for his release, was magical. And when Yudem cried as his mother kissed him, it was hard for anyone there ― including the reporters ― not to weep themselves. Still, as beautiful as this moment was, we cannot forget there remain dozens of tender age children just like Yudem inside Casa El Presidente waiting to be released.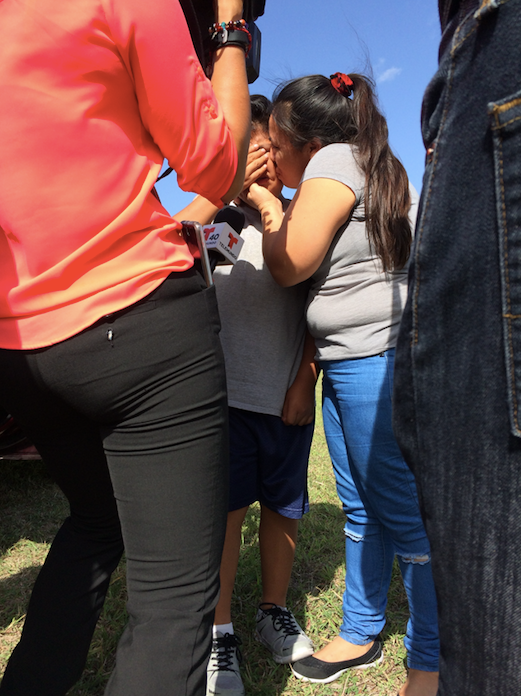 I finally spoke with Cindy Casares, a spokeswoman for Southwest Key Programs, after countless calls and a barrage of tweets from my handle, @BorderPatrolMom (and perhaps also after reports from inside Casa El Presidente that two people were camping outside). She wouldn't confirm that where we're camping is a tender age facility, although press has already confirmed this. She wouldn't confirm how many children are inside. She wouldn't discuss reunification plans.
The evasiveness and secrecy is all supposedly in the name of protecting confidentiality, but I believe this is about covering up the lies of the Trump administration and the brutality of Immigration and Customs Enforcement and Border Patrol agents. I believe Southwest Key Programs fully realizes that the American people would be outraged to know the truth about the suffering of the children inside, so everything is being kept under wraps. Rather than agitating for swifter reunions, they choose to play innocent and present themselves as a benevolent nonprofit simply complying with government orders. They could do more. They could do better. But it's a good time to be in the business of immigration detention.
So, with no answers and very little having changed, we prepare for another night outside Casa El Presidente. I wouldn't want my environmentalist friends back home to know I'm using bug spray with DEET, but we need it to ward off the Texas mosquitoes ― "little hummingbirds," as my son calls them. We brush our teeth crouched by the front tire of our Prius, spitting toothpaste on the ground. We wash our hair using jugs of water left to heat up in the tent and shampoo ourselves in the middle of the street. It's not exactly a glamorous life.
But every day, I'm reminded of our privilege. Every day I'm reminded that for my son, this is like a camping trip, an exciting adventure. We're sleeping in a tent, eating food out of a cooler, tossing around a baseball with our gloves while we wait. He'll assemble complicated Lego structures while I'm journaling or making phone calls or typing on my laptop: This is not all that different from being home.  Every day I'm reminded that though it may be 100 degrees here and I may resort to dumping melted ice from the cooler over my head to cool down a bit, I have my son sitting out here with me, cuddling with me in the tent when the sun sets and waking me up when it rises. These parents and these children deserve the same.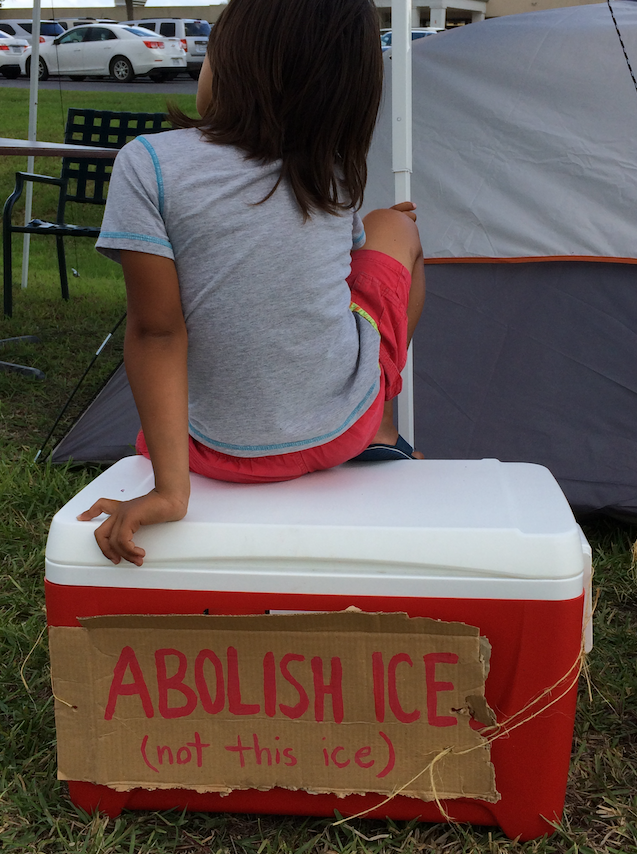 Still, there's more to think about, beyond and after the reunions finally happen. While most discussions about what is taking place at the border have centered on the need to reunite separated children with their parents, we should also be discussing the trauma that has been inflicted upon these tender age children, which includes having a conversation about reparations. Who will pay for the therapy they will need to begin to heal from this terrifying experience? These children are victims of state-sanctioned violence — they are essentially experiencing child abuse — and the organizations claiming to serve children are wholly complicit in this abuse.
My son and I want Southwest Key Programs to reveal the number of children inside Casa El Presidente. We want to know the ages of the children being held here. We want to know how the people running this shelter, and all the other shelters like it, plan to reunite these tender age children with their families. We want to know the timeline for making this happen. In the meantime, you can find us at our campsite, demanding answers and refusing to leave until we get them.
Do you have a personal story you'd like to see published on HuffPost? Find out what we're looking for here and send us a pitch!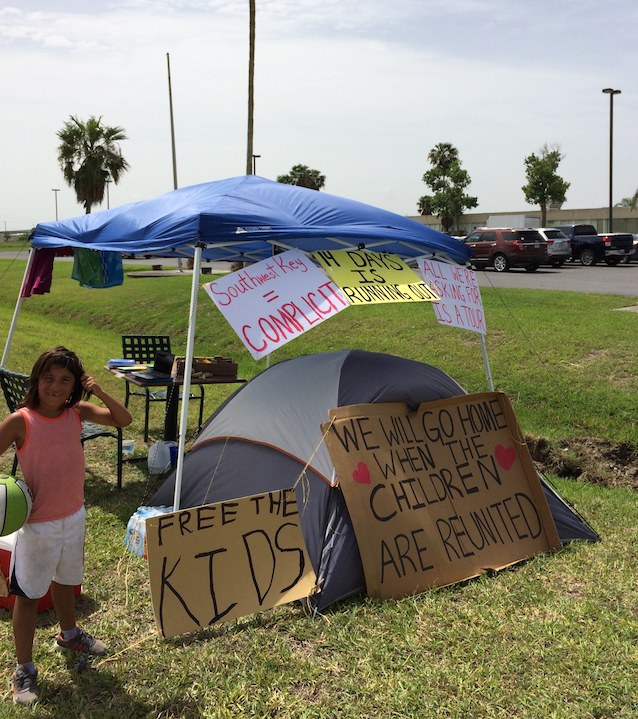 Calling all HuffPost superfans!
Sign up for membership to become a founding member and help shape HuffPost's next chapter