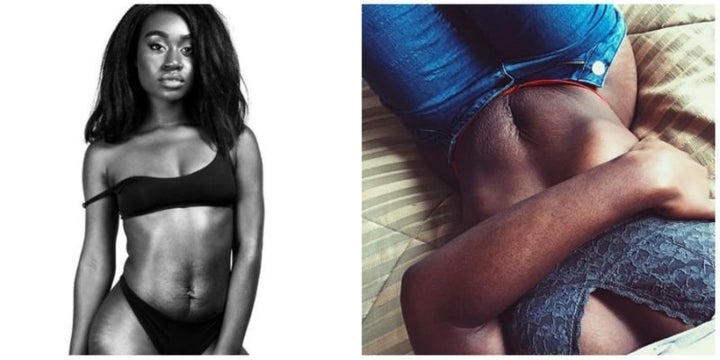 Talmesha Jones, from San Antonio, regularly shares stunning pictures of her post-baby body but explains she hasn't always had the confidence to do so. After the birth of her now 5-year-old son, Chase, the 27-year-old says she felt very self-conscious about her stretch marks.
Her self-esteem hit new lows after she received abuse online over how she looked, admitting that she would refuse to even look at herself in the mirror.
But now the part-time model is embracing her "tiger stripes" and wants others to do the same.
It started with a photographer friend who convinced her to take part in a photo shoot for the first time since giving birth. Despite her fears, Jones agreed, deciding enough was enough.
Today, the young mom's hashtag helps challenge the stigma attached to stretch marks by asking women to unveil their postpartum bodies with pride and purpose.
In an interview with the "Daily Mail," Jones said: "Being pregnant, it changed my body a lot. It resulted in me getting stretch marks, wrinkles and extra skin. The stretch marks are pretty much everywhere now."
"It made me very self-conscious. I didn't like to look at myself in the mirror. When I did, I would just cry and sob about it. I would continuously suck my stomach in or like stretch my skin out."
"I started to realize they weren't going anywhere, and constantly bringing myself down about it wasn't positive, it wasn't helping me in any way."
Explaining her decision to launch the hashtag, she added: "So my hashtag all started out as a photo of me embracing my tiger stripes, and it was Tuesday — so I was like tiger stripes on a Tuesday."
"And basically what I do is every Tuesday, I share a story from a different woman anywhere in the world telling people how she got her tiger stripes."
"I'm trying to teach people that it's more than just a mark. I'm trying to teach people that it's absolutely beautiful."
Jones said she's stunned by the amount of support she received online, impressed with the amount of women reaching out to share their own experiences with stretch marks.
"I like to share body-positive posts that encourage other mothers to be comfortable with their skin."
Read more from Yahoo Lifestyle: