A powerful maternity photo is celebrating a family's rainbow baby and highlighting the beauty of hope after loss.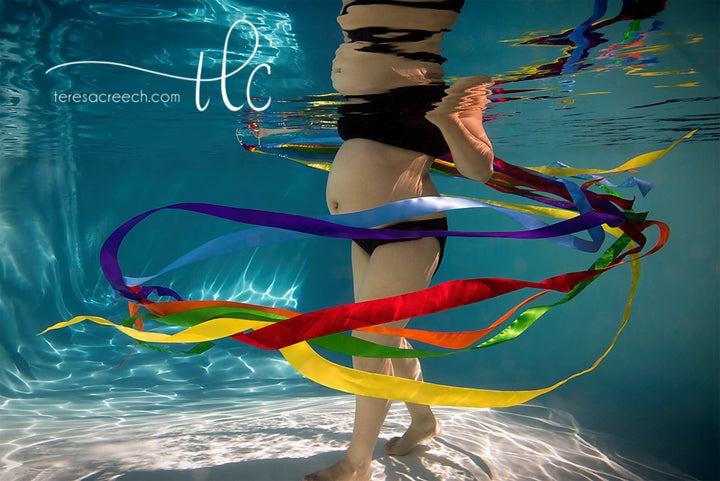 For Creech, taking this photo was particularly special because she'd worked with this family once before, under less joyful circumstances.
The Oregon photographer volunteers for Now I Lay Me Down To Sleep, an organization that offers free professional remembrance portraits for families experiencing stillbirth or early infant loss. A year ago, she received a call from a nurse at a local hospital to photograph a baby, who had been "born too early" and would not survive.
"When I arrived, the very tiny baby girl was fully dressed, in very poor condition, and being carried around on a pillow with blankets all arranged artfully around her," Creech told The Huffington Post.
"The family had truly taken time to get to know their little one; to bond it seemed," she recalled. "Their 6- and 8-year-olds were in the room, as well as the in-laws and cousins. It was a large group for such a tiny baby. Everyone wanted their portrait with baby. There was a lot of grief and a lot of love, as well."
Creech said this photo session "really stuck" with her, and she thought of the family many times over the ensuing years. Recently, Creech sent the mother a Facebook message to say, "Hello," and the two began catching up. The mother revealed that she was 30 weeks pregnant and asked if Creech would take her maternity portraits. The photographer, of course, agreed.
On Sept. 25, Creech took the expectant mom's maternity photos underwater, a technique she has recently been using. To celebrate the family's rainbow baby girl, Creech and her assistant gave the mom colorful ribbons. The photographer calls the above shot "After The Storm."
Though the family prefers to remain anonymous, they hope the photo can bring hope to others who have experienced loss and are waiting for their own "rainbow." Creech said that's why she didn't include the mother's head in this particular shot ― so that others could envision themselves in her position of joy after pain.
"Hopefully the person feeling this way may be able to say, 'This woman could be me, IS me, I will get there,'" the photographer told HuffPost. "I guess I just hope to say that they too can have that rainbow after the storm."
She added, "I hope that people experiencing such life challenges as infertility, infant and pregnancy loss can find a bit of encouragement that there are others who have been on their journey, and they also have had the same feelings, worry, and tears, and they somehow were blessed with one more miracle."
Before You Go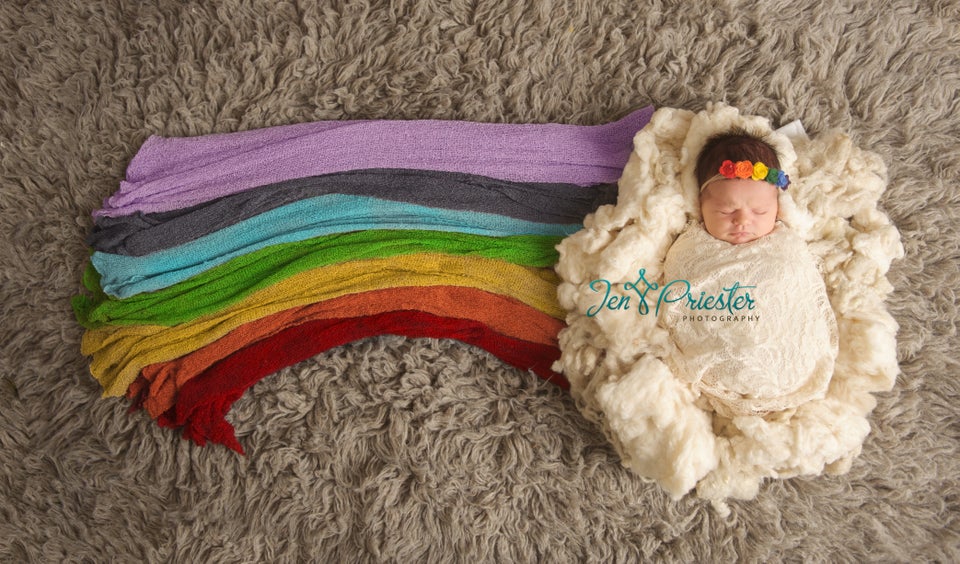 Gorgeous Photos Celebrate Rainbow Baby