Gabrielle Yowell, an 18-year-old from New Albany, Indiana, has always been super close with her mom.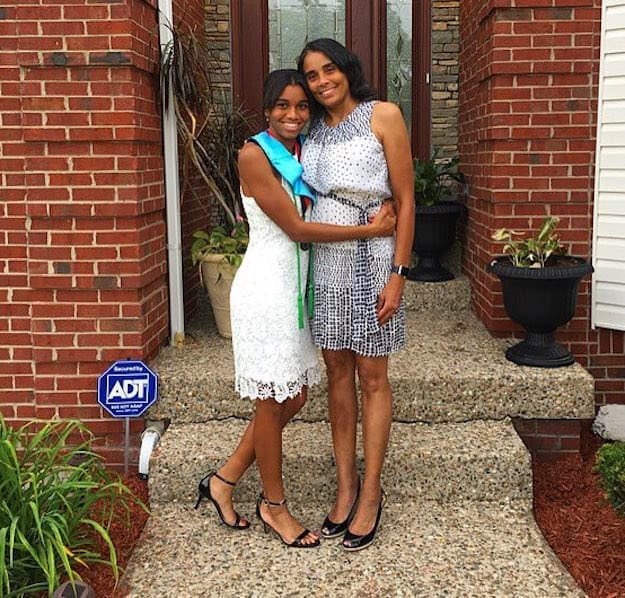 And when she was a kid, they were attached at the hip.
So on her first day of kindergarten in 2004, she was completely distracted.
"I remember sitting in school and I was so ready to come home," Gabrielle told HuffPost. "I hadn't been with my mom all day and I couldn't understand why she couldn't come to school with me."
When Gabrielle's mom, Lizzette, came to pick her up after school that day, the little girl was so excited that she leapt into her mother's arms.
A local photographer from the newspaper News and Tribune happened to be on campus that day covering the first day of school, and snapped a photo of the sweet moment.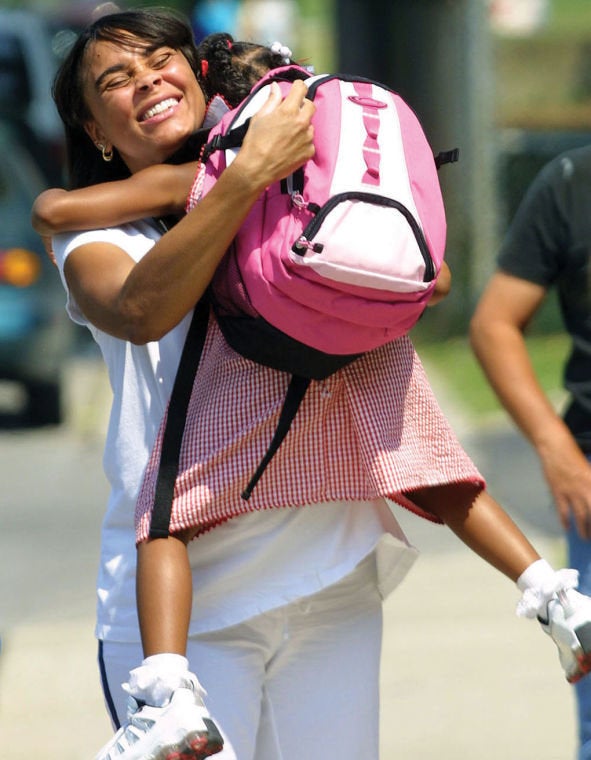 The image ended up on the front page of the paper.
"That was a huge deal for us," Gabrielle said. "When my mom found out, she went out and got all the newspapers. She gave copies to all her friends, co-workers, you couldn't tell her nothing. She kept a ton for herself, though. We still have like a hundred copies in the house."
Of course, Lizzette framed one of the covers and hung it on the living room wall.
"She was so proud," Gabrielle said.
On Sunday, Gabrielle graduated from high school. Almost two years ago, Lizzette battled breast cancer and her mom's presence made the occasion all the more special for Gabrielle.
"I'm blessed to have my mom," Gabrielle told HuffPost. "We were close before but even more now because we know how short life is and how unexpected it can be."
To celebrate the very special day, Gabrielle proposed recreating their photo from her first day of school.
At first, Gabrielle admits that her mom was a little hesitant to do it.
"I don't think she wanted to pick me up," she said with a laugh.
But Lizzette gave in and allowed her daughter to jump into her arms.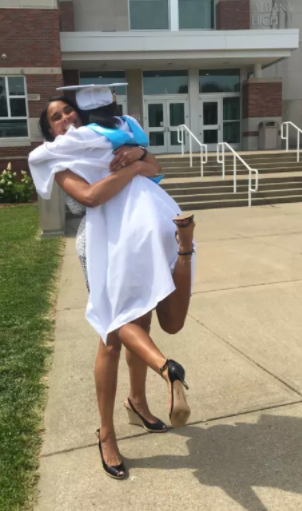 "She had no trouble at all," Gabrielle said.
The post quickly went viral, receiving over 311,000 likes and 79,000 retweets as of Wednesday.
People were touched by the sweet photos.
Though Gabrielle feels overwhelmed by the attention, she hopes that the photos relay a simple message: "I just hope it helps people appreciate the bond they have with their parents."
CORRECTION: This article previously misstated the date of Lizzette Yowell's bout with breast cancer. It was almost two years ago, not one.