Kelly Stanley used her love for yoga to send an important message after her father told her to cover up while she breastfed in public.
The mom from Johnson City, Tennessee, was at dinner with her parents at Bonefish Grill when her 9-month-old daughter, Maya, started to fuss. Stanley knew Maya was hungry and pulled her shirt down to breastfeed her. That's when her father put a cloth napkin over her and told her to cover up. Frustrated, Stanley shared the story about her dad's reaction in an Instagram post on Sept. 11 and explained why it's ridiculous to shame women for breastfeeding. The mom, who frequently posts photos of her doing yoga, emphasized her message even more when she shared a photo of herself breastfeeding her daughter while in a yoga position.
"Breastfeeding is NOT indecent exposure," she wrote in the post. "It's not inviting men to gawk at my breasts. EVEN IF GOD FORBID THE BABY UNLATCHES AND THEY SEE MY BARE NIPPLE."
Stanley told The Huffington Post that she wants to help end the stigma surrounding breastfeeding in public. In her post, she pointed out that breastfeeding is natural and shouldn't be viewed as taboo or be sexualized.
"Breastfeeding is a normal and natural thing, and if someone has a problem with me feeding my child whenever and wherever, that is THEIR problem," she wrote. "It should NEVER be the breastfeeding mom's problem."
The yoga-loving mom said it has been difficult dealing with her parents' views on breastfeeding, but that their attitudes will not keep her from ensuring that all breastfeeding moms, whether they choose to cover up or nurse freely, are comfortable and don't feel ashamed for simply feeding their child.
"I will continue to speak out on the topic because I think it's important for moms to know that they are not alone, and that they are doing the right thing by feeding their kid," she said.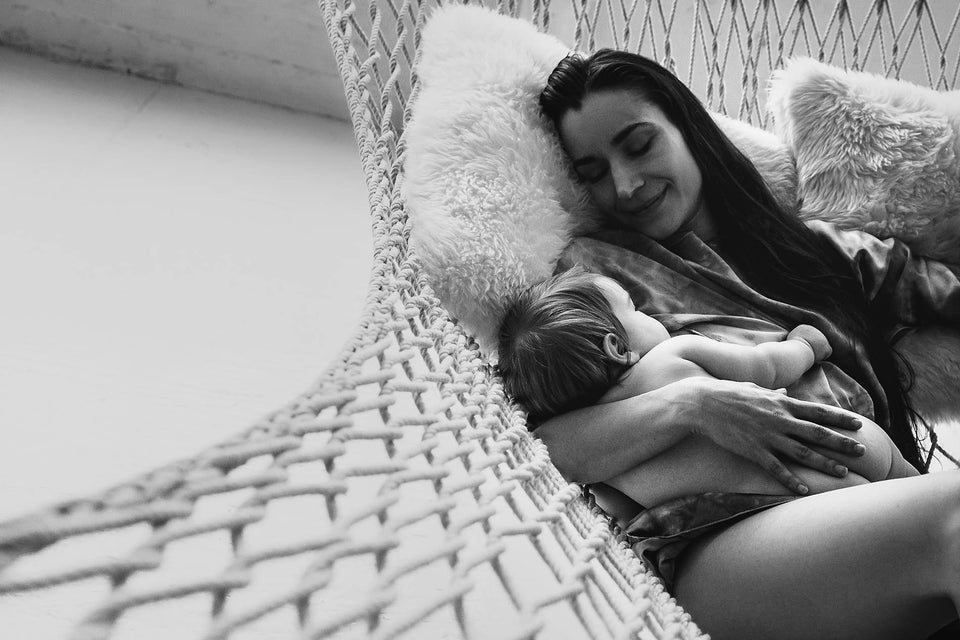 Portraits Of Breastfeeding Mothers