After being shamed for her baby's funny photo shoot, an Alaska mom struck back in a creative, cheeky way.
Lauren Ashcraft is the mother to a pair of 9-month-old twins named Liam and Lola. About two weeks ago, photographer Laura Stennett took some "smash" photos of Liam, but instead of smashing a cake (or donuts, as we've seen more recently), the baby posed with McDonald's cheeseburgers.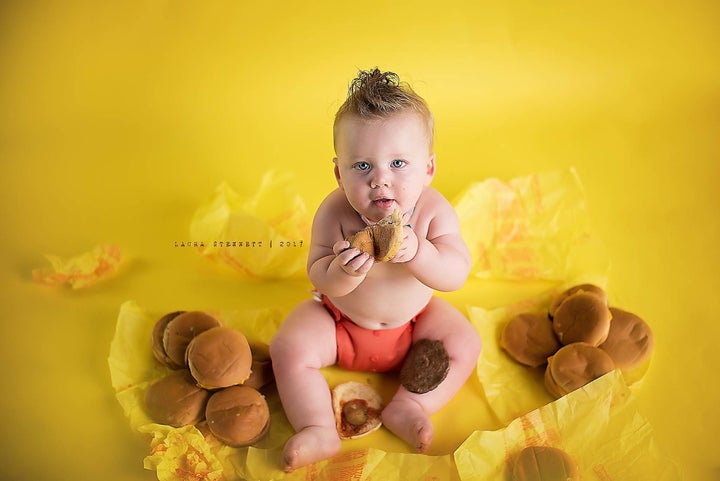 "Liam was such a chunky baby, I had always joked with Lauren about wanting to do a cheeseburger smash session with him once he could sit up," Stennett told HuffPost. "It was just a silly idea because he's so cute, and it was kind of a tongue-in-cheek play on the cake smash sessions that have become so popular."
The photographer said Liam loved doing the shoot. "At first, he was a little puzzled by what to do with all of the cheeseburgers," she said. "Once he got the idea to put one in his mouth, he discovered he really liked the pickles! He gummed some of the patty and the buns and squished them in his fingers, but he was all about eating the pickles!"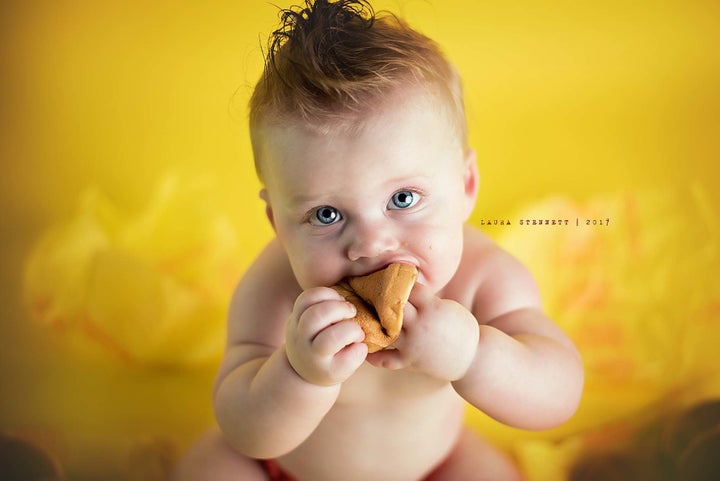 Stennett posted photos from the session on Facebook, where response was ... mixed. Although the first commenters said the photos were hilarious and cute, some negative reactions started to appear after a day or two.
"They were shaming Lauren as a mother and vilifying me as a photographer for allowing 'an innocent baby' to be surrounded by McDonald's cheeseburgers," the photographer said. Both Stennett and Ashcraft realized that various special interest parenting group members were sending the photos around and then mobilizing to write negative comments all at once. Stennett said she's still getting hate mail about the photos.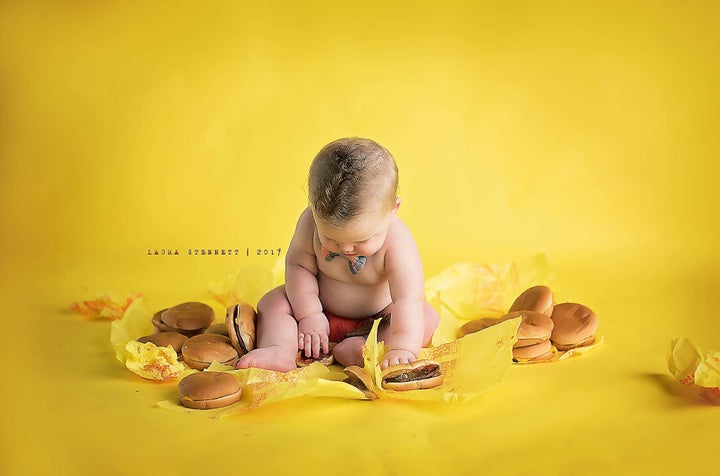 "The irony of the whole thing is that I'm a vegetarian," said the photographer. "I still thought the cheeseburger smash was funny. And no, we didn't waste any food ― the leftover cheeseburgers were given to some wedding photographers and hungry kids!"
She added that the reaction made her feeling terrible for putting Ashcraft and her son in a position where they could be hurt and offered to take the photos down. "Lauren is a good friend of mine, and an AMAZING mommy to her four kids," she said. "It made me sick to my stomach to see the things people were saying about her ― especially since it was my silly idea to use the cheeseburgers."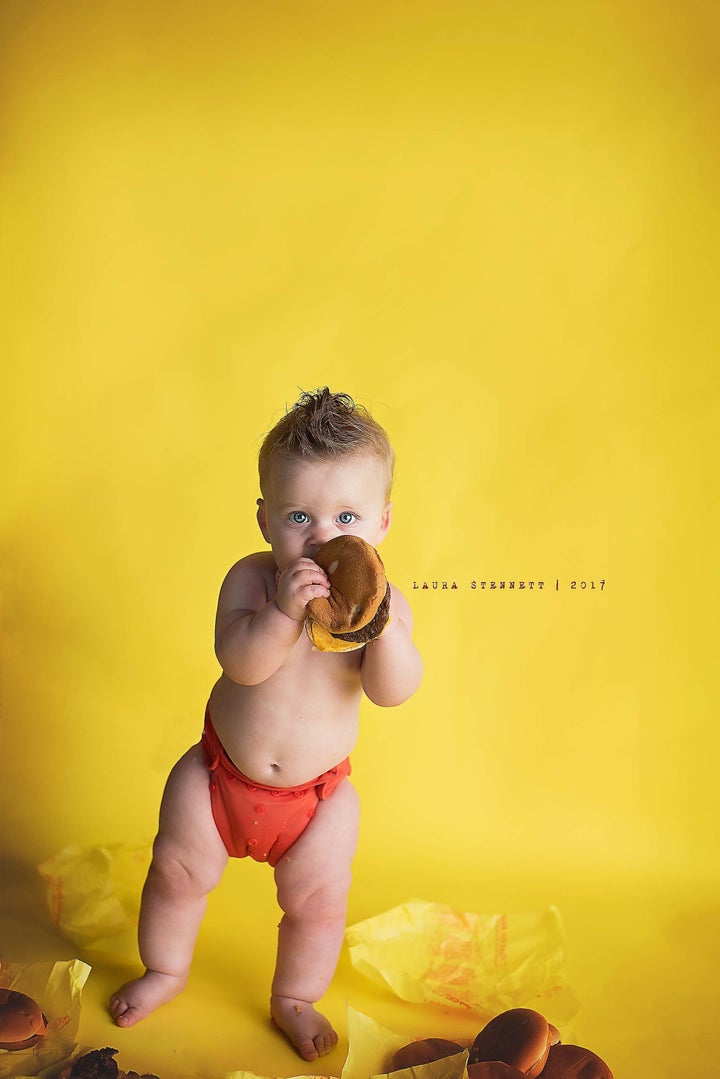 Ashcraft said she anticipated this kind of reaction. "Even though we knew he hadn't even eaten the burgers, some people like to blow things out of proportion," said the mom. "Obviously nobody is going to feed an 8-month-old infant 20 cheeseburgers. Because, you know, common sense."
She thought the negative comments were absolutely ridiculous. "I had one lady go as far as to post his pictures publicly and tell me that thanks to me my son was going to die. Other attacks were 'diabetes and heart disease by 2' and 'GREAT PARENTING,'" she continued.
"At first I was defensive and tried to calmly explain what actually took place, but when I realized that was impossible, I just told myself these people need to lighten up," Ashcraft added. "It was a silly photo shoot, and we used cheeseburgers as props kind of like a cake is a prop in a cake smash photo shoot."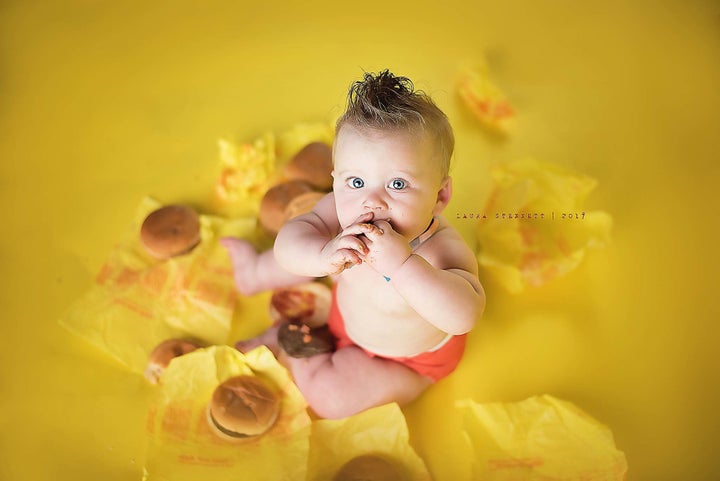 For Stennett, the negativity was difficult for personal reasons. "What those commenters don't know is that I have a medically fragile baby who is fed via G-tube," she explained. "We blend organic fruits, vegetables and meats to feed her through her tube because we believe that food is medicine and giving her the highest quality nutrients will give her the best shot at health."
The photographer said she has also completely overhauled her diet to breastfeed her baby because her food allergies are so severe she can't tolerate formula. "Even the most hypoallergenic formula on the market causes her to vomit and lose weight."
In response to the "onslaught of sanctimommies," Stennett and Ashcraft decided to stage another food-themed photo shoot with Liam's twin sister, Lola. This time, the baby posed with organic fruits, vegetables and health foods.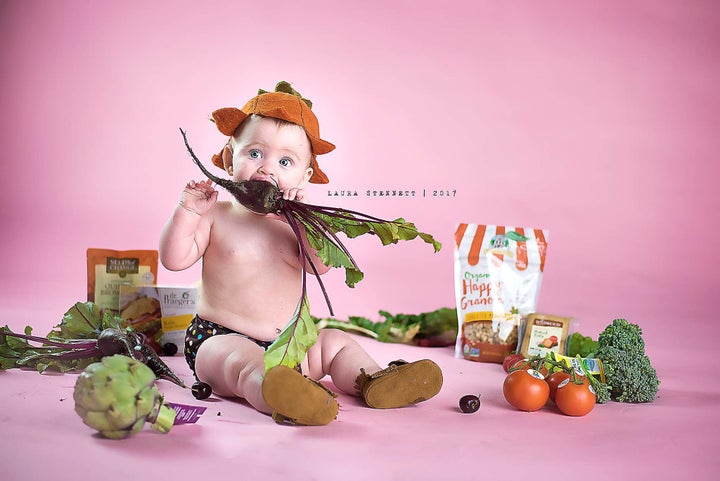 "We thought it would be funny to post the link to Lola's pictures on all of the hate-filled comments and see if they could then realize how lighthearted we were being about things," Ashcraft said. "It was all done in jest!"
Said the photographer, "It seemed better than letting them win by taking the photos down, or make us feel badly about a silly photo shoot."
Stennett added that Lola really enjoyed taking photos with the fruits and veggies. "She just chomped right on those organic strawberries, rainbow chard and beets! It was adorably hilarious."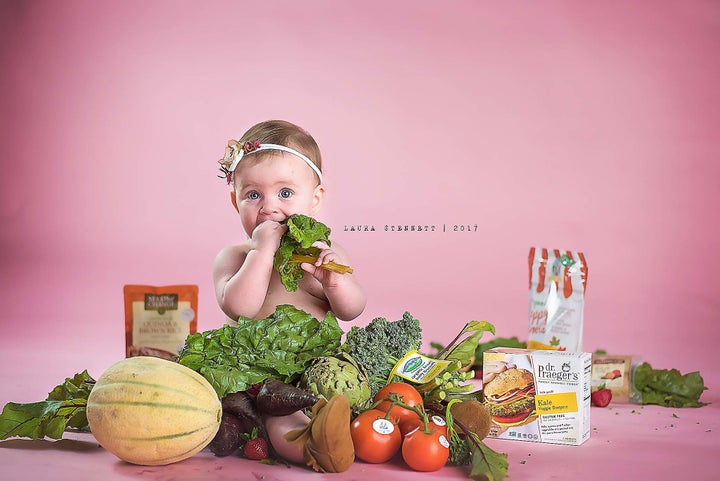 Ultimately, the photographer hopes the story behind these photos can offer an important lesson. "Honestly, I really just hope people lighten up on judging others' parenting choices," said Stennett. "This was clearly a joke, but some people have felt the need to continuously harass and insult both Lauren and I for using McDonald's cheeseburgers as props."
Although she works tirelessly to nourish her vulnerable baby and feeds her three older children healthy food, she noted that no parent is perfect in that department. "Our older kids have McDonald's from time to time. There's only so much we can do as parents," she said. "But gosh, people just love to sit up on their high horses and judge others on the internet."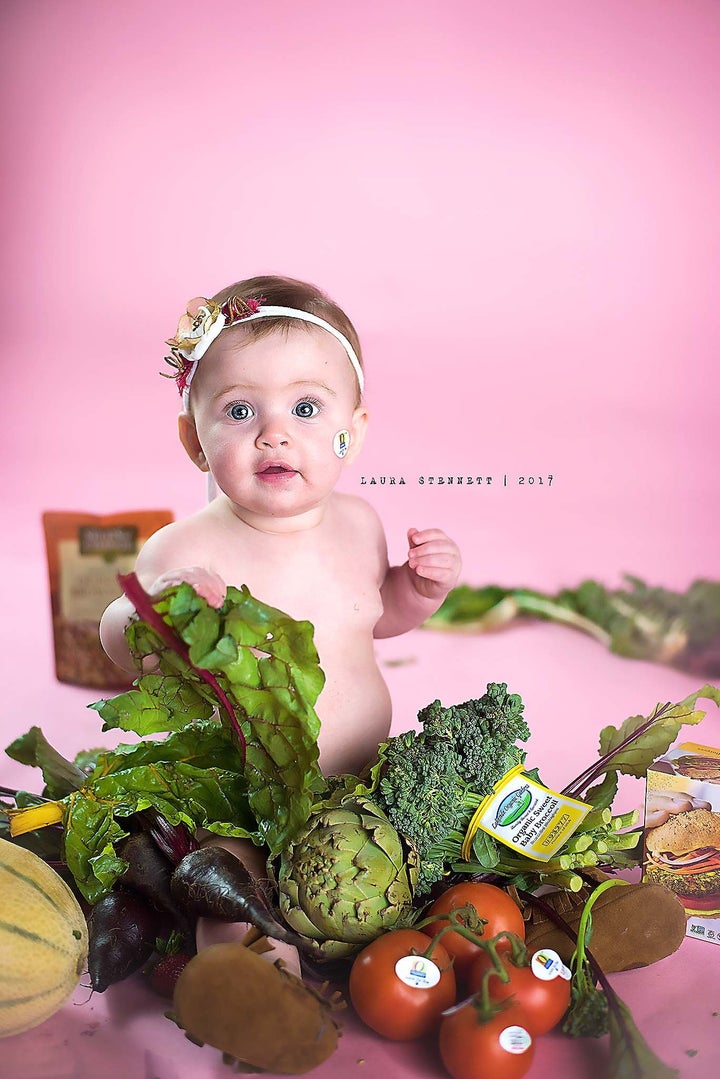 While Stennett noted that she'd love to tell off the people who criticize people for sport, she said engaging with them tends to make things worse. "That's why we did the veggie smash with Lola ― it was much funnier and more effective."
Ashcraft said she hopes the photos make people smile. "Life is so full of negativity and unsolicited judgement and parenting advice! Lighten up and look at my cute babies, it's that simple! And if you don't have anything nice to say, shut your mouth. Didn't your mom ever teach you that?"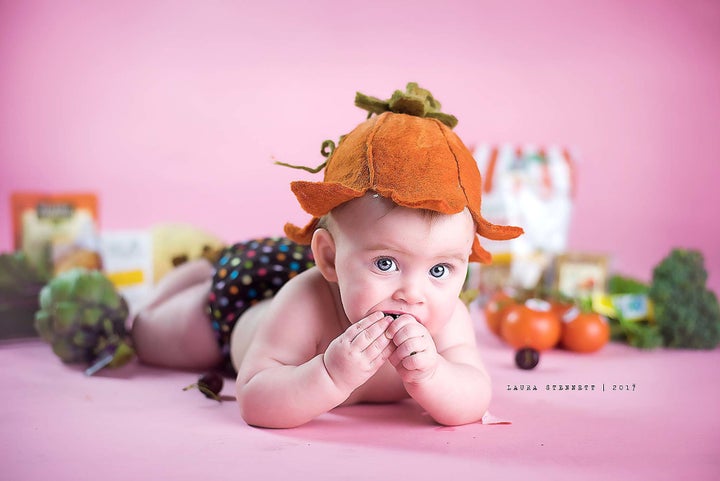 Despite the backlash, the mom said she's glad they did the cheeseburger shoot and posted the photos because they are memories her family will always cherish. "Plus," she added, "the twins definitely have a conversation starter for later in life."
Keep scrolling for more photos from the cheeseburger and produce photo shoots.