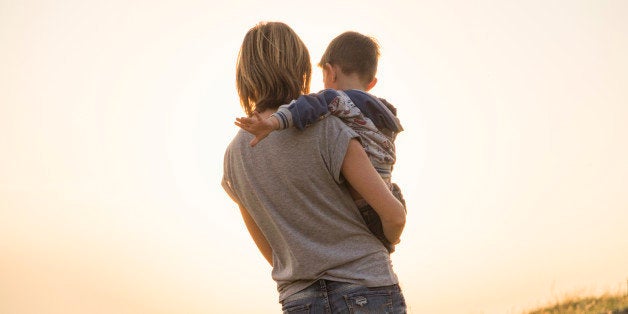 Ladies, let's be real - growing a human is hard. We selflessly sacrifice our body, mind, heart and spirit all for the purpose of creating a little life to love. Pretty bad ass if you ask me. However, as bad ass as pregnancy is, bad ass is not how we typically feel - yet, we expect ourselves to be pregnant unicorns.
If you saw the movie "What to Expect When You're Expecting" then you may be familiar with the term 'pregnant unicorn.' The movie sets a scene with a beautiful pregnant blond taking graceful strides in her 5 inch stilettos with her perfectly curled hair bouncing in the breeze. She's teeny-tiny, and from the back, you would never know that she was pregnant. She's avoided morning sickness, exhaustion, food aversions and weight gain. If you're a pregnant unicorn - bless you, you rock that glow.
I myself, self admittedly, am the opposite of a pregnant unicorn. I'm not graceful, I'm not glowing and I most definitely am not prancing around in 5 inch heels. Since conceiving my little peanut I've become a forced vegetarian, my boobs have found a resting place on my belly, and my tight tush embraces its new found tiger stripes. My body and mind are changing at exponential rates - and how do I feel about it? Guilty.
The day I found out I was pregnant was one of the most shocking, blissful days of my life. My husband and I peered down at a positive pregnancy test filled with joy and hope for our future. I was what you could call, glowing.
Then our child made itself good and comfortable in my uterus. What felt like a three month hangover quickly began. Not to mention, my hormones became as wild as they had been since age sixteen. I felt out of control.
In my second trimester my husband and I faced a devastating period when we were told our child could have a genetic condition. We went through months of torturous testing and waiting. All while I, the mum, continued to go through the physical and emotional ups and downs of a typical pregnancy. The battle between managing my human feelings and my mom feelings came with a guilt that was sometimes more than I could bare.
For many, Mom guilt starts in the womb. And the truth is, finding balance between being a mother and a human is a complex daily struggle. Some of us strive to be those pregnant unicorns, or even unicorn Mom's. We see it every day - on Instagram, Facebook, in the media - happy Mom's embracing their belly's, not disclosing their fears. Happy Mom's tucking their children into bed - not acknowledging the moments they secretly cried that day. All Mom's, however, face some type of guilt.
For me, I struggle with the battle between feeling uncomfortable in my own skin and fearing for the healthy development of my child.
As much as we can try to prepare ourselves for the physical and emotional demands of pregnancy and parenthood, we simply can't. Some days we'll feel fat. Some days we'll feel terrified. Some days we'll feel confident and indestructible. Some days we'll feel beautiful in our stretch-marked skin. Some days - we'll just need a nap...and maybe some wine.
This up and down roller-coaster of motherhood is completely natural. And Momma's, the more we acknowledge the realism of pregnancy and parenting, the less guilty we will feel.
The way we handle the demands of our life will all be different. We'll all feel guilty for a variety of different things. Whether we're working Mom's, terrible cooks, or feeling a little resentment towards that baby weight. Remember: you have done an incredibly selfless and powerful thing.
Momma's, I encourage you to embrace your faults and celebrate your perfections. I encourage you to embrace the mother in you and the woman in you. Feel sexy, feel accomplished, feel proud of the sometimes difficult yet wonderful job you are doing. Your child is a creation from your body, mind, heart and spirit. You owe it to yourself to preserve the beautiful woman you are for the beautiful child you created.