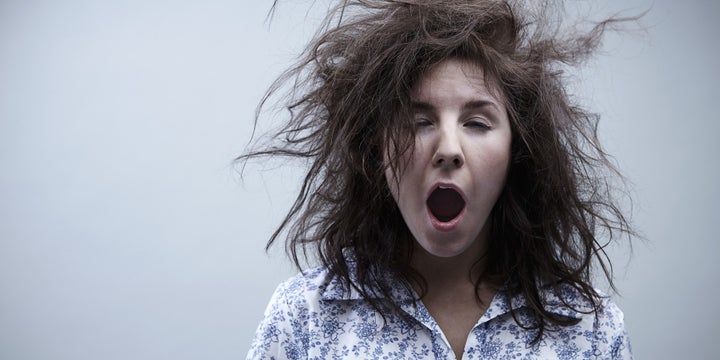 1) I played salon with my daughter and she "styled" my hair until I looked like a combination of Kelly Bundy, Carrot Top and Medusa all mixed into one ridiculous rat's nest.
2) I get my hair cute like once every eight months. Ain't nobody got time for that. A trim every 4-6 weeks, puhhhlease people, what am I, a royalty??!! Plus, if I've got extra free time away from my kids, I sure as hell don't want to spend it sitting in a salon chair.
3) There's probably some sort of food in it.
4) I have one hair tie that I wear on my wrist. Even though I buy a new pack every few months. It's is stretched more than my stomach was stretched at nine months pregnant and is literally hanging in by a thread.
5) It waaaaay to much hassle to use my flat iron or curling wand when every three seconds my toddler is grabbing at them like they are cuddly puppies rather than 400-degree styling tools.
6) Baby drool, baby milk, baby spit up or some sort of combination of the three.
7) My shower was cut short by a large crash, a crying baby and a husband telling me he couldn't find something in the fridge that was literally six inches from his face.
8) I just don't care. Sure if I'm going out in a date or have a business meeting I want my hair to look nice, but other than that I just don't give a sh*t. Who's going to judge me, Daniel Tiger?
9) You know how when you are on a ride they tell you to keep your arms and legs inside the vehicle at all times for your safety? Well, when you have kids it's kind of the same thing. Ponytail/bun/top knot is literally the safest hairstyle when you have little hands constantly grabbing at you all day long.
10) My kids treat me like a giant tissue, so odds are something gross from their nose, mouth or grubby hands is currently "highlighting" my strands.
11) My kids used all of my expensive salon shampoo to clean their junky Target $1 section toys and I was stuck using 3-in-1 baby wash on my hair.
12) Even the best dry shampoo has its limits.