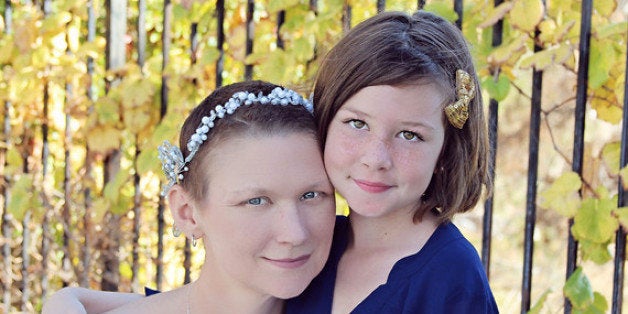 On top of fighting to live and a full-time job, I still have to raise my five children. I often feel like a failure. It's so hard fighting to survive Stage IV Cancer, and I don't always see the impact it has on the kids. I recently went to my 8-year-old daughter's 3rd grade conference. Isabella and the teacher presented me with a a story she had written for a school project. They could write about whatever they wanted. When I first glanced at the sheet and caught the title, my eyes began to tear up and I felt a lump in my throat. This is what I read...

Mom Has Cancer

One day I woke up, I saw my Mom with no hair. I wondered where it went. Maybe it's in the car, not there. Maybe it's in a bird nest, not there.

Finally, she asked her mom, where's your hair?

I had to shave it off.

Why? she said disappointed

Because if I didn't my hair would of fallen out and it would be sad for me.

I will go to the Doctor every Wednesday, Thursday and Friday.

So Mommy, can I go to the Doctors with you?

Ya Baby, of course.

Finally they got to the place, she saw a needle going in her mom's arm. A tear dropped, she wiped it away and told her Mom she needs to go to the bathroom. But she really went to get a tissue. She went to go back in and saw a lady wipe off blood.

She did that for one year, her hair started to come back. She fought and her cancer is gone.

#FightLikeSarah! The End

By Isabella Amento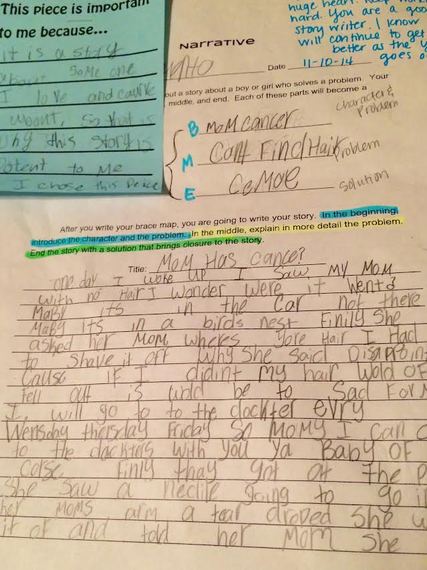 My precious little girl. I am the one with the physical disease, but we all are fighting it. Cancer isn't just one person's battle; a whole family fights the disease. It is easy to focus on the person who is physically battling the disease, when often, the true heroes in the story are their loved ones. I always say that I am as strong as those around me. I am a mirror image of the love that surrounds me.
Just look at the strength of my precious, brave daughter. To be so raw at such a young age. Isabella AnnMarie, you are my hero and I am so very proud to call you my daughter.