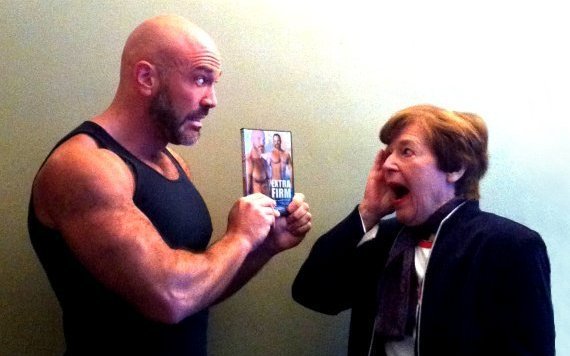 When I plunged into porn at age 38, a lot of questions weighed heavily on my mind. Now that I was an adult film actor, would I be able to find love? How would this affect my day job? What would my friends think? And... what would my mother think?
I'm the only child of a single parent. Mom calls me her "angel-lamb," and I think she still sees me as the innocent boy I once was. As a gay man growing up in the 80s and 90s, though, I've experienced plenty of guilt, self-loathing, and shame. Not wanting my mom to see me as anything less than perfect, I've always hidden those feelings from her, hoping to stay impossibly angelic in her eyes.
My employer and friends were all accepting (and even enthusiastic) when I came out to them about my new side-job. I decided, though, that I would wait until I retired from the industry to tell my mom that I'd been making adult films... if I ever told her at all. My rationale at the time was that I didn't want her to worry about my health (despite my studio's strict adherence to safe sex practices), but in retrospect I realize that was just an excuse. My real fear was how she'd react if she found out that her angel-lamb is actually a gay porn star. Would she be disappointed in me? Would she be ashamed?
Well, she did find out. And her response was amazing.
It was a grey and rainy October afternoon. I was driving through my mom's neighborhood and stopped by her house to take a nap. She wasn't home. After a short snooze, I realized I needed to check something online. I went into her study, turned on her computer, and to my utter horror was greeted by a browser window that was open to a very familiar website: my blog. My very NSFW blog.
It's difficult to describe the sensations I experienced in that moment. My heart sputtered. I was instantly nauseous, and felt like I was in free fall. The ramifications hit me at once: if she'd seen the blog, she knew everything. She knew that I was a porn star, that my husband Dirk (whom I'd met through my studio) was a porn star, that my frequent trips to California were not really to visit friends. I felt completely exposed, as if the walls of the house had crumbled around me and I was left standing there alone and (figuratively) naked in the oak-floored study of my childhood home.
But then I got to thinking: my blog talks extensively about how porn has changed my life for the better. I'm happier now than I've ever been. I'm excited, empowered, and confident. And if I'd never worked in porn, I never would have met my amazing husband. If she had indeed read all this, she'd be sure to realize that my foray into porn has been a remarkable, life-changing adventure.
I was scared, but knew I had to talk to her. Dirk and I arranged to have dinner with her a few days later. Pork loin, edamame, sweet potato soup. Delicious, in a way that only a mother's cooking can be. When we finished, I glanced at Dirk. He nodded encouragingly. I felt like the walls were about to start crumbling again, but I started in. "Mom, there's something I want to talk to you about. I stopped by the house a few days ago and used your computer, and it was open to..."
Her next words flooded me with relief.
"I'm so happy we're talking about this."
She'd known the whole time. Our bank accounts are linked because we co-own some property; several months earlier she'd noticed a deposit from a source she didn't recognize -- my studio -- and traced it back to their website. At the time, Dirk and I had just released a bondage film called Loud and Nasty, and our images were plastered all over the studio's homepage. With video! And in this particular video, Dirk shocks me with a violet wand. Mom said that it looked like I was being tortured, and she felt like a part of her had died.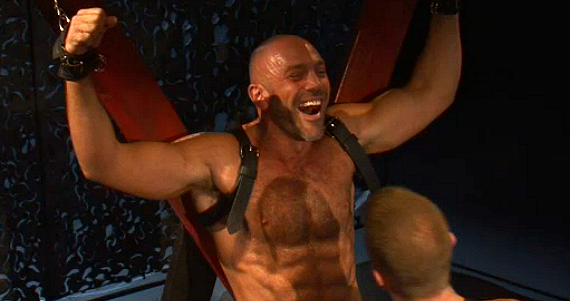 Dirk and I couldn't help but laugh. Granted, it does look like I'm being tortured: I'm restrained, struggling, and doing a lot of screaming. But we explained to her that everything we did was consensual, exciting, and a tremendous amount of fun. Boundaries were respected, and nobody got hurt. She still seemed skeptical, so we showed her this picture; it's one of the outtakes from our "torture" scene: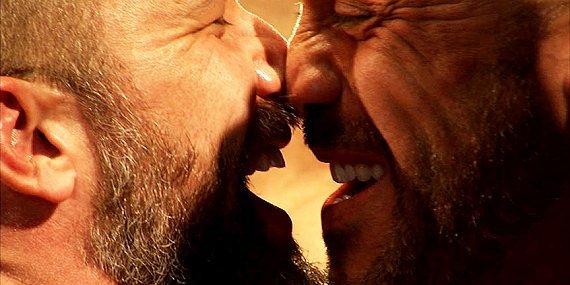 When she saw the image, she understood. We were in love. Nothing else mattered.
In essence, I'd come out to her a second time. It felt like a giant boulder had been lifted from me -- just like when I told her I was gay some fifteen years earlier, and once again she was entirely caring and supportive. I don't think she fully understands my decision to make porn; she has difficulty grasping how I can be so open about something as private and intimate to her as sex. But that's not really the point. The important thing is that we actually talk about stuff now. If I can tell her I'm a friggin' porn star and she still loves me, then I can tell her anything. And I do. I tell her about my fears and pain and shame, and also my joy and love and passion, in ways I never would have dared before. She has shown me nothing but love in return. And I realize now that the walls of her study weren't the only walls that crumbled on that grey, rainy October afternoon.
Happy Mother's Day, Mom. Thanks for being so amazing.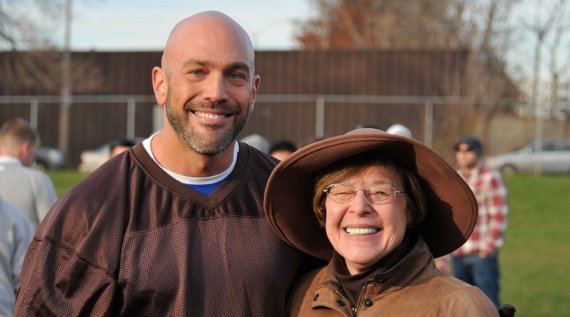 Calling all HuffPost superfans!
Sign up for membership to become a founding member and help shape HuffPost's next chapter