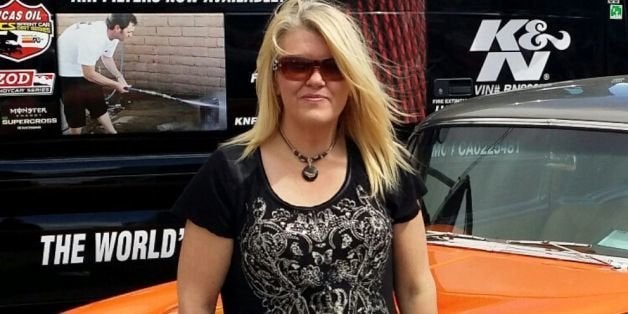 Feb 15 (Reuters) - Las Vegas police on Sunday were looking for a man suspected of shooting a mother of four to death outside her home in an alleged road range incident.
Tammy Meyers, 44, died on Saturday night from a gunshot wound, family members said at a press conference outside a hospital where she was taken off life support two days after being shot.
The shooting late Thursday night was senseless, relatives said.
"There was no excuse, no reason and I hope to God they know we're looking and they will be caught," a cousin, Susan Ramos, said at the press conference also attended by Meyers' husband and at least one adult son.
Meyers was at the wheel after giving her daughter a driving lesson at a school parking lot when she had a near-collision with another vehicle, said the Las Vegas Metropolitan Police Department in a news release.
There was a verbal confrontation between the two drivers, police said. When Meyers and her daughter returned home, they summoned help from a family member armed with a handgun, police said, after her car was apparently followed. Police provided no other details.
When the other vehicle arrived at the residence, shots were fired, and Meyers was struck, police said.
Police posted a video on its department website of the suspect's vehicle driving down a street and also released a composite sketch of the suspect, a white male about 25 years old. The vehicle may have bullet damage, police said. (Reporting by Kevin Murphy in Kansas City; Editing by Eric Walsh)