I went in knowing I needed help. I'm a new mom with not a lot of time on my hands. My skin is a wreck (thanks winter! thanks hormones!), and I have never really had an idea of how to do makeup to best highlight my features. Enter Rouge New York.
The brainchild of "Law & Order: Special Victims Unit" actress Stephanie March and makeup artist Rebecca Perkins, Rouge New York sits in a cozy spot on Thompson Street. Despite the grey tufted fabric encasing the mirrors and the wood floors (oh, and the fact that it's owned by casually-glamorous people), you feel like you're in a fabulous friend's boudoir.
There are six chairs that line the perimeter (there will be a seating area complete with a table of 200 faux lipsticks and tons of magazines to help guide you). The lack of hair dryer noise also makes it feel calm. You can actually hear the DJ-picked tunes in the background. The whole thing is very Hollywood chic meets laid-back NYC cool.
When I sat down in the chair, which reclines all the way back if you need to catch a few winks, it was almost like the start of a therapy session. "I have horribly dry skin! Help," I said. Perkins immediately responded, "I'm so glad you're here, you can test out our squalene oil for your skin."
March and Perkins have not only created their own makeup but also brushes and skincare products for the salon. Turns out, Perkins has a two-and-a-half-year-old at home and nothing was working on her dry, hormonal skin, either. So she created a potion with squalene, which she claims is the most biosimilar to your skin's natural oils.
"Once you put squalene on, you don't have dry skin anymore," she said. And she was right. My skin felt super light.
The bar offers four main makeup treatments: You Only Better, Bold Choice, Total Polish and Touch Up. According to March, the whole point of the makeup bar is, "We don't want people to look at you and say, 'Oh, you got your makeup done.' We want people to say, 'Oh, you look great!"
Which treatment you get depends on how elaborate you want to go and how much time you have -- there's no precise formula here. I wanted to see what I could look like, yes, admittedly with a lot of help, but also easily and quickly enough. Per my request, I got You Only Better... with lashes.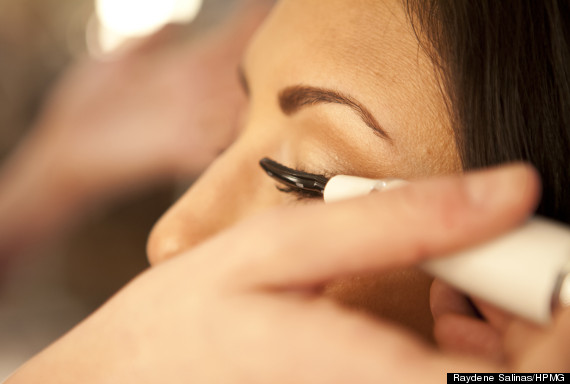 Perkins started by patting primer softly on my face, and followed by applying contouring shadow underneath my brows, then gel eyeliner and mascara. She swears by L'Oreal Voluminous Mascara. "There's nothing better out there," she said. Perkins used a very warm (but not hot!) heated eyelash curler in lieu of the traditional curler to avoid dents, not to mention pulling out the false eyelashes she already applied.
As for foundation, she prefers to use her fingers on herself but a brush on clients. "I start with foundation because then you might need less concealer. The less makeup is better," said Perkins. On my cheeks and lips, she used Cheeky by Julie Hewitt. This is a great double-duty beauty trick for busy moms like myself.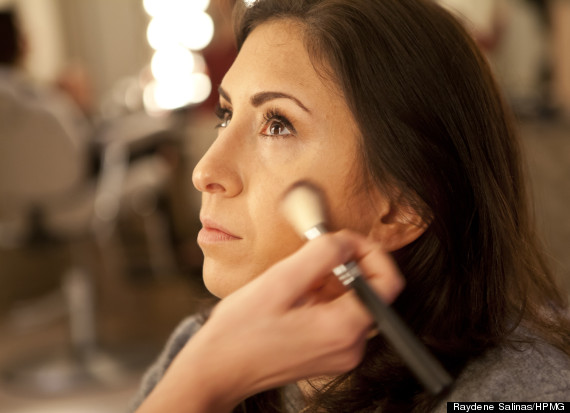 To complete my makeover, Perkins spritzed a delicious and refreshing lavender mist on my face to help set the makeup.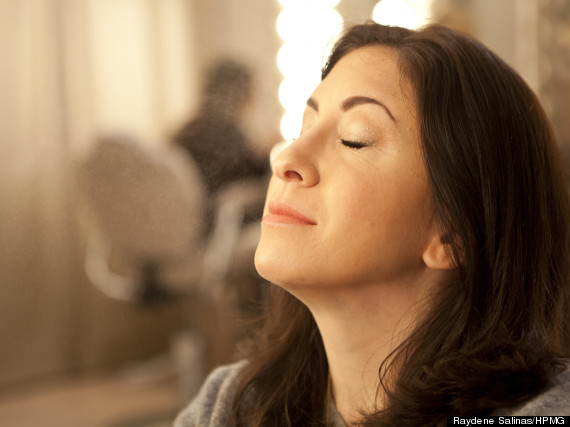 What I enjoyed most was that Perkins never made me feel silly for asking basic beauty questions. When I told her I was "afraid" of black eyeliner, she calmly reminded me that: a) black eyeliner works well with someone who has dark hair like me to enrich the lash line, and b) I shouldn't be afraid of any makeup, as it all washes off anyway. Sitting there with the makeup artist was certainly a comfier, more personal approach to getting your makeup done. She was nothing like the product-pushers that I've experienced at beauty counters.
What's more, Rouge New York's hours are catered to working women. They're opened Monday through Friday, 7 a.m. to 8 p.m., Saturday, 9 a.m. to 8 p.m. on and Sunday, 9 a.m. to 6 p.m. "We want to be available to the professional woman. We want to be the power woman's morning spot," said Marsh.
While I did leave the salon feeling a bit more done up than I thought I would, everyone reassured me that I looked great and not overdone. ("Wow, your eyebrows!" was uttered to me more than once.) Mascara, concealer and a bold lip was all I needed to make me feel like a woman. A few hours in and the makeup held up well. Though the snow did make my eyeliner budge a bit. All in all, I do feel like me, but with more pizazz.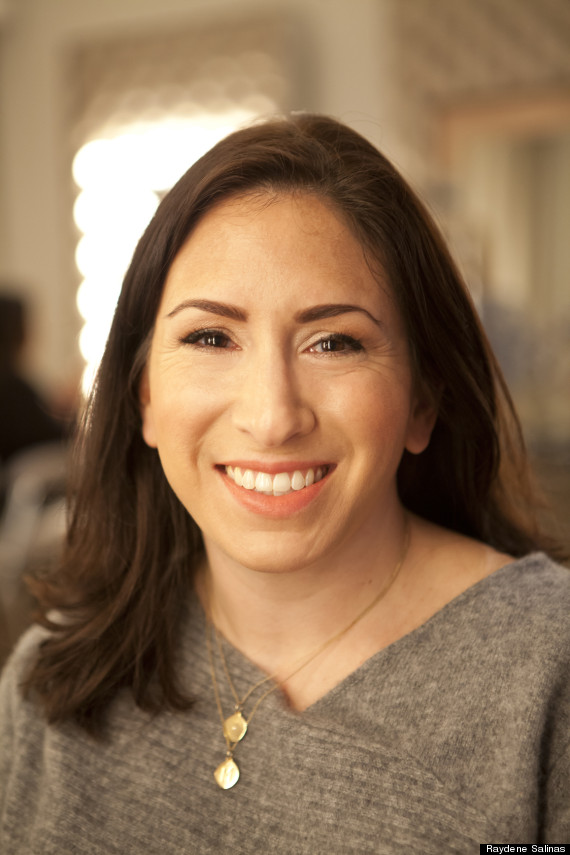 Want more HuffPost Style beauty content? Check us out on Twitter, Facebook, Tumblr, Pinterest and Instagram. (For everything else check out our main HuffPost Style Twitter, Tumblr, Pinterest and Instagram @HuffPostStyle.)
---
Do you have a beauty story idea or tip? Email us at beautytips@huffingtonpost.com. (PR pitches sent to this address will be ignored.)