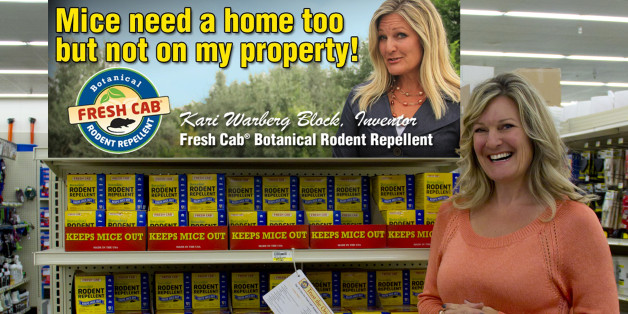 One of the reasons I started my website is that I wanted a place for women to come together and dream. We women need to know that we don't have to hang on to an old dream that has stopped nurturing us -- that there is always time to start a new dream. This week's story is about a woman who needed a way to keep the mice from damaging her family's farm. Her past career at a high-end cosmetics counter led her to use scent as her weapon of choice, and her invention not only earned her millions, but it became the first and only botanical rodent repellent regulated for indoor use. Talk about using your nose! -- Marlo, MarloThomas.com
By Lori Weiss
Kari Warberg Block is living proof that you can take the girl out the city, but you can't take the city out of the girl. It was the early 90's, and Kari was working behind the cosmetics counter at a high end department store. She was so successful, that her employer would reward her with bottles of expensive perfume. And while she wasn't one to wear it very often, she'd slip it into her purse before visiting the man she was dating, a farmer in a remote corner of Western North Dakota.
"I'd get such a headache from it," Kari remembered, "but I thought while I was dating, I should probably smell good. So I kept a bottle in my purse, thinking I'd put it on later in the day, to lessen the headache."
But the perfume that was meant to bring her new beau a little closer, would ultimately end up serving an entirely different purpose -- one that would get this city girl through a day on the farm and years later, make her a millionaire.
"It was my first time out on the farm," Kari continued. "I was wearing short shorts and sandals and of course I had my purse with me! When I got out there, he asked if I could help him pull start a truck. My first husband was a furniture mover, so I'd driven trucks before. I got into a 16 foot grain truck and he hooked it up to another one he was in. As I pulled forward, I suddenly felt these little feet running up my leg, right into my crotch. I completely freaked and let go of everything."
"The farmer came running out to see if I was okay and he said, 'That's just a mouse. They're a fact of life on a farm. You can't do anything about it.' I said, 'I know what to do about it!' That's when I pulled out my perfume and sprayed the whole cab with it and we saw three mice run out."
Kari thought that if the perfume gave her a headache, it would give the mice one too. So she left her perfume out on the farm that day -- and each time she returned, she brought out more. Soon the mice were gone and she was there to stay. Kari married the farmer, and she and her two children, moved from the big city to an area, where the nearest neighbor was two miles away.
"My Dad would call every day and ask how I was going to survive out there in the middle of nowhere. But eventually I grew to love gardening. And I was being a Mom and running a little day care."
But as Kari settled into her new home, she soon discovered that her unwelcome guests had found their way back to theirs as well. By that point, she was out of perfume and while they had cats to keep the mice out of the house, the rodents were finding their way into the expensive harvesting equipment.
"Mice need food, water, nesting materials and something to chew on," Kari explained, "and they find it all in farm equipment. They tear apart the seats and chew on the wires and suddenly the harvesters won't start or worse yet, there would be a fire."
"I didn't want to use poison in an area my kids might be in and I really didn't want to clean up the dead bodies. I knew that rodents couldn't see very far, but their sense of smell was more than 2000 times what a person's could be. So I started soaking pine cones in essential oils and I'd put them in the equipment."
Once again, the mice scurried away. And that's when Kari began wondering, if it could work for her, why wouldn't it work for farmers everywhere? So she decided to test her theory by packaging the pine cones in cloth string bags and giving them away.
"I remember a neighbor came over and said, 'I have to be honest, that's really the stupidest thing I've ever seen. People only want to use poison and you're never going to be able to sell this, when poison costs a fraction of what this would.'"
"I cried and thought maybe she was right -- but that forced me to do some research. What I found was that 30% of people have a problem with mice. 60% of people said they would buy something that wasn't a poison, yet 90% of the products on the market were poison!"
There was also another motivating factor. The year before, Kari had been in a life-threatening accident. And the farm had been devastated by a hail storm. She and the farmer needed a way to feed their family.
As it turned out, that neighbor was wrong. The free samples Kari had distributed were working. And farmers wanted more. So the budding entrepreneur set up shop right there in her home. She switched to corn cobs, which were more plentiful than pine cones on the farm, and she and her two children along with two employees would blend them with the fragrant oils. It wasn't long before she was recruiting 20 neighboring families who would help fill thousands of cloth string bags. And then Kari brought them into town -- offering the perfumed pouches to equipment dealers for free, with the agreement that if the product she called Fresh Cab worked in the fall, they'd stock them the following spring.
Article continues below slideshow
PHOTO GALLERY
Kari Warberg Block
"The men were calling it fru-fru stuff," Kari laughed, "and one guy wrote a little article and called it corn cob perfume. But it worked and they bought it! So I decided to do a trade show. The news came out and did a story and the next day we had a line out to the street! A man approached me and said, 'I heard you say on TV that this stuff keeps mice out of tractor cabs in the winter.' I said, 'Yes, if you're having that problem, you should get some.' That's when he said, 'I'm from the Department of Agriculture. If you're making those claims, you have to get a license.' He was the pesticide police."
So Kari paid the department a visit, to find out exactly what she needed to do. That's when they told her that she probably didn't want to pursue it, because the kinds of studies it required could cost up to two million dollars.
"At the time, we were living hand to mouth. But I knew I had to do it or I'd never forgive myself. So I started applying for grants. And I took every cent I made and funded the research. I did a lot of it myself, so I was able to do it for under $200,000. And I brought the results to the EPA and they said, 'We don't believe it, do it again.'"
So Kari did -- she actually did it two more times, so she could prove that her product would repel active infestations for 30 days, not only outside the home, but inside, and that it would work as a preventative measure for up to 90.
In 2007, Fresh Cab received its Federal EPA registration as the first and only botanical rodent repellent regulated for indoor use and Kari landed a place for her product on the shelves of John Deere stores around the nation. It wasn't long before retailers like Ace Hardware and Tru Value got onboard, home improvement stores began calling and Kari's home based business moved into a 20,000 square foot automated production facility.
Today the rodent repellent is available in 15,000 retail stores throughout the US and Canada and has brought in 40 million dollars in revenue. Last year Kari was named one of Ernst and Young's Entrepreneurial Winning Women and this year, the Small Business Administration recognized her as one of the top three business people of the year.
And now Kari is giving back. She's brought a worldwide entrepreneurial program called Start Up to North Dakota and already seven new businesses have been launched.
"I was a woman who worked at a cosmetics counter trying to get a product in the pesticide aisle. It took a long time for people to take me seriously. But I believed in my product and I surrounded myself with people who believed in me.
"It's important to remember that setbacks can always be used as set-ups for a comeback," the successful entrepreneur said. "If you can dream it, you can do it."
Add Marlo On Facebook:
Follow Marlo on Twitter:
Sign up to receive my email newsletter each week - It will keep you up-to-date on upcoming articles, Mondays with Marlo guests, videos, and more!