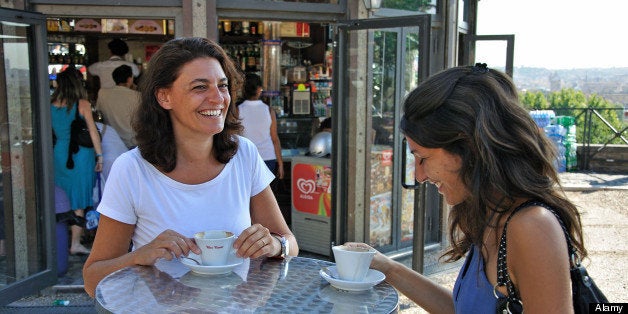 I eat my salad after the entrée. I don't need a sea of sauce with my spaghetti, and a dessert of mandarin oranges and a shot of espresso always sounds good to me. That's how they eat in Italy, and that's how I eat. I adopted these customs after living in Italy for a while, yes. But I also give much of the credit to my mother. She's the one who started my obsession with all things Italian. And I am so very grateful that she did.

Holiday meals growing up in Ohio were lasagna or manicotti or breaded chicken in the oven with potatoes and onions. I remember "Friday meatballs" when eggs were hardboiled in a big pot of sauce. Holiday sweets were pizzelle and giuggiulena cookies. Mom taught us fun words like 'naso' (nose) and how to count to ten in Italian. Visits with older aunts and uncles were always a bit odd, since they spoke Italian with a Sicilian dialect to each other and to Mom. I didn't appreciate any of it until 1977, when Mom went back to Sicily, saw cities like Taormina and Agrigento and then went to her hometown of Grotte. She was reacquainted with cousins, an aunt and uncle and saw her first home. "I'm so glad I did this!" she wrote on a postcard.

Many trips followed that first one. We all wanted to meet the cousins, see mom's hometown and experience Italy. My first trip was after college on an internship with the Associated Press in Rome. I went back again several years later for a vacation and then lived there for 14 months in the mid-'90s.

My best trips to Italy were the three with my Mom. What stands out for me is not gazing at the renovated "Il Cenacolo" in Milan or walking around St. Peter's Basilica. It's taking Mom to the salon in Cortona, in Tuscany, where we got the scoop on all the goings-on in the town, then, sitting on a bench in the piazza, ate gelato. In Rome, it was eating lunch at a trattoria with the locals, being schooled in how to eat a wild game stew. (Hint: use your hands.)

This week marks the second anniversary of my mom's passing. I think about her every day and now I'm planning a "Mom" trip to Italy where I will visit all of our favorite places -- and maybe a few of my own.

The first time we enjoyed Italy together was Christmas 1986 in Rome, during the internship. "I hope you are watching, learning, and growing so that you can become a valuable employee -- wherever you go to work," she wrote in a letter. "Your opportunity is now. Use it!" She went on: "Find something to get interested in. You should have all the cathedrals down pat by now. Can you imagine how interesting you will be in a group, if you can spout them off? Or am I expecting too much? Who knows." (For the record, there are more than 900 churches in Rome. And no, I didn't get them all down pat.)

She went back and forth on whether or not we'd be able to make a holiday visit to Sicily. We eventually decided against it because we couldn't get a flight and I had to be in the bureau anyway. Mom wrote that it was such a "noteworthy contrast in the two cultures," after learning that there would be no new flights on Dec. 25 nor 26. "Americans want to make as much money as possible, Italians want to enjoy as much as possible. Beautiful! I love the Italians."

After Christmas in Rome -- complete with Midnight Mass at St. Peter's -- we headed to Assisi and Siena. Assisi was wonderful, if only for the accommodations, which had the softest beds we had ever slept on, topped with the fullest down-filled comforters we had ever seen. Oh, the place was freezing and the bathroom was down the hall, but we didn't care. The room rate included a three-course dinner, which we ate in a dining area complete with a crackling fire. Siena, and our day trip to San Gimignano, were divine, especially since we found authentic Gucci and Louis Vuitton handbags at a small store. Mom scored a bargain and we bought three.

We didn't get back to Italy together until 2003, to celebrate her successful kidney transplant, and again in 2004. Itineraries included Montalcino, Montepulciano, Pienza, Perugia, Naples, Amalfi, Ravello, Bologna, Milan and Rome. We absorbed it all, with friends and cousins as our hosts. One of my favorite episodes from those trips, which truly illustrates the warmth and the joy of the natives, was an evening in Bologna, when my friend Poala and 12 of her friends treated us to a true Bolognese dinner at an agriturismo called Gradizzolo.

We were treated to the traditional local fare, including pesto modenese, a spread of lard, garlic and rosemary that you eat on warm tigelle (small, thick, round pieces of bread). It was an exceptional evening with noisy conversation and a lot of laughs.

Then it was time to leave. Have you ever been with a group of Italians when it was time to leave? Everyone has to say goodbye to everyone personally, but not without a good chat first. I think it took about an hour before we actually left the building and made it to the cars, got inside, doors shut, engine going. But then two friends who were in front of us stopped their car and the driver, Franco, got out and knocked on my mother's window.
"I just realized," Franco said. "I didn't say goodnight to you."