A Kansas City mom is going viral because of her strong reaction to learning the sex of her unborn baby.
On Sunday, blogger Egreis Gjergjani posted a video from her "gender reveal" party on Instagram. Egreis and her husband Jeremy ― who have two sons, ages 1 and 3 ― cut into a cake and found that the frosting was pink for a baby girl.
As the video shows, the expectant mom was floored ... literally.
Egreis' Instagram video has been viewed nearly 700,000 times.
She told The Huffington Post she and her husband weren't planning to have any more children after their "two amazing sons," and this third pregnancy was a total surprise.
"Since I've had two boys so far, I genuinely did not think I would have a girl," the mom said. "I even started a children's couture line, Itty Bitty Toes, that specializes in handmade dresses for little girls. It was my way of experiencing what having a little girl would be like."
Learning that she would soon have a "mini me" to dress in her designs was "an unbelievable feeling," she added.
Egreis posted two other videos from the party. One shows the moment before the big reveal and the other shows a prank her friend played on her. Egreis and her husband thought they were going to learn the sex of their baby with a balloon reveal, but it turns out the balloons were pink and blue.
"My best friend is evil lol," the mom wrote in the video caption.
Egreis, who is originally from Albania, is due in June. She said she's been touched by the kind comments from strangers who watched her big reveal video.
"So many of them have shared tears of joy with me," she said. "That's the beauty of humanity. To be able to relate to another human being, without ever knowing them, simply because you can feel the happiness through a video."
Egreis has enjoyed re-watching the video and looking at her son George's reaction. "He knows mommy is having a baby but had no idea really what was going on," she explained. "He just thought we were celebrating something with cake ... I laugh when I see George's face the entire time. He's just so confused, wondering what is wrong with the cake!"
Ultimately, Egreis says the source of her joy is simple "To be able to carry a child is a blessing, she said, adding, "That initial discovery of your child's gender is an amazing feeling. It doesn't matter if it is boy or girl, just that initial moment of knowing what you're going to have makes it all so real."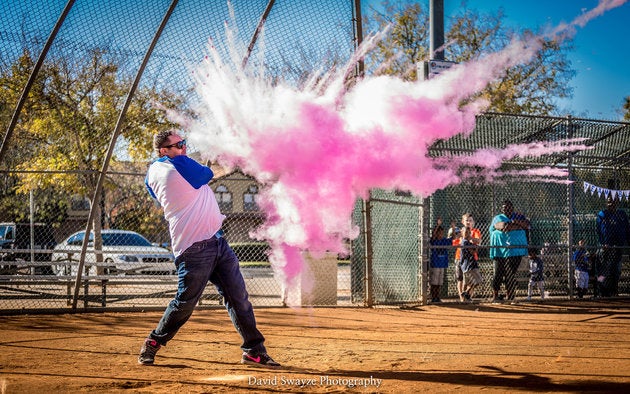 Creative Ways Parents Revealed The Sex Of Their Baby