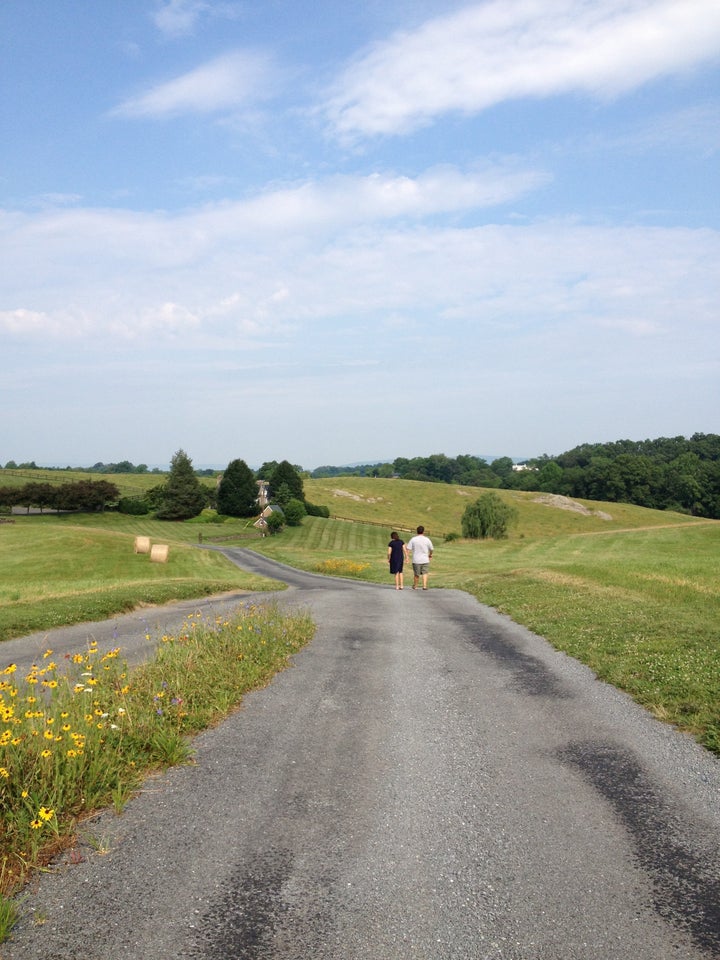 At first glance, our road trip was all about babies.
In the rafters of the pavilion at Fort Lewis Lodge, a nest of baby barn swallows was trying out its wings.
On the winding roads of Bath County, Virginia, fawns were stumbling around on new legs and learning way too much about the terrifying creatures known as "Prius."
At the Goodstone Inn in Middleburg, Virginia, twin lambs chased each other across a wide open field scattered with rolled bales of hay.
But looking back on our family's third annual road trip (yep, we're the wandering sort), it became more and more obvious that what this trip was really about was growing up.
It was about our almost-13 year-old weaving her way through an airport on her very own, while the rest of the family went out to brunch. It was about her father telling her mother that the tween was more than up to the task. It was about a reassuring phone call when the plane landed, and the tween's astonishment that her mother had felt any consternation. It was about that same tween getting to Space Camp - all the way in Huntsville, Alabama -- and forgetting all about her mother.
It was about comments from our younger tween like, "Mmmm, I love omelettes full of fresh vegetables!" as she gobbled up the home-cooked Fort Lewis Lodge breakfast and went back for more. And her sleeping until 9:00 a.m. while her parents drank coffee and read the paper. And her going down to the lodge's swimming hole all by herself. And, once again, her father telling her mother (yep, me) that our baby was fine, she was still breathing, she wasn't drowning, she was loving the independence.
All of sudden, our babies were big kids.
There are certain great things about having big kids, especially when you are on a road trip. They can entertain themselves in the back seat of the car with a good book (Abby seemed particularly into a book of commentary about "The Hunger Games"), they can carry their own 36 stuffed animals into the hotel room and they can put on their own sunscreen.
Still, as we sat at a drive-in movie in tiny Stephens City, Virginia, near the peaceful and lovely Inn at Vaucluse Spring, I couldn't help but feel wistful for the good old days when a showing of Madagascar 3 would have been a much-anticipated treat, instead of a long evening of, "How much longer do you think this is, anyway?"
My husband and I see this whole "growing up" thing differently. To him, there was something wildly exciting about seeing our daughter take over a small cottage with pastel drawings of the mill pond outside -- as Abby did at the Mill House Studio at the Inn at Vaucluse Spring. Sure, she wasn't as into counting the ducks that paddled their way across the lily pads, and she had zero desire to sit down and read "Make Way for Ducklings," but she could Google "mallard babies" to find out whether they liked pizza crusts.
To my husband, our 11-year-old's obsession -- at Middleburg's Goodstone Inn -- with how many noodles it took to make a raft and how long she could float around the perfectly landscaped pool was a huge step forward. He didn't care -- or even remember? -- how she used to get such a kick out of playing "Daddy Shark" and chicken, then konk out cold before dinner. It didn't bother him when she checked out her new curves in the mirror when she put on her bathing suit. He didn't miss water wings, and coverups with hoods, and pruny fingers clutching ice cream sandwiches that melted all over her front -- necessitating, of course, another dip in the pool to wash all the stickiness off.
And to my husband, the freedom to play a round of golf (this year, on the magnificent course at the Homestead Resort) while his little one relaxed and read her book (oh yes, still "Hunger Games" commentary) and had a chicken sandwich and waited safely and happily on her own was truly life-altering.
And so this year's road trip through the Shenandoah Valley was a nice vacation, but it was also a wake-up call for me. I'm a mom who loves babies. I love little kids. I love kindergarten plays and finger painting and macaroni and cheese and playground slides. I love late night (well, 7:30 p.m.) snuggles and picture books.
I love being a mom who rejoices in her children's every tiny achievement.
And now, I know, I am going to have to rejoice in the achievement that is growing up.
But ever since we got home from our road trip last week, I've been thinking that being a big kid mom is going to be different, but it doesn't have to be any less awesome. Instead of celebrating that my kid can read, I can celebrate the fact that we can have a long conversation about just what she's reading. Instead of helping her pick a pencil case for second grade, I can help her pick a dress for elementary school graduation. Instead of singing to her at night when she's trying to settle down for sleep, I can gently wake her up for the 6:58 school bus with a plate of scrambled eggs with cheese and a to-go cup of OJ in hand.
And now, when our road trip is finished and I pick up my older daughter from the airport, after she flies back from camp all by herself, I can -- I should, I will -- take special note of the giant hug she gives me, the sweet smell of her hair as I pull her into me, and the big grin she shows me -- just like she did when she was a baby in her crib, just waking up from her nap.
We've traveled a long way, my girls and I. And our journey has just begun.