A California mom is lifting up women who have struggled with breastfeeding through a viral Instagram post.
Art director Elaina Bellis gave birth to identical twin daughters, Quincy Kay and Rowe James, in March. Last week, she posted a photo of herself tandem nursing on Instagram, along with a powerful caption.
"I tried everything in my power to build a supply for my girls," she wrote in the caption, adding that her breastfeeding journey included "pumping, lactation consultants, mothers milk tea/vitamins, formula wired to my nipples, up all hours of the night and having emotional breakdowns not understanding why my body couldn't build up any milk over the last month."
"Due to the way my birth went and excess of fluids in my body and trauma, my breasts aren't able to supply even enough milk for one baby," the mom continued. "I never thought I would have problems breastfeeding and realize now I did the absolute best I could do."
Determined to feed her babies breast milk, Bellis gives Quincy and Rowe donor milk from generous friends, whom she thanked in the photo caption. She also noted she is able to pump about one ounce of her own breast milk each day.
Bellis said she hopes her post can help broaden the conversation around the challenges of nursing. "I also feel like people don't talk about how hard breastfeeding can be and if you can BF you're incredibly lucky," she wrote.
Putting her journey into perspective, she concluded, "All I can give them is my love and that's most important."
Bellis told The Huffington Post she decided to post the photo and caption to show people "what was real." Being honest and vulnerable on social media gave her strength in 2015, after she gave birth to a stillborn baby boy. She opened up about the experience online and other women who'd been through the same thing rallied around her and shared their stories.
With her recent post, "I just wanted to share my truth of what was really happening," she said. "I was feeling rainbows and sunshine that my twins were here and healthy, but I was also struggling emotionally with not being able to provide for them."
As breastfeeding photos filled her social media feeds, she felt admiration for the mothers depicted, but also "guilt and pressure" that she was unable to do the same. "I was having an emotional breakdown every night," she said.
Bellis wished she could find more open discourse about the struggles of breastfeeding, so she decided to change the conversation with her own photo. "We need to be really honest with ourselves and accepting that it's OK if this doesn't work out," she told HuffPost.
Bellis' breastfeeding Instagram post received over 6,000 likes, and the comments section is filled with messages of support and advice from moms who have been through similar breastfeeding struggles.
As user cin3880_ wrote, "You are doing a great job.. Those babies are blessed to have such a wonderful caring mother. Sometimes our bodies work against us but that doesn't make us any less of a mother."
Shineandriseco added, "Thank you for sharing. It is so important to hear women's experiences. Good job mama. #fedisbest."
Many mothers also shared their own experiences. Bellis describes the response as "overwhelming" but in a good way. "I think it's so beautiful that all these women feel compelled to be vulnerable via my post. I was not expecting so many reactions."
The power of honesty is incredible.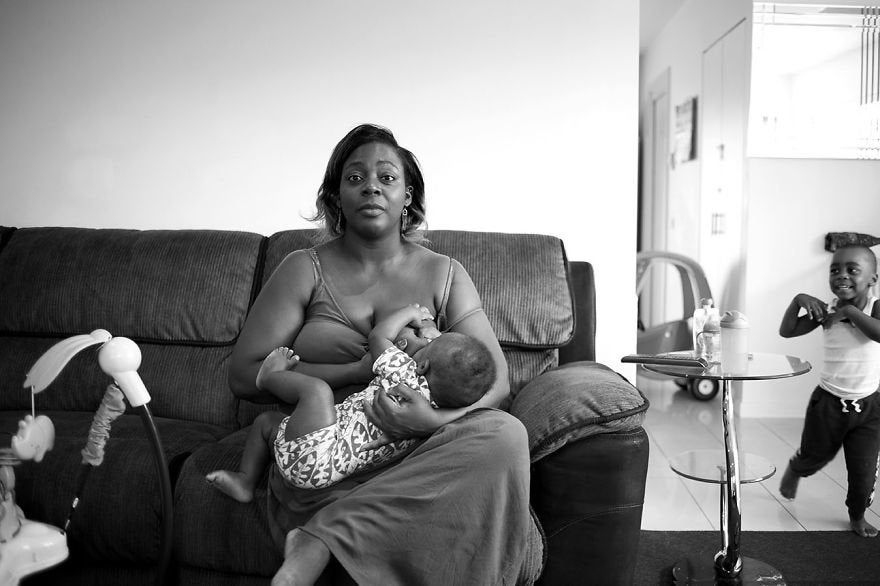 Photo Series Showcases The Messy Side Of Breastfeeding