A Florida mom organized a "nurse-in" at her local IKEA after a negative breastfeeding experience highlighted some flaws in the store's offerings for families.
Amanda McLaughlin has a 5-year-old son and 5-month-old daughter. While shopping at the IKEA in Sunrise on March 14, she paused to nurse her baby. As she fed her, the mom heard an announcement over the speaker:
"Did you know IKEA has a baby care room located in the lobby on the first floor? There is a changing table with a comfortable sitting area, a perfect place for that feeding."
McLaughlin was confused. Though she knew the message was automated, the timing was so sudden and the volume was so low that she felt it might be directed at her.
"I had never heard something like that anywhere before," she told The Huffington Post. "I really thought someone complained as I just started to nurse my daughter and instead of an employee asking me to move to somewhere private, they hit the play button somewhere in the loss prevention room with watching cameras."
As she continued shopping at the store, McLaughlin posted about this experience and her sense of confusion on Facebook.
The mom told HuffPost she also felt a sense of shame. "Thankfully, there were no customers directly next to me at the moment, but imagine if everyone heard it around me while nursing her," she explained. "What if my baby was crying, trying to latch and everyone heard the automated message? It draws unnecessary attention to the mother. What if it was the mother's first time in public nursing?"
The experience brought the mom back to the first time she nursed in public six years ago. She was three months postpartum at a Macy's department store and sat on a bench by the dressing room. Her baby struggled with tongue tie issues, so breastfeeding could be a challenge. "The other people sitting there stared at me as my baby fought to latch on with a cover," McLaughlin recalled.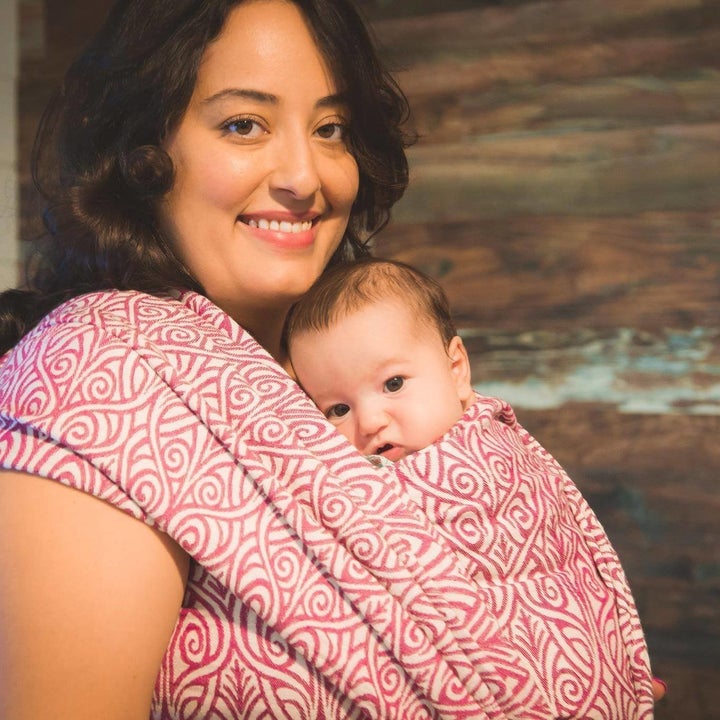 "Within a couple of minutes, they got up, gave me dirty looks and walked away," she added. "Had an announcement for feeding babies come on in Macy's in that exact moment, I would have been mortified and cried. I would have left feeling terrible and probably would have never said anything."
Several people responded to McLaughlin's Facebook post with the suggestion that she speak to IKEA management. When she did, she says a manager explained that the announcement was not targeted and that IKEA simply wants all customers to feel comfortable.
"But I got the impression IKEA Sunrise prefers their nursing moms to be private about it from the message audio as well as from the employee," the mom wrote on Facebook.
McLaughlin was also struck to find that the "baby care room" mentioned in the announcement was simply a family bathroom.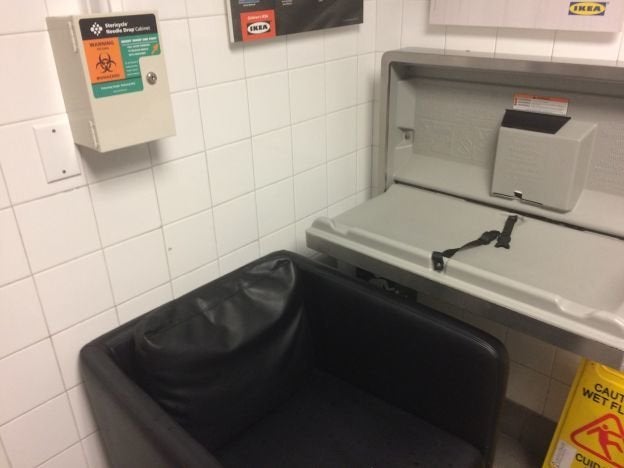 "It was very clear it's a bathroom with a toilet and sink and baby changing table," she said. "There were also no signs that said 'baby care room' as the automated message suggested. It clearly said 'family bathroom' outside the door."
The mom returned to the IKEA store the following day with friends to examine the baby care room more closely. They found that the leather chair for nursing moms to sit was located underneath a biohazard box for insulin needles. "When the changing table comes down, it does so right over the arm of the leather chair," McLaughlin said.
"Who wants to nurse in a smelly bathroom and inhale that for approximately 20 minutes of feeding time or more in an enclosed area?" she said.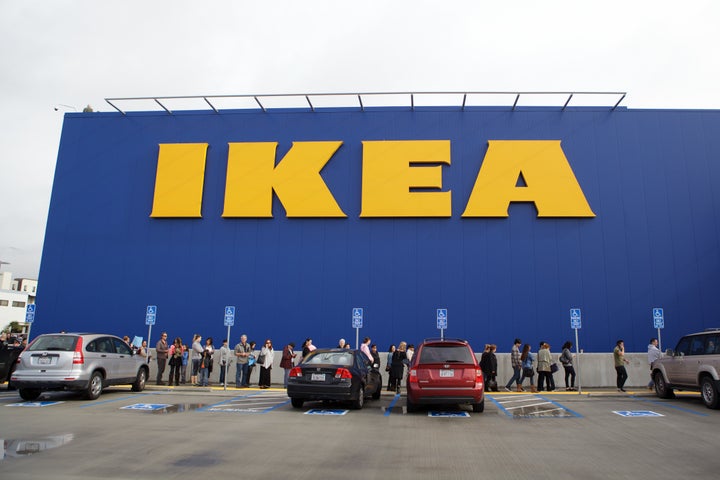 After sharing her Facebook post, McLaughlin received a message from another mom who said her husband once heard the same announcement while she was breastfeeding. He had a similar reaction and became upset, believing the store was targeting his wife for nursing their child.
A representative for IKEA told The Huffington Post that the message plays in two areas of the store that have baby care rooms ― the lobby and near the restaurant. The spokesperson issued the following statement:
"At IKEA, we support breastfeeding moms in all store locations, with private areas to nurse their babies, if that is what they prefer. Note that IKEA supports mothers' rights to breastfeed openly. We are a family friendly company who strives to provide a comfortable environment for all of our customers.

The announcement that was heard in our Sunrise store was a pre-recorded, general message that's regularly played to make customers aware of our baby changing areas with soft seating and a sink. Of course, it's a nursing mother's choice as to where she feels comfortable breastfeeding. Women are always welcome to breastfeed anywhere in our stores. We love mothers!"
The IKEA rep also touted some of the company's family friendly features, like the "Småland" play area for kids, in-store strollers, changing tables, family restrooms, a cafeteria offering baby food and kids' meals with healthy options and parking for expectant mothers and families.
McLaughlin is glad to see IKEA's pledged dedication to the cause but believes some of its approaches fall short of the promise. Seeing the overwhelming response to her Facebook post and the state of the room designated for nursing moms, she decided to take action to make the concerns of breastfeeding mothers heard.
The mom joined forces with other parents to organize a "nurse-in" on March 15.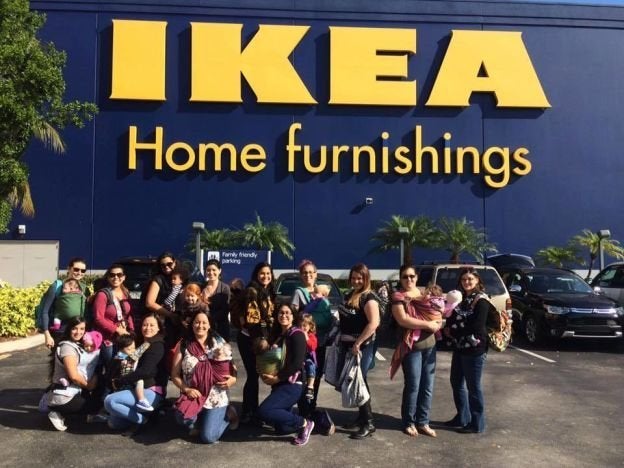 About 50 breastfeeding mothers showed up to the event, with many traveling from places over an hour away like South Miami and West Palm Beach. At least four local news stations arrived to cover the nurse-in.
McLaughlin and her friends met with the acting general manager, and he offered free breakfast for the women attending the nurse-in.
A manager from the IKEA in Miami also came to the event to talk about the company's policies. "They said they would listen to our suggestion and take it to corporate, but that they couldn't promise any change," McLaughlin told HuffPost, adding that one suggestion under consideration involved putting up signs in support of public breastfeeding around the store.
McLaughlin felt a sense of awe at the event. "My voice was heard. Our cry was heard and people were listening," she said. "It was a proud moment for me to be standing there tall and proud almost six years later after once feeling intimidated nursing in Macy's that day. It was a wonderful support system of women coming together for a greater cause."
The mom and other nurse-in participants plan to visit the store again soon to check in with management. McLaughlin is also writing a long letter to IKEA corporate.
Ultimately, she hopes that the company lives up to its messaging about breastfeeding by creative an inclusive and inviting environment for mothers in all of its stores.
"Feeding rooms are not bathrooms," McLaughlin told HuffPost. "Everyone has the right to feed their babies and take care of their children how they deem fit. If companies are going to make a statement in their stores advocating that, it should be done correctly. Otherwise, why even announce it?"
Just as people don't eat in bathrooms, neither should babies. This is a message McLaughlin believes everyone can get behind.
Said the mom, "I hope other parents see that I am speaking up for them and for others who might not have had the courage to do so and may have just walked away without saying anything at all."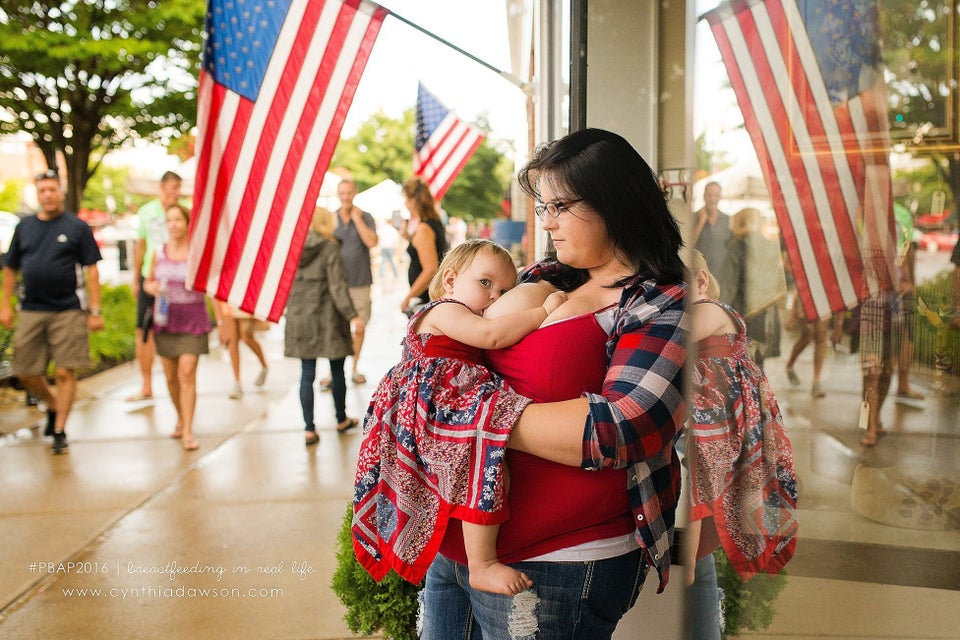 Candid Photos Of Moms Breastfeeding In Public