A mom in Alabama used her kids' first day of school as the perfect photo op to show how she really felt about the end of summer vacation.
On Sunday, Jena Willingham posed for a photo with her three kids before their first day of school on Monday. As 11-year-old Wrangler, 7-year-old Emmy and 4-year-old Sykes posed looking less than pleased about heading back to their classrooms (except for Sykes, who looks excited if a tad nervous), Willingham also put her feelings on display ― by relaxing in the pool with a drink and a huge smile on her face.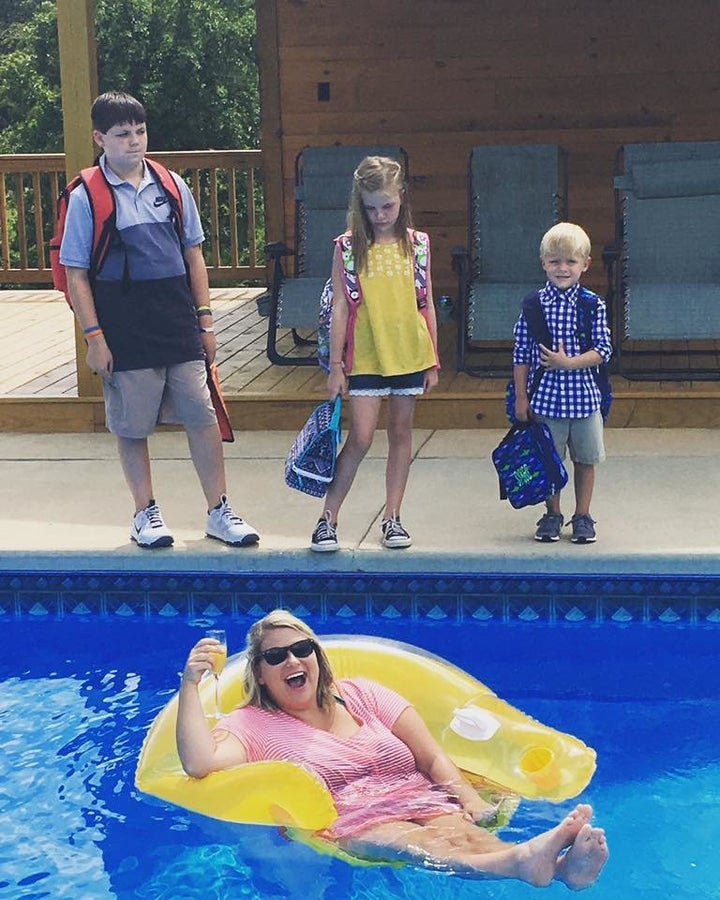 Willingham told HuffPost her husband took the photo at her cousin's house in Beulah, Alabama. She said she's joked with the kids all summer that she couldn't wait to have a day to herself.
"My kids have been fighting all summer, so I kept telling them I was counting down to the first day so I could have a pool day alone," she said. "Since my youngest was starting this year, it would be the first time in 11 years I didn't have a baby at home."
The mom of three, who is also a USPS mail carrier, said she's known to do "silly stuff like this all the time." On Monday, she posted the photo on Facebook where it has been shared more than 10,000 times in a day.
Despite the photo, it turns out she wasn't able to have a relaxing day at the pool on Monday while her kids were at school after all.
"I didn't actually get to have a pool day today because I was babysitting my cousin's 2-month-old," she said. "But I plan to on one of my upcoming off days!"