Lexi Sinclair will proudly wear a bikini despite being told it isn't "appropriate."
On Aug. 2, the mom wrote on Facebook that she took her 4-month-old son to the pool when another woman struck up a conversation with her. According to the post, the woman asked questions about Sinclair's son before suggesting that the bikini she was wearing wasn't "appropriate for a mother" and she should wear a one-piece swimsuit instead.
"She then proceeded to tell me that the men at the pool would feel more comfortable if I was in a one-piece swim suit because a bikini isn't appropriate for a mother, especially one who's 'still recovering,'" Sinclair wrote.
Sinclair took the opportunity to tell the woman she was proud of her body for doing "something amazing" and creating a "beautiful miracle."
I'm proud of my body. In just one year I've gained 50 pounds, and lost 37. I've grown a human and given birth to a beautiful miracle. My body provided food for my child. So, no, my body might not be the best sight for other men to see. My stretch marks and tummy pudge might not be sexy. But they're proof that I've done something amazing, and I have a man that loves me and finds me even sexier and more beautiful now.
As of Monday, the post has been shared more than 23,000 times. After her post went viral, Sinclair wrote on Facebook that the support she has received from friends, family and even strangers has been "amazing." She told CNN she thinks the post became so popular because, unfortunately, many people know what it's like to have their bodies viewed as unacceptable because of unrealistic beauty standards.
"I think it's gotten so big because so many people can relate to how it feels to be body shamed," she said. "Not just mothers but anyone who's a little bigger, or smaller than what the expected norm is."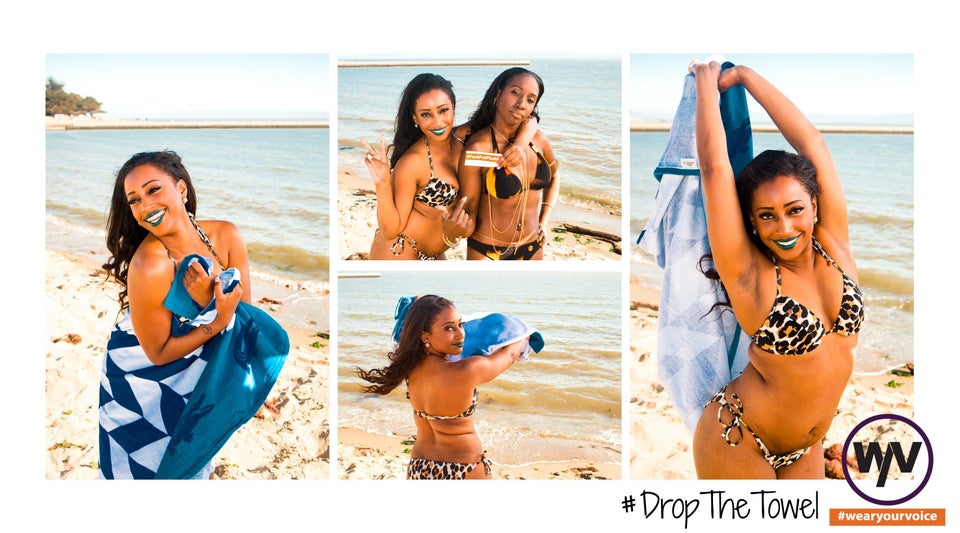 #DropTheTowel Body Positive Campaign