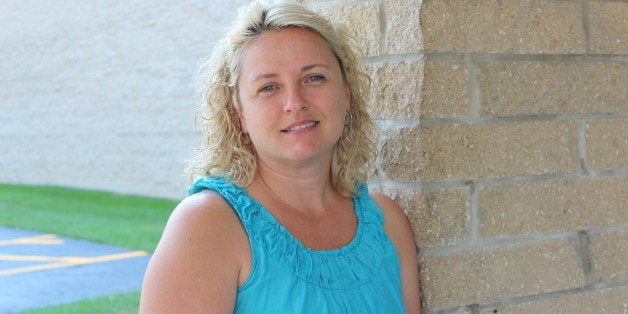 When Angela Crangle was growing up in Tennessee, she didn't wake to find a wealth of gifts under the Christmas tree each year. In fact, most years she didn't even find a tree. Crangle's father had been injured on the job at age 29, and afterward he struggled to support his family. At one point, financial difficulties forced them to live in a 15-by-12-foot barn.
Crangle, 44, now lives in Cuyahoga Falls, Ohio, with her own family: a husband and four kids. While they too face money troubles, she and her husband decided it would be best for her to stay at home with the children while he works as a driver merchandiser for Pepsi. When Crangle can't make the money stretch far enough, she sometimes needs help from a food pantry.
She may give back more than she gets. Crangle also volunteers at that food pantry. In fact, last year she started running the food pantry and hot meal site at Akron Springfield Assembly of God, which is a part of the Akron-Canton Regional Foodbank within the Feeding America network.
Crangle said she devotes 20 to 30 hours a week to the food pantry, placing orders, loading and unloading food, preparing meals, writing up monthly reports, training other volunteers, cleaning up and spending time with the 100 to 200 people who come in to eat each month.
Her hard work has come at a cost: Oftentimes, she fronts the money for gas or other items the pantry needs, and her car is used to transport about 89,000 pounds of food a year, according to the food bank's calculations. The vehicle has suffered about $2,000 worth of damage from all the wear and tear.
Crangle volunteers even though her own family has struggled to make ends meet. In the past, they used federal WIC food packages when they couldn't afford to feed their children.
"Goodwill is our shopping sprees," Crangle told The Huffington Post. "We don't live a fancy life."
While her husband makes about $55,000 a year, the family has also had sizable financial setbacks in the past few years. When Crangle's brother died in 2012, they paid for the funeral. Soon after, they discovered mold damage in their house. Over the past two years, they've have had to pay $40,000 out of pocket for funeral and home expenses alone. To bring in extra cash, Crangle's husband will sometimes buy a pair of $3 shoes from Goodwill, clean them and then sell them on eBay. Yet they still make sure to tithe at their church.
Crangle said she hadn't realized that help was available from local food banks before she was asked by her pastor to run one. "If I had known that, I could've gotten on the list through the church, or any other agent for that matter, especially while my children were young," she said.
Occasionally, Crangle will fill out a Emergency Food Assistance Program form and take home a box of food from the pantry -- mainly items like cereal and milk. Still, she said, there are people more in need than her family, so she doesn't like to get food on a regular basis.
"I do my best to try to integrate healthy things for the hot meal, like zucchini or cabbage or different vegetables that a lot of them, I'm finding, have no idea how to prepare," Crangle said.
"For my children, I'd love to have more organic or more things of those nature that I know are healthier," she said. "I suspect my one son has some gluten issues, but we're not where we can have him tested or anything."
Crangle loves volunteering at the food pantry because, as she put it, she's not just feeding people's stomachs -- she's feeding people's hearts and spirits, too. It has also helped her pass on those values to her kids. The children, who are all under 11, help out regularly, loading food into boxes and delivering trays to guests during the monthly hot meals.
"We tried to teach them that life isn't about things," Crangle said.
Dan Flowers, president and CEO of the Akron-Canton Regional Foodbank, appreciates all the work done by volunteers.
"During this holiday season, millions of Americans are not only thinking about presents or decorations -- they are thinking about making tough choices between buying groceries or paying bills," said Flowers. "It's people like Angela that remind us it's about helping those we can."
This Christmas will not be easy for the Crangles, because Angela will be undergoing a hysterectomy to treat endometriosis on Dec. 16. She's managed to pick up a few things for the holiday from Goodwill, including a sports-themed comforter for one son and a couple of dresses for her daughter. She'd like to get an iPod Touch for her son who loves music, but she doesn't think her budget is big enough.
With or without a lot of presents, Crangle said the family will be happy to spend time with each other.
"We have so much compared to what we grew up with," she said. "Even if we have many clothes from Goodwill, we have way more than a lot."
Needing to use the food pantry herself hasn't made Crangle any less optimistic. A big goal for her is getting the word out to other families that food banks exist and that it's OK to seek help.
"I hope that people just realize that the food bank is an option and it's not something that they should be ashamed of if they have to use it from time to time," she said. "I've been where they are."
To make a donation in honor of Angela Crangle's food pantry, click here.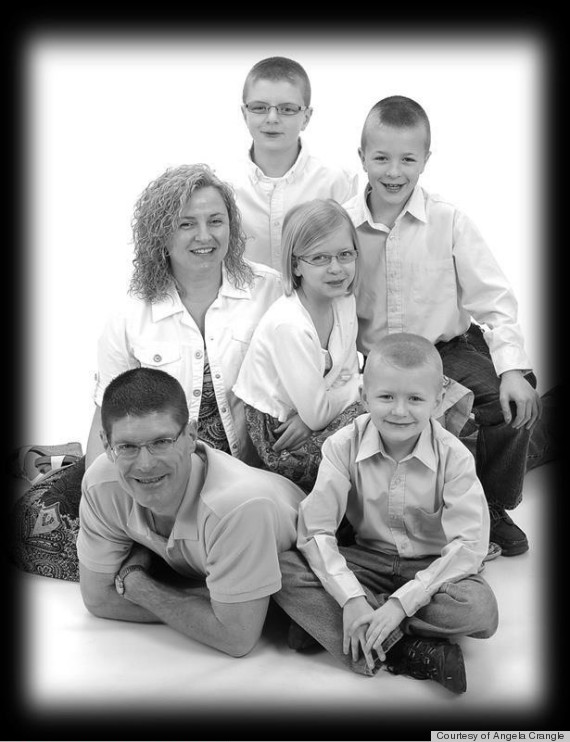 Angela Crangle and her family
This story is part of a series called 12 Days Of Giving. Huffington Post Impact, Religion and Parents have teamed up to feature stories from 12 families in need over 12 days between Thanksgiving and Christmas. Read more here.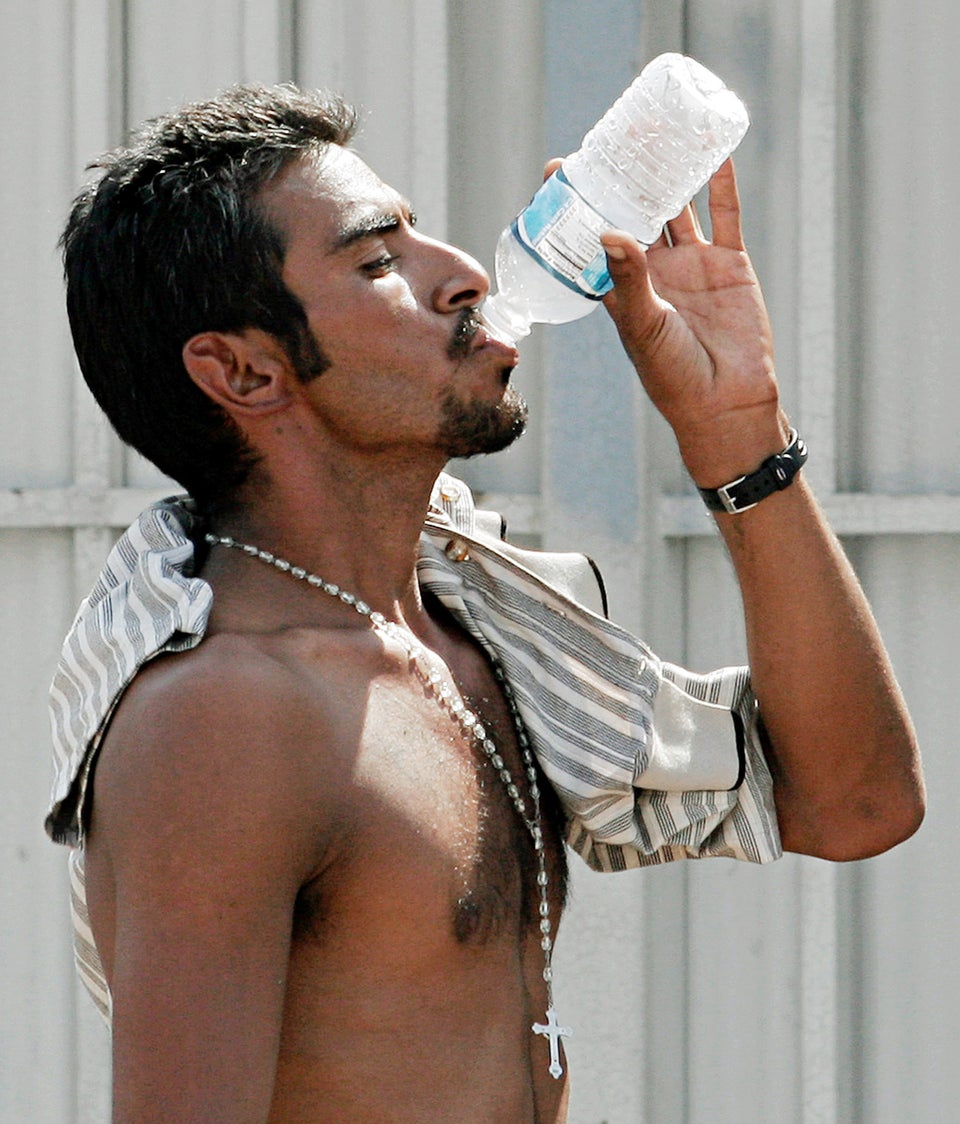 The Hungriest States In America