While raising money for an event dedicated to polycystic ovary syndrome (PCOS) awareness, Shelby E. realized she had a special donor: her 6-and-a-half-year-old son.
Shelby, a mom of two, shared a photo on Instagram of her son's piggy bank, a couple $1 dollar bills and a note with the word "mommy" on it. In the post, she wrote that her son Parker must have overheard her on the phone explaining how she was raising money to create awareness for PCOS before a 5K walk/run at Georgia Tech on Sept. 25 in which she's participating. During her chat, Shelby mentioned she was close to her goal, prompting Parker to donate the money in his piggy bank.
Shelby initially wasn't certain what Parker meant with the note and money. In her post, she wrote that he had been doing chores to earn money for a new toy. When she asked her son why he left the dollar bills for her, he had a sweet reply.
"He said back to me, 'I know it's not a lot, but you work hard too, Mommy,'" Shelby wrote. "'And those pretty ladies need your help more than I need Spider-Man.'"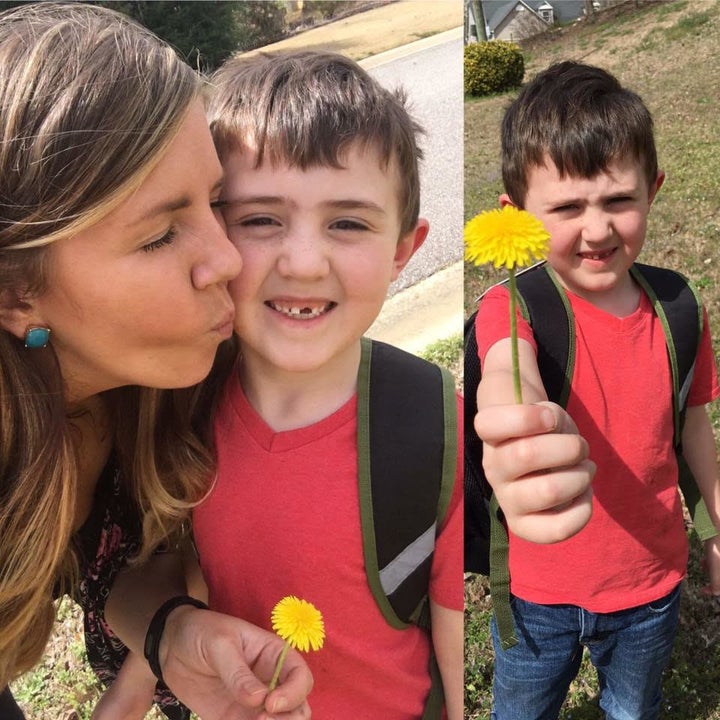 Shelby told The Huffington Post she has since reached her $1,000 goal. Someone donated the remaining $107 online, and Parker kept his $2.50. All proceeds at the run/walk will go "toward PCOS research, health screenings, grants, education and support programs," according to event info.
Facebook page Love What Matters also featured Parker's act of kindness on Monday, and the post has gotten more than 18,000 reactions. When asked how she felt about his selfless gesture and its impact, Shelby described her feelings in one word: blessed.
"That's the only word I can use," she said. "In this world filled with so many sources telling you how to parent and making you feel like you're doing it wrong, I felt blessed to know that even on the days I feel like I'm getting everything wrong, maybe I'm getting something right with him."