A mother who spent the last two years helping her son get his MBA after a fall left him a quadriplegic was recognized for her incredible work on Saturday in one of the most touching ways.
Judy O'Connor, who took notes and attended classes with her 29-year-old son, Marty O'Connor, received an honorary degree during a graduation ceremony at Chapman University in Orange, California. It came just moments after helping her son receive his degree on stage.
"Mrs. Judith O'Connor has attended all the classes with her son Marty," the announcer, who appeared to choke up, told the crowd. "She has taken notes and worked with Marty throughout his academic career."
Marty O'Connor told HuffPost that he nominated his mother as a way to honor all the help she had given him.
"It is impossible to not notice that kind of effort and dedication that she was showing in helping me prepare," he said in an email, crediting his mother's efforts as a driving force for his own academic successes and recognitions.
Judy O'Connor later told KTLA she was "totally blown away" to be pulled to the front of the stage. "I was trying to stay in the background," she said. "As a mom, you just want to help your kids get through things. I've always believed in him and I knew he could do it and I just wanted to have his back."
Nearly five years earlier, Marty O'Connor was working as a traveling salesman with a degree from the University of Colorado when he suffered a life-changing fall down a flight of stairs, he told the university in an interview.
"After I got hurt, I didn't know which end was up," he told the school. "I didn't really have a direction. I was just dedicating myself to physical therapy five days a week."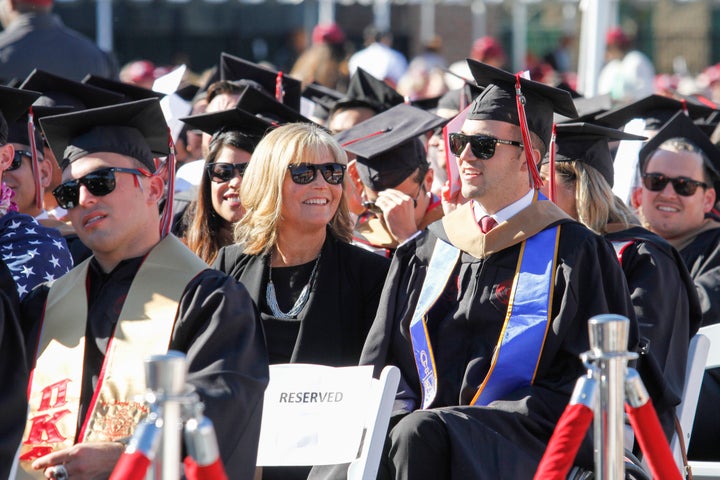 "While my body was in a better place because of that, mentally, I was just kind of lost. … I needed that mental challenge and wanted to add some professional value to myself," he said.
At the time of his injury, his mother was working as a teacher in Florida. Knowing that her son was in such a difficult place "was killing me," she told KTLA. "I couldn't have my own child needing me, doing a job at the same time."
She moved across the country to help her son, who began exploring MBA programs, leading to a scholarship opportunity.
In the beginning, he admitted, it was quite a daunting challenge.
"I didn't know how going back to school without being able to write, or use my hands, or raise my hand in class, any of that, would go," he told the school. "This has really forced upon me some patience and thoughtfulness in everything I'm doing. And I'm now doing better in school than I have in my entire life."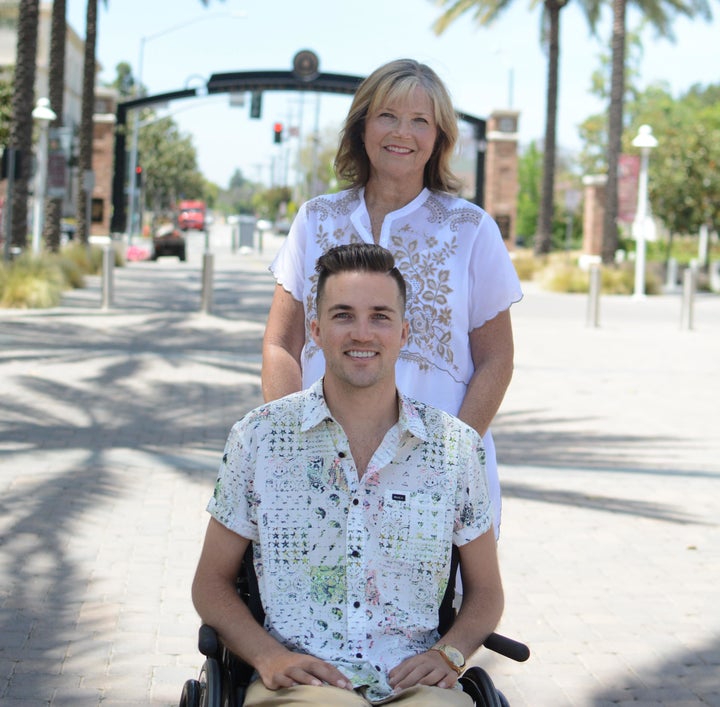 And Marty O'Connor has some great advice for others facing such physical challenges. "Your circumstances are not your sentence," he told HuffPost.
"Living with a Spinal Cord Injury may limit your body, but it does not limit your mind. Embrace these challenges as an opportunity for growth in your life. I believe that sometimes God lays on our backs so that we are forced to look up," he added. "The past few years have taught me so much about myself and have allowed me to develop new strengths that I can use to propel myself as an individual, a professional, and in service to the community."
And he shared a quote from the ancient Greek philosopher and scientist Aristotle to stress his point: "Where the needs of the world and your talents cross, there lies your vocation."
As for what the future holds, Marty O'Connor said he plans to work for a sports startup company called DIVERTcity, where he'll work to raise corporate sponsorship money. And he'll continue to oversee his nonprofit organization, the Marty O'Connor Foundation for Progress, which aims to support people with debilitating injuries.
His mom plans to take some well-deserved time off and rest, as her son is aided by a professional assistant, the school said.
This story has been updated with additional comments from Marty O'Connor.
Support HuffPost
A No-B.S. Guide To Life
Popular in the Community