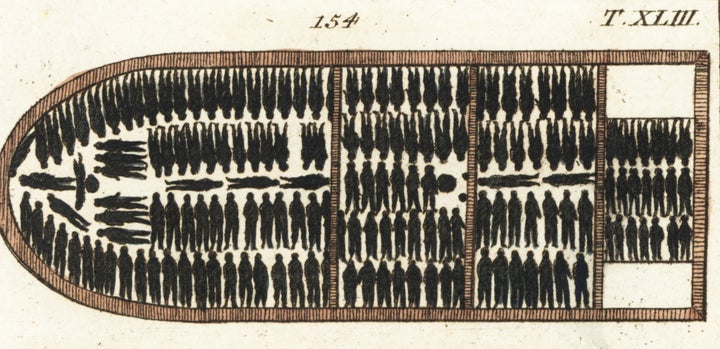 What is the right way to teach kids about the American slave trade? And when should a parent have a say?
For one mother of three, this question is at the center of an ongoing conflict she says she is having with administrators at Whitney High School in Cerritos, California. Shardé Carrington, 31, posted a Facebook message Monday to open up a dialogue about a disturbing history lesson she says was being taught to her son's eighth-grade class.
According toCarrington, a teacher sent an email on Sept. 5 with the subject heading "Unique Learning Experience" to inform parents of an upcoming exercise that would supposedly expose students to the horrors of slavery. The lesson would involve the teachers acting as "slave ship captains" and students as slaves.
"Specifically, when class starts," the email reads, "we will sternly tell them to line up outside the classroom, use masking tape to 'tie' their wrists together, make them lay on the ground inside the room (which will be dark) shoulder to shoulder with each other (boys and girls are in separate rows), and then while they lay there, have them watch a clip from 'Roots.'"
Carrington, who is African American, told HuffPost on Thursday that upon receiving the initial email, she cycled through feelings of disbelief, denial, and finally anger. She feared that by presenting the exercise as a "unique learning experience," the teachers were being "irresponsible at best, manipulative and dangerous at worst."
Students, according to the email, were not going to be made aware of the lesson in order to maintain an element of "surprise." Carrington later learned that her son already knew about it because ninth-grade students who had previously gone through it had already informed the lower grades.
"As the mother of a black child, I feared that my son's participation would lead him to experience trauma, perhaps at the cellular level, and have a visceral reaction of anger and fear during the exercise itself," Carrington explained. She knew, right away, that she would not be allowing her son to participate in the lesson. But she had questions and concerns. She wanted to know why this lesson had been given the green light in the first place.
In a response to the eighth-grade history instructors, Carrington stated that her son was forbidden from participating in the "demeaning and grossly insensitive exercise," and argued that the experience of slavery cannot be summed up "with [masking] tape and a movie clip."
Carrington, a paralegal by profession but currently a stay-at-home mom, questioned not only the racial insensitivity to students of color, but also the methodology and logic behind the lesson: "Would you simulate rape in order to encourage sensitivity toward survivors? Will children pretend to be in Japanese internment camps as well?"
Carrington said a counselor responded to her concerns first, then Principal John Briquelet, who assured her that the social studies department chair would soon be reaching out to her. The chair's email, Carrington said, was disappointing to say the least.
He wrote that the department has been facilitating the slavery lesson for 10 years, with "almost universal appreciation," according to screenshots Carrington posted on Facebook. He said that the exercise came from a nationally recognized supplier of curriculum, and added that while he understood Carrington's concerns for her son, the exercise was not designed to demean students. Rather, the goal was to immerse the largely non-black student population "into the harrowing world that your ancestors suffered through so as to gain better insight into their plight."
He offered to continue a dialogue with Carrington via email or in person, but he did not back down from the seeming necessity of the slavery role-play.
Carrington, who said she couldn't imagine that in 10 years no parent had taken issue with the exercise, was at a loss for what to do next. On Monday, she decided to post the exchange on Facebook (where you can read it in full), asking friends to weigh in on the situation.
"I knew that I didn't have the time to stop it from occurring this school year, but believe with the power of social media I have a chance to end it for future students," she said.
An overwhelming majority of the responses to her story, from people of diverse racial backgrounds, were ones of shock and outrage, with pledges to help spread the word and bring an end to the simulation.
While Carrington said the exercise went on as planned last week, she made sure her son was pulled out of class to study in a guidance counselor's office instead during that period.
She said the eighth-grade counselor has reached out to her to help facilitate a follow-up discussion between Carrington and the three history teachers behind the exercise, though she worries that it will be yet another instance of the department trying to "convince me of their points versus listening to mine."
As of Friday, representatives at Whitney High School have not responded to several HuffPost requests for comment.
Whitney High School, and the ABCUSD school district that it belongs to, is made up of predominantly Asian and Hispanic students. Out of 1,011 children enrolled at Whitney High School, only 19 (fewer than 2 percent) are black. According to Carrington, none of the three history teachers involved are people of color.
For her part, the mom is trying to think of better ways to help young students confront the realities and horrors of racism ― that don't hinge on turning the slave experience into a make-believe experiment. Carrington says she recently contacted an assistant professor in the Africana Studies Department at California State University in Long Beach who is willing to meet with the Whitney High School staff "to help them develop a more appropriate way to discuss this matter with the students."
Carrington believes that while the exercise is particularly offensive and potentially traumatic for black students like her son, no student, no matter their race, should be forced to participate in it.
"The teachers promised no psychological harm would be inflicted, but you cannot predict how anyone will respond to being bound in the dark and viewing traumatic images," she said. "In a world where trigger warnings are becoming commonplace, to send an unwitting child to school to participate in a cruel activity such as this is just wrong for anyone."
CORRECTION: An earlier version of this article incorrectly stated that the Whitney School has predominantly Asian and white students. Asian and Hispanic or Latino students actually make up the majority.
Popular in the Community