A California mom is speaking out after allegedly facing hostility for breastfeeding on a plane.
"I had fed [Charlie] on the plane, and she fell soundly asleep on me," the mom said. "My shirt wasn't completely buttoned up."
According to Thomson's account, a woman sitting in the row in front of her started complaining to a male flight attendant. "She was really flustered. She was really bothered, like 'Have you seen what she's doing, it's disgusting! You need to do something about it right now,'" the mom said.
A female stewardess then allegedly approached Thomson and said, "Listen I know it's natural, but it's offending this woman. So if you don't mind covering up, it seems your baby is asleep now."
"I told her that I thought it was ridiculous and that the only reason my child is so calm on flights is because I am a breastfeeding advocate," the mom told The Daily Mail. "But the woman started shouting 'I made it clear that someone needs to tell the girl to cover up! It's disgusting that you would let something like this go on.'"
Ultimately, Thomson followed the flight attendant's instructions. "For the next hour I sat under a sweaty blanket trying to keep Charlie cool while she nursed," she said.
Thomson -- who said in the JoeySalads video that a low-cut shirt would've revealed more of her breast than was visible at that moment -- described the situation as "humiliating." She said her fellow passengers were also embarrassed FOR HER? OR BY HER? and gave her meaningful looks.
Still, the mom added, she felt "attacked" for doing nothing other than calmly sitting with her baby on her chest. "I had to cover up because someone was irrationally offended."
Addressed to "the lady sitting in row 19a," the caption reads in part, "I'm sorry for you."
"I'm sorry that feelings of anger arise in you when you see my feeding my 4-month-old daughter," Thomson wrote, adding, "I'm sorry you can take something so natural and turn it into a sick and twisted perversion."
"I'm sorry this offends you, but the wellbeing of my daughter will always be more important to me then your thoughts and public shaming," she wrote in her conclusion. "I'm embarrassed yes, you successfully made me cover up, both stewards saw to that."
Thomson also started a social media campaign with the pointed hashtag #MomsDontFlyUnited.
In her interview with JoeySalads, she also said she would be pursuing legal action over this matter, as she feels her rights were violated.
A representative from United issued the following statement to The Huffington Post:
"Both United Airlines and Skywest Airlines, which operated the United Express flight, welcome moms nursing onboard our aircraft and instruct employees to do their best to see to those moms' comfort. Skywest is researching the circumstances of that flight to confirm whether the flight attendants efforts may have simply been to try to calm a difficult situation for Ms. Thomson."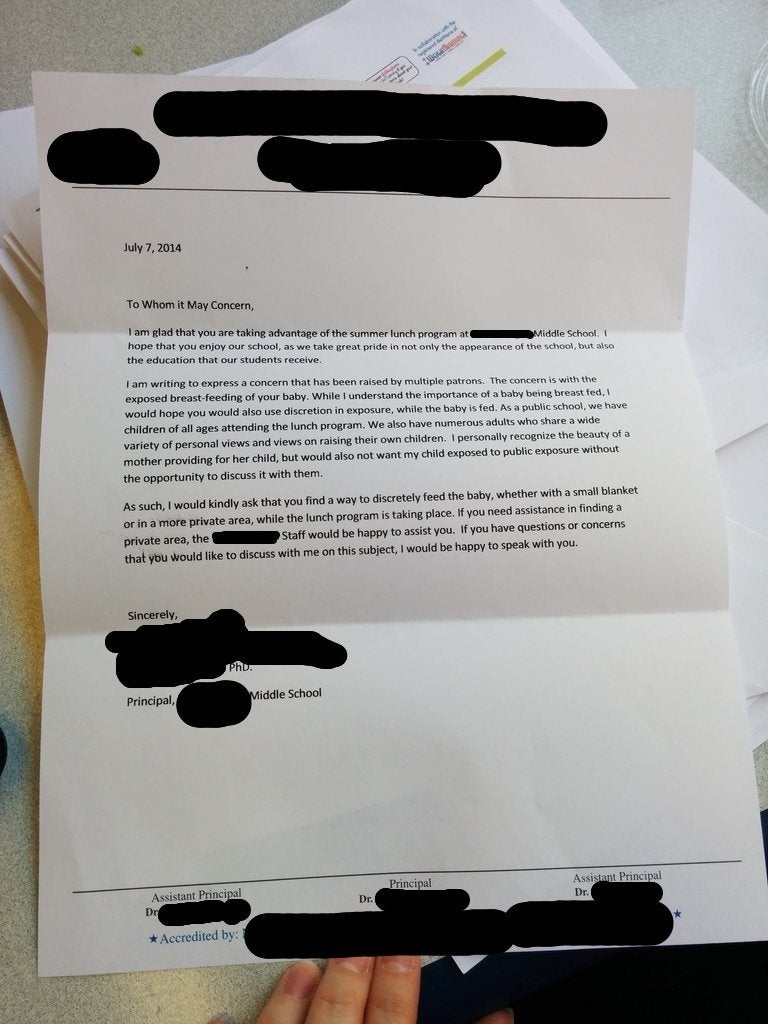 Places Moms Have Been Shamed For Breastfeeding