Kesha Bernard had achieved every exhausted parent's fantasy: She was taking a little vacation without her kids.
But when a fellow mom needed help on a plane, the Atlanta-based photographer stepped up to lend a hand (and lap). Now, Bernard's Facebook post about this experience ― and important reminder about the importance of helping others ― is going viral.
On Saturday, Bernard posted a photo of herself holding a baby on her Alaskan Airlines flight from Seattle to Denver.
"Listen.....it takes a village to raise kids OK?" she wrote in the caption. "And as a mom of a 3-year-old and 4-year-old I KNOW this. And I also know that toddlers can be assholes......so first let me just tell you what happened."
Bernard explained that she was waiting for her flight to take off when she heard a baby start crying. Before long, a toddler sibling joined in. Used to this kind of noise, she tuned it out at first. "I have mom powers and totally ignore it," Bernard wrote.
But she was unable to ignore the sound of a nearby passenger complaining to the mother of the two little ones and grabbing at the toddler to stop her from kicking the seat.
"While this is happening the freaking flight attendant is just standing there ... listening. Not even doing anything," she wrote. "And the older men beside me make remarks like 'obviously her way of discipline isn't working.'"
Bernard waited for someone to step up and assist the mom, who was traveling alone with her three children, but instead, her fellow passengers just mumble and stared in horror. So she stood up and walked back to ask if there was any way she could help her.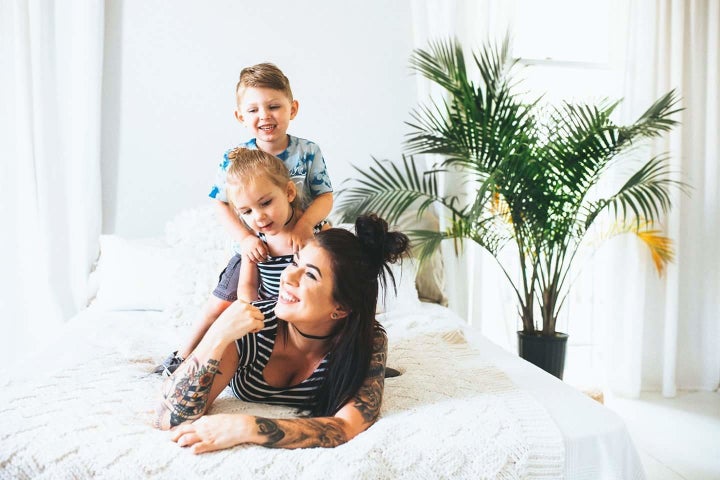 The mother immediately handed her baby to Bernard, who then had to sit back down for takeoff. "The crying stopped (it's a miracle) so I'm sitting here holding this precious baby that so happens to fall asleep (swooooon)," she wrote. The mom told HuffPost she held the other woman's baby for about an hour.
Bernard concluded her post by urging people to take action when others are struggling. "Be nice and considerate. If someone needs help for God's sake HELP THEM. Complaining and mumbling doesn't do a damn thing except make the person that needs help feel worse (words hurt)," she wrote, adding that she believed her fellow adult passenger should be ashamed of themselves.
"You're telling me Im the only ONE out of a full plane that was willing to help????" she continued. "How we can ignore a human in distress beyond me. Please be kind. Please be considerate. Help one another...it makes everything easier. I promise you wont die."
Bernard's post received more than 200,000 likes, plus an additional 110,000 likes on Love What Matters. She told HuffPost she doesn't think she did anything extraordinary and only decided to share her story because likes writing down her thoughts and feelings when she's annoyed with the world.
"I just feel that what I did is something anyone with a kind heart would have done," she said. "I don't see myself as being a 'hero' or 'amazing' ― I'm just a real person who understands the struggles of motherhood."
Bernard said she's been humbled to see her act of kindness touch others. Echoing her post's conclusion, she added "I believe that if we all help each other the world would be a much easier and stress free place ... Like I said, it takes a village."″