Following the news of President Donald Trump's executive order banning refugees and travelers from several Muslim-majority countries from entering the United States, a Chicago mom named Jennifer spoke out in a powerful Facebook post.
Jennifer and a group of nearly 40 people in her neighborhood of Lincoln Square had signed up to co-sponsor a Syrian refugee family through the organization, Refugee One. On Friday, they learned that the family would not be permitted to enter the country.
In response to the news, Jennifer posted a photo of the crib they'd purchased for the refugee family's 16-month-old daughter, along with an impassioned caption.
"Today Trump said he signed this action to keep out terrorists and to keep our country and our military safe," she wrote. "He has chosen to do that by barring an accountant, a literature major, and toddler from being reunited with their brothers, sister, parents and grandparents after a 2-year vetting process because of their country of origin and their religion."
Jennifer pointed out the timing of Trump's executive order, which POTUS signed on International Holocaust Remembrance Day. "[H]e has chosen to do that on a symbolic day on which we remember millions who died because of their religion. Today will be remembered as one of the great moral failings of our nation just as our refusal to take in Jewish refugees during the Holocaust," the mom wrote.
"This order is fundamentally immoral and un-American and I am deeply ashamed of our government. And so so very sad for a young family fleeing war that we had just begun to know," she concluded.
Jennifer's Facebook post has received over 27,000 likes. She told The Huffington Post she did not intend for the post to go viral but simply wanted to update her many friends and family members who donated to help resettle the family.
The Syrian refugee family was supposed to arrive in Chicago on Monday. They would've joined the mother's parents and siblings, who were already resettled in the area.
Jennifer's group of Lincoln Square neighbors had filled the family's new apartment with furniture and other essentials and shown it to them via FaceTime. Alisa Wartick, another member of the cosponsorship group, told HuffPost that it seems the family may never get to step foot in their new home.
"Just imagining raising a child in a refugee camp environment and then being told you could see your family again, you could be reunited with your mom and your daughter's grandma and being told 'No, sorry, you're three days too late for that' ― I can't imagine what that's like," she said.
Trump's executive order suspends the U.S. refugee resettlement program for four months, during which time the government can accept refugees on a case-by-case basis under specific scenarios. The order also blocks foreign nationals from seven Muslim-majority countries from entering the U.S. One of those countries is Syria.
Refugee One did not immediately respond to HuffPost's request for comment, but Jennifer reported the organization is deferring media correspondence until after a press conference scheduled for Tuesday.
The HuffPost Parents newsletter offers a daily dose of personal stories, helpful advice and comedic takes on what it's like to raise kids today. Sign up here.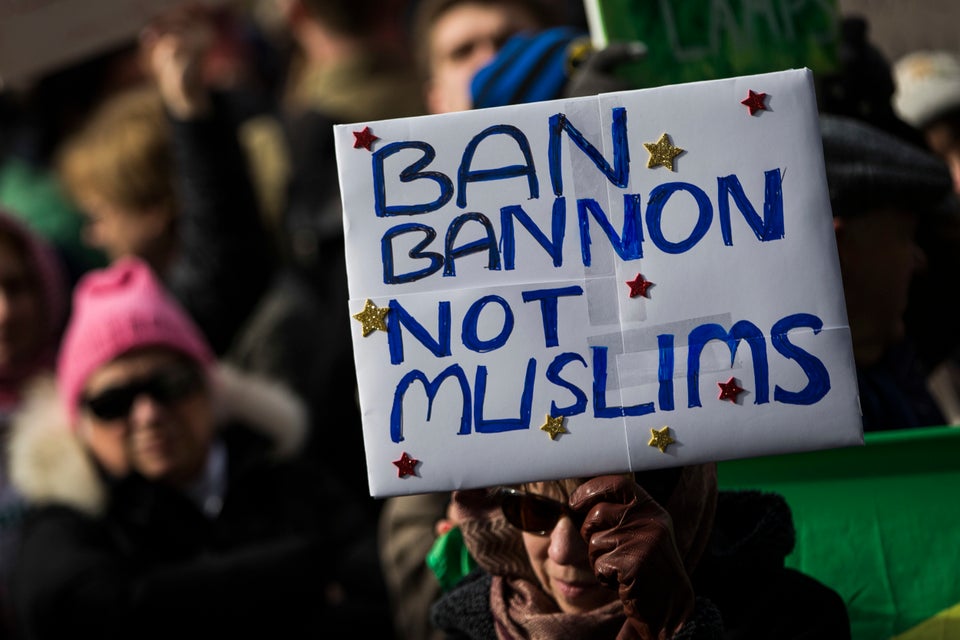 Nationwide Protests Against Trump's Executive Order