A working mom is speaking out about gendered kids' products after a disconcerting experience in a toy store.
On Saturday, Gina Zuk Gerber was shopping at Toys "R" Us in Towson, Maryland when she noticed one of Fisher-Price's Little People products. Gerber posted a photo of the product in question, which features a mom figure and includes the circled tagline "time for yoga and a smoothie!"
"My son's favorite toys growing up were Little People," she wrote in the caption. "I always just grabbed the fire truck or barn and didn't think much about it."
Gerber explained that she was looking for toys for her 1-year-old daughter Anna and "was disgusted to see the 'girl' versions of Little People."
"The only ones with all girl figures were all smothered in pink and purple, they worked in interesting places like the 'home,' and they all lacked the multiple educational elements the 'boys' toys had," she wrote.
"Then I set my eyes on this prize: 'SUV' and a clearly mom looking figure," Gerber continued, pointing out the "time for yoga and a smoothie" tagline.
"It's 2016 people," she concluded. "Fisher-Price needs to step it the f up and show women working in all types of fields and in leadership roles."
Gerber, who also has a 12-year-old son, is Senior Vice President at Abel Communications, a PR Firm based in Baltimore. She told The Huffington Post that raising a baby daughter has changed her perspective on toys and opened her eyes to the many harmful gender stereotypes they promote.
"For 11 and a half years, I only shopped for a boy," she explained. "I never really gave the process much thought. Toys with boy figures have so many options and areas of interest, it was a fairly easy process."
As Gerber is learning, the same cannot be said for toy sets featuring girl figures.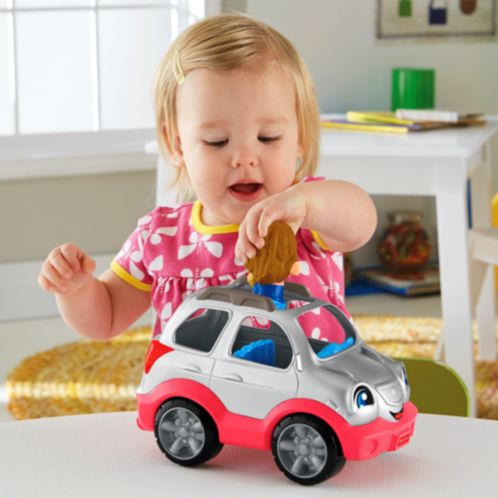 The product Gerber posted on Facebook is the Little People SUV set, which features a figure that the online description specifically refers to as "mom."
"I don't necessarily think this is toy is problematic by itself but it does become an issue when almost the entire line of toys have one set of colors, educational focuses and gender stereotypes for the 'girls' line and a different set for the 'boys' line," the mom told HuffPost, noting that there's nothing wrong with being a stay-at-home parent or enjoying yoga and smoothies.
"Why don't they have a pink SUV with a male figure who likes yoga and smoothies? Why don't they offer a barn with a female farmer?" she asked. "Maybe Little People sells these products but they weren't available at the store I was shopping at."
Indeed, Little People does offer slightly more variety in its female figures online, with a baker, zookeeper and "corner market" employee, but the offerings represent a mere fraction of what's available for male figures. And as Gerber pointed out, the color scheme for the more girl-centered sets are overwhelmingly pink and purple.
"Based on my research/reading, I've really tried to mix up what I buy my daughter ― from colors, to typical 'boy' vs 'girl' toys, to dump trucks and dolls," Gerber said. "I think that it is important that we provide our children with a mix of toys and options but unless toymakers provide us a variety of choices this will continue to be a challenge."
The mom said she hopes people who read her Facebook post put a little more thought into future purchases for children ― whether it be a toy for their own kid or a gift for a loved one's child.
"A lot of people just believe that if it's a boy buy the blue one and if it's a girl buy the pink one ― I know I've been guilty of that in the past," she explained. "Beyond beating stereotypes into young impressionable minds, there is a ton of research that shows how gender-based toys can negatively impact a child's development."
She added, "So it becomes a more complex issue when all of the girl's toys focus on a specific set of skills that is different than what boy's toys focus on."
A representative for Fisher-Price told The Huffington Post that the "yoga and smoothies" line on the box is one of the phrases the toy utters when you press a button on the car.
"I spoke with the product/packaging copywriters who noted that we don't skew copy to any particular gender," she noted. "This copy talks about a day with mom as the product comes with a female parent figure. The reference to yoga class came out of mom focus groups where they listed favorite activities."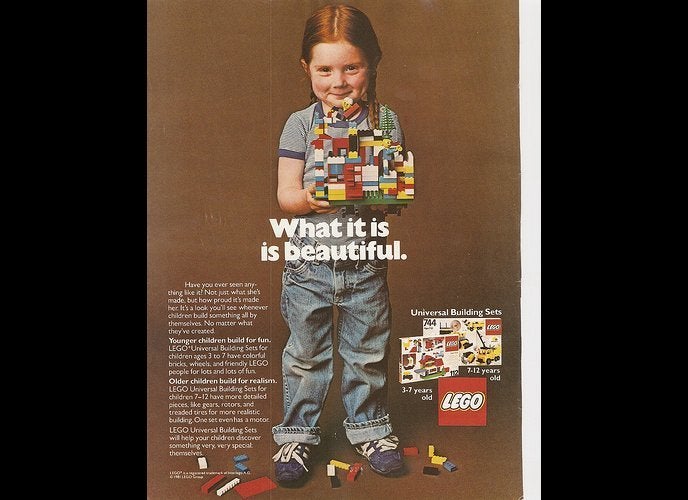 Brands That Have Been Updated To Be More "Girly"