A Virginia mother let her 7-year-old son wear a Ku Klux Klan costume this Halloween because, she insisted, it's a family tradition.
"My brother has [worn it] when he was in Kindergarten and when he was 13," Black said. She went on to claim there is nothing wrong with the costume or with the White Supremacist group, which she says still exists in their Virginia town. "It's supposed to be white with white, black with black, man with woman and all of that. That's what the KKK stands for."
(Story continues below.)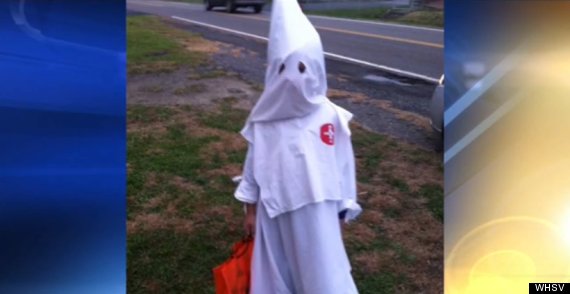 Jackson Black's costume. Screen grab courtesy of WHSV.
Some users were angry that the town was being criticized for the act of one individual, but others criticized these people for missing the larger point.
"The fact of the matter is that this event could have happened anywhere in the US and you all being more outraged that your town has a bad name than the actual issue at hand is extremely disappointing," wrote one woman. "A few of you have missed the point completely. Just because we are in a new century does not mean that racism is a thing of the past. Racism is alive and well and if you opened your eyes, you'd see it clearly."
So much for setting a good example for our kids.